【UN web TV】Keiko Kiyama, co-president of JEN is at 108th IOM Council
news|2017.11.30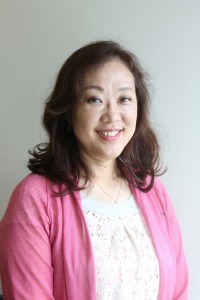 DATE and Time: 30 November, 2017. 15:00-16:00(CET)
Archive is  available from here.
============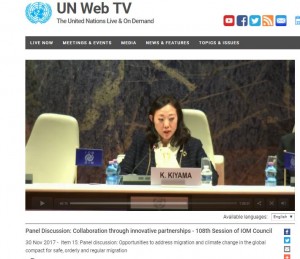 Panel Discussion:Opportunities to address migration and climate change in the global compact for safe, orderly and regular migration
*Nicolas Hulot: Minister for Ecological and Inclusive Transition, France
*Patricia Espinosa: Executive Secretary of the United Nations Framework Convention on Climate Change
*Nazhat Shameem Khan:Permanent Representative of Fiji to the United Nations Office at Geneve and other international organizations and Chief Negotiator for the COP23 Presidency
*Erik Solheim: Executive Director of the United Nations Environment Programme (video message)
*Keiko Kiyama: Co-President of JEN (Japan Emergency NGO), Vice-Chairperson of the Board of Directors, Japan Platform, Japan
Moderator: William Lacy Swing, Director General, IOM
============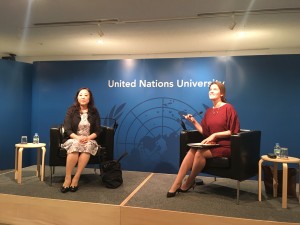 Keiko Kiyama, Co-President of Japan Emergency NGO (JEN), has been serving for refugees, internally displaced people (IDPs) and survivors of natural disasters, since she joined establishing JEN in 1994.  From 1994 to 2000, she worked as the regional representative of JEN's program for former Yugoslav countries where she and her teams emphasized the importance of self-reliance from the phase of emergency and supported self-reliance of refugees and IDPs through hundreds of projects in huge varieties of sectors.  Currently, JEN works in Afghanistan, Pakistan, Iraq, Jordan, Sri Lanka and Tohoku, Kumamoto of Japan.  She is one of the advisory members of OCHA's Central Emergency Response Fund (CERF).  "The woman of the year 2006" was awarded to her from the Nikkei Women Magazine for JEN's continuous work on peace building in various areas of the world.  She is also a board member of Japan Platform which was established to enable Japanese NGOs to be able to respond to large scale humanitarian emergency.