2014.01.23
From 15th to23st December 2013, I had an opportunity to see JEN's activities in Zaatari Camp and projects in Jordan. Since programs that I am in charge for Pakistan and Afghanistan do not allow us to visit project sites for security reasons, this was my first time to directly see JEN's oversea projects. On 23rd December 2013, I arrived at Zaatari camp. With my slight preparation, I was not able to imagine the scale of the camp where hundreds of thousands are living. In the huge desert area, there were tremendous number of tents and caravans. It is easy to imagine the difficulties in their lives such as lack of privacy, warmth, sanitation, food and many other things.
[The landscape of the camp sweeping away behind a donkey pulling the load]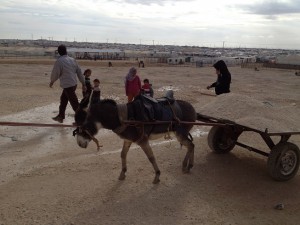 During the way to the camp, I heard from colleagues that there was heavy rain until few days before I arrived and that rain water has become a big problem in the camp. Since I can see many other needs in the camp, I could not understand why the rain water was the top priority to tackle. But soon after I arrived, I realized that the water drain ability in this area is very bad. Many refugees are drilling holes around their tents to discharge the wastewater, but when the rain water filled the holes sewage flows back into their tents. Also, the electricity outage occurred and bare wires have caused electricity shocks to a few refugees. I can certainly understand this risk, but realized that things we do not care in our usual life might be a big problem inside this camp where people are running their unusual life.
[JEN staff operating the water discharge work on the street flooded with the heavy rain.]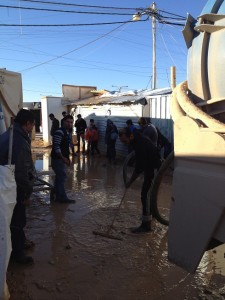 [A muddy and slippery street in Zaatari camp]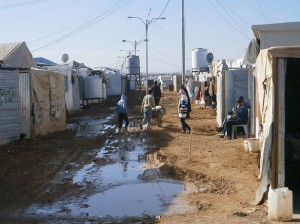 In the main street of the camp, there was a street called "Champs-Élysées". There were shops selling daily goods, vegetables, butchers and small restaurants selling electronics and also running internet café somehow. My colleague commented them as "people who don't waste time", and I was also surprised that people could be so motivated.
[A boy selling candy floss at "Champs-Élysées" street]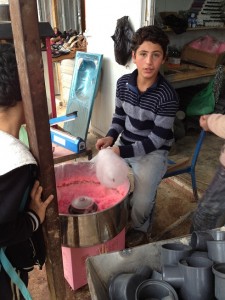 [A telegraph-pole with nested electric lines]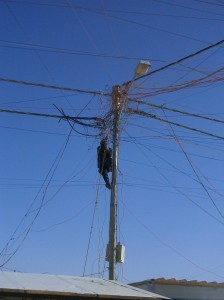 We have no idea when will be the day these refugees can return to their homes. But meanwhile, JEN will try as much as it could to support and make better days for the returnees.
Tasuku Futamura
Administration and Financial officer JEN Afghanistan/Pakistan
【JEN is now accepting donations. Your help would be very much appreciated.
DONATE here】
2014.01.09
After managing JEN's Haiti Program for 3 years, I arrived in Amman on December 9th to work as the Program Officer of "JEN Syrian Refugee Assistance Project in Jordan." This new assignment is still about WASH (water, sanitation and hygiene) but doesn't regard access to drinkable water anymore. This time my task is to ensure accessibility to clean and functional WASH facilities in which toilets, showers, sink and laundry areas must be available to the refugees at any time.
With around 110,000 people living in the camp at the beginning of 2014, Za'atari refugee camp has the population of a decent town in a much smaller area! This density in addition to the fact that the refugees have escaped a war zone and lost everything makes the task nowhere near easy.
Like any small town in any country, the camp also hosts a tiny minority of people who neglects or even properly vandalize the common public services unfortunately.
Walking around the camp from a WASH facility to another on a daily basis I am discovering and understanding a bit more about this community of Syrian refugees.
Working for the first time in a refugee camp I have to admit I had no real idea of how "life" could be in Za'atari…
And guess what?
It is actually like in any other town! Children playing around, sadness, disease and death in some household; happiness, hope and birth in others! To start the New Year with good news, let me show you the house a refugee proudly showed me a few days ago!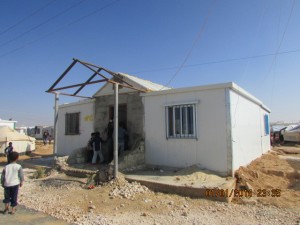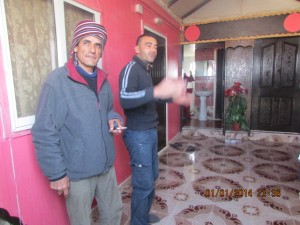 Though it is not complete outside, the entrance of the house is simply gorgeous!
The owner, the gentleman on the right, has borrowed money and spent around 600,000 JPY to buy 3 extra caravans to add to the one he and his family was entitled to, and to furnish and decorate the property.
My favorite "touch"? The indoor fountain!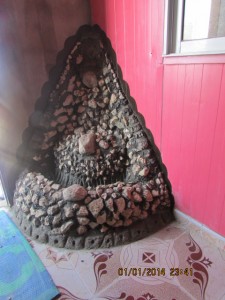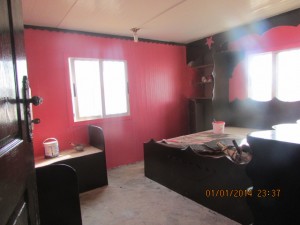 When I asked the proud owner of this place if his motivation to create such a nice place was a decision of staying and living in Za'atari camp long, he answered: "Well, there is a civil war in my country; nobody knows how long it will last… In the meantime life goes on! I always wanted the best for my family and here is what I can offer best to my family now!"
Very few families in Za'atari refugee camp have people they can borrow such amount of money from and it is not everybody who has the energy and the creativity like this man have.
But to be honest I never imagined it would exist and that I would meet one on the very first day of 2014 wishing me a happy New Year!
Romain Briey
Zaatari Camp Program Officer
【JEN is now accepting donations. Your help would be very much appreciated.
DONATE here】
2013.12.26
The second winter has come since JEN started its support in Zaatari camp and the host communities in Jordan.
The rain season and winter come at the same time in this country. Jordan tends to be brought up the image of a hot and dry weather, but to our surprise, sometimes it snows in winter. Due to the snow storm that continued for three days in mid-December 2013, the transportation system was entirely paralyzed in Amman.
【JEN`s car covered with snow in front of AMMAN Office】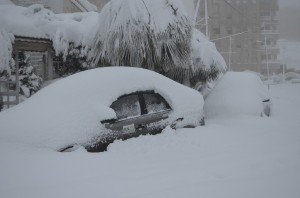 While it was severely snowing in Amman, heavy rain poured on Zaatari , 50 km east  of Amman. Although precipitation is limited and rain is a precious water resource in Jordan, this rain caused flood damages in Zaatari camp and therefore, Syrian refugees' dwellings were submerged.
【a huge puddle caused by the gutter for constructing a road】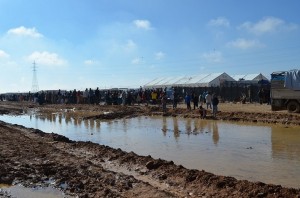 JEN started the emergency assistance in cooperation with UNHCR and other INGOs to mitigate the flood damage caused by the rain in Zaatari camp. The caravans and tents were badly immersed in the various sizes of puddles formed by this rain. Another concern that emerged was the danger caused by the electricity cables in addition to the deterioration of hygienic environment.
【JEN`s staff desludging the stagnating rain water using a sump pump discharge hose】

On the next day of when it started raining, JEN immediately allocated 5 trucks which possess sump pump and a tank with a capacity of pumping around 16㎥ of water. Almost 1228㎥ of stagnating water had been taken out of the camp, and more than 20 of JEN staff had managed the operation. Two more trucks were prepared in case the situation worsened.
【the truck allocated in the area submerged by muddy water】


【The nozzle is put in a puddle to vacuum up stagnating water】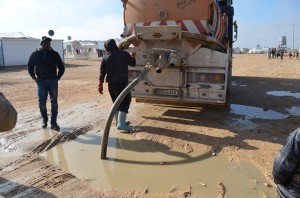 In addition, JEN established an emergency hotline for all WASH Committees so that they can inform JEN of the puddles which have risks of causing electric shocks. This hotline helped to spot out the exact location and the situations of puddles in the camp as well.
【Over the nozzle, the power line submerged in rain water】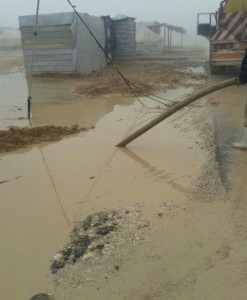 JEN's hygiene promoters and community mobilizers have also been playing important roles in preventing residences from flood damages. The WASH Committees received the distribution of shovels and pickaxes in advance as weather forecast had announced heavy rain. These tools are used for digging trenches around caravans and tents to protect them against flooding water. The hygiene promoters and the community mobilizers went on house-to- house visits, informing and advising refugees about the availability of the tools in addition to instructing them on the proper usage of the tools.
【This emergency operation was possible thanks to the Japanese Government】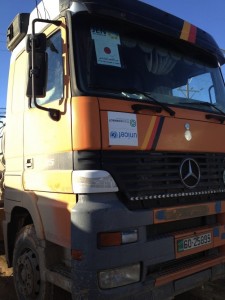 Winter season in Jordan has begun and is expected to last for three more months. JEN's teams are consistently supporting the Syrian refugees by providing proper and immediate assistances in order to help them live their lives safely.
【JEN is now accepting donations. Your help would be very much appreciated.
DONATE here】
2013.12.12
At the beginning of December 2013, winter is coming to Zaatari camp in northern Jordan. To get ready to face the cold temperatures, a winterization program had launched at the beginning of the month by organizations working in the camp and JEN is taking an active part of it by distributing warm clothes to the Syrian refugees.
During the winter months, the temperatures drop in Jordan and Zaatari camp located in the north west of the country makes no exception. In fact, since it is located in the desert the nights can be very hard to endure especially for the thousands of families still living in tents, with kids and babies.
To help them face the harsh temperatures, JEN is distributing personalized family packages containing sets of warm clothes for every family member. To fit the needs of each household, the bags distributed are organized in a system of more than 350 different types corresponding to each type of family resident in the camp. For example,  Type 1 is for a couple with no children while Type 144 is for a couple with eight children.
[A type 85-bag means the family is composed of 2 males, 3 females and 4 kids]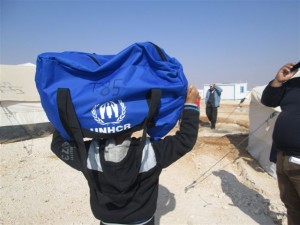 The distribution started from the end of October 2013 and to date, with an average of 2 distributions per week, 10 out of 12 districts of the camp have been covered so far. A new day dawning marks the onset of a distribution day for JEN's staff as the trucks need to be loaded by 5am. They then take the road for an hour drive to go to the camp in a convoy of 8 to 16 trucks depending on the size of the district.
[A beautiful sunrise on the way to Zaatari is  the best reward for JEN's team waking up before dawn twice a week!]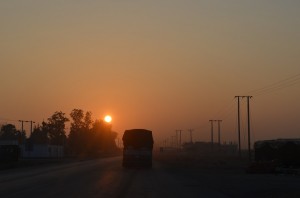 Each truck is loaded with boxes to be distributed to one or two streets in a district. When the trucks arrive at the camp, each of them is accompanied by JEN's staff member who would lead the way to the destination.
In each street, one of the caravans is emptied and ready to receive the boxes for distribution. The boxes are unloaded from the truck to the caravan, and opened to be ready for the distribution of blue bags.
[Refugees gathering in front of the caravan to be called to collect their bags]
[refugee in charge calls the names of households from the distribution list provided by JEN]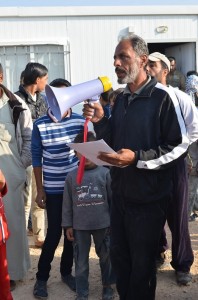 [Once called, the refugees hand their ration cards to JEN's staff member to verify their identity… ]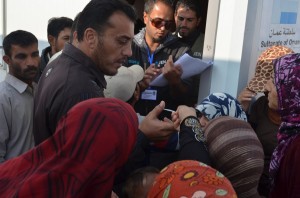 [A staff member hands over a blue bag]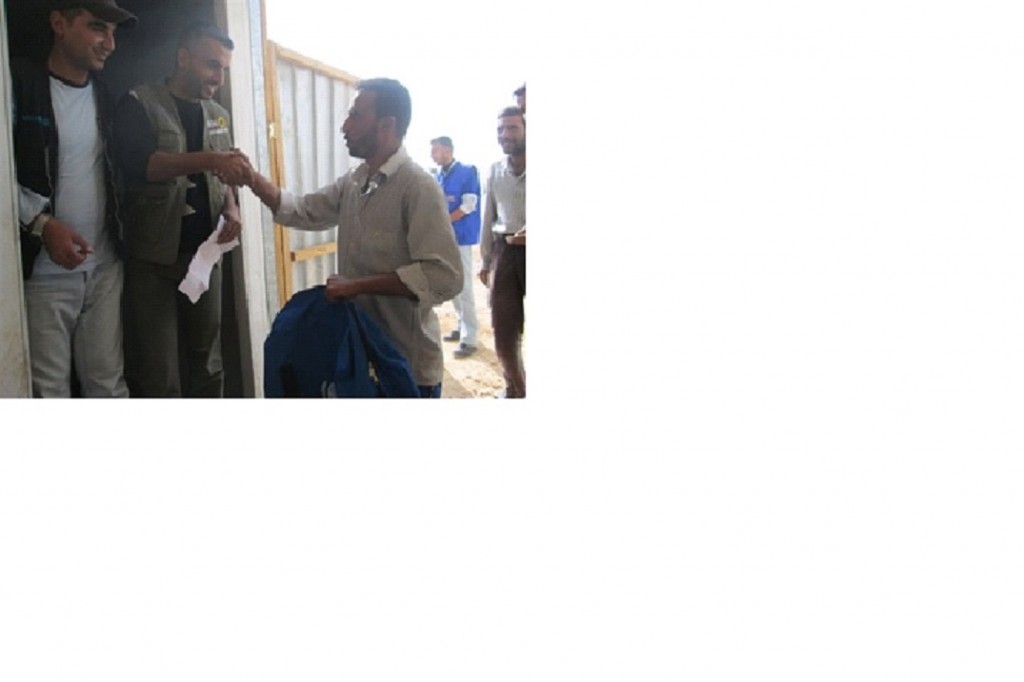 [Even when the bag is too big, the kid insists to be the one who carry it back home]


[Children like to wear the bag tags as necklaces]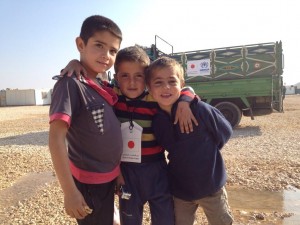 When visiting the districts in which the distribution has been done in the previous weeks, JEN receives positive feedbacks from the refugees. Refugees are happy about the quality of clothes, the personalized packages and the way they have been involved in the distribution process.
The distribution is going smoothly and as scheduled. By mid-December 2013, all the families in Zaatari will receive warm clothes to face the cold winter.
【JEN is now accepting donations. Your help would be very much appreciated.
DONATE here】
2013.12.09
I have been working on JEN's assistance activities in Zaatari Camp from September 2013 when this camp was still at its initial stage: two months after it opened up for the Syrian Refugees. And today I'd like to let you know that I will be departing this camp very soon as my term will be coming to an end.
When I reminisce the time when I visited Zaatari Camp for the first time, I remember how the constructions of roads and toilet facilities had just begun. There were several hundred tents dispersed in the middle of the desert. I saw Syrian refugees who evacuated from insecurity with few clothes and belongings, who also had to live in a extremely harsh environment where the desert climate easily rose clouds of dust into the air. I couldn't even see a couple of meters ahead of me when that happened.
Now I can see that the living environments of the residents have drastically changed. More than 80% of the population lives in caravans instead of tents—roads are paved with asphalt, schools and hospitals are in operation, and there are lively shop streets which stretch 2km that are called "Champs-Élysées" and "Fifth Avenue." "Champs-Élysées" started out with a couple of vegetable shops and perfume shops (as there was a large demand among the refugees who couldn't take a bath so often). Now I see butcheries, electronics shops, and Kebab shops. I am amazed at how people have become so independent despite their harsh circumstances.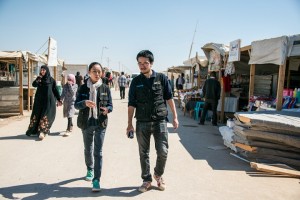 [People selling various products in "Champs-Élysées"]
At the same time, the socio-economic gap is widening and inequality is everywhere. There are those who possess several caravans and abundant home appliance, and even have built water fountains in the middle of their self-acclaimed property areas. In the meantime, there are a huge amount of people left behind who cannot sustain their livings without the assistance of humanitarian NGOs and UN agencies. Among those people are children and youth 18 and under, whom cover more than half of the population of 120,000. We also need to make sure that the disabled people and women who are heads of their families receive abundant and appropriate support because this vulnerable population tends to have more difficulty accessing services and distributions. This is an urgent issue that needs to be tackled by every humanitarian organization working in Zaatari Camp.
I have so much more to share so for those of you that are interested in further understanding the history, current conditions and future prospective of Zaatari Camp and the Syrian refugees, please attend JEN's event in which I will be talking not only about the aforementioned topics but also about my thoughts, experiences and JEN's activities.
Date: November 27, 2013 Time: 7pm Place: JICA Ichigaya Details: Please click the link below.
http://www.jen-npo.org/%3Fp%3D6841
Lastly, I should stress that the Syria Crisis will protract a lot longer than any of us can imagine and no one knows the fate of it. Therefore we need much more support in order to better support the Syrian refugees who have experienced fear, fatigue, depression and hopelessness. It was my honor to be able to work in Zaatari Camp from the start engaging so many Syrian residents along the way. I'd like to express my sincere gratitude to you who have supported us and also would like to ask for a continuous support. Your thoughts and prayers matter a lot.
           [My JEN colleagues who have been supporting me all this long]
Hiroshi Sasaki Program Officer,
Zaatari Refugee Camp JEN Amman
【JEN is now accepting donations. Your help would be very much appreciated.
DONATE here】