2013.11.28
Currently around 77% of Syrian refugees in Jordan temporarily live in host communities outside of camps and are benefiting from the public services generously provided by the Government of Jordan such as education and health services.
In the last term, the number of Syrian children enrolled in the Jordanian public schools was around 30,000 students only while the number reached 70,000 students in September 2013 as the new term started. However, there are still 50,000 school-aged Syrian students don't go to schools. It is the key issue for aid agencies to increase Syrian children's access to education and to assist public schools whose learning environment have worsen due to the hugely increased numbers of students.
In Jordanian public schools of host communities, JEN is working on the renovation of water facilities,  sanitation facilities and hygiene promotion activities. Hygiene promotion activities consist of teacher trainings on hygiene education and student hygiene sessions done by the trained teachers.
Student hygiene sessions in some schools in Zarqa governorate were carried out last week by JEN's hygiene promoters. The contents of student session were developed through sharing various education methods between JEN's hygiene promoters and teachers in the teacher training.
In one classroom, one of the water-borne diseases, cholera, was the theme of the hygiene promotion activity. It started by students' role-play  with a moral that a child who buys and eats snacks from an unhygienic food stall suffers from a stomachache and might go to a doctor. It was full-fledged roll-play, for example, the student who played the role of a stall seller painted a mustache on her face while the student who performed as a doctor checked up Vibrio cholera under a microscope.
[Students nailing the characters of the play]

The expressive role-play was followed by groups' work in which each group wrote down about cholera such as causes, symptoms, prevention, and treatment on big papers followed by plenary discussions.
Although cholera outbreak has not been confirmed in Jordan so far, education and awareness of this sanitation and hygiene related epidemic can always be very useful in such emergency situations for both the Syrian refugees and the Jordanian host communities. . By rolling out the information acquired throughout the sessions, the students can be messengers in their families and small communities.
In the last stage of this student session, all students went to the water fountain and practiced the right way of hand washing.
[students washing hands (the third girl is the stall seller in the role-play with her mustache still painted on her face)]

Messages for water saving practices were written on the walls near the water fountains. The students in this class collected some coins, brought a can of paint, and painted such informative messages . This school has organized its own hygiene campaign where each class has individually implements its method of improving the hygiene environment. Another class brought rubbish bins and set them in different spots in the school premise.
[ Water saving messages written by students on the wall]


The improvement of school hygiene environment cannot be accomplished by JEN's sole efforts. JEN strongly believes that it is essential to ensure the ownership of activities and motivate headmasters, teachers and students to do what they can do for their own good learning environment.
【JEN is now accepting donations. Your help would be very much appreciated.
DONATE here】
2013.10.31
The approach of winter is making a harsh life even harder for more than 120,000 Syrians living in Zaatari camp. JEN's Jordan country programme is working around the clock to ensure that the Syrian refugees in the camp will be sufficiently prepared for upcoming winter days of low temperatures. Key activity will be the distribution of winter clothes to everyone in the camp.
[The workers are preparing individual package which consists of T-shirt/shirt, jacket/sweatshirt and trousers]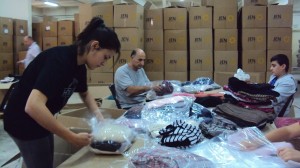 In August 2013, JEN received around 550,000 pieces of UNIQLO clothes donated by FAST RETAILING CO., LTD. JEN employed more than 30 labors every day to sort out the clothes based on age and gender and re-packed them into individual packages for male, female and children. Selection process is also done to ensure that the items are appropriate to winter conditions and cultural practices of the Syrian refugees.
[Family packages are prepared based on the needs of each household]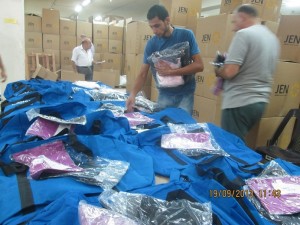 The family, as a natural unit, is the target of our distribution. However average family size and composition of the families may vary especially for families affected by the Syrian Crisis. Thus prior to the distribution, JEN conducted a rapid assessment of family structure in Zaatari camp. It enabled us to prepare personalized family packages in accordance to each household needs.
[JEN staff held a meeting with refugees to discuss about the assessment and distribution activity]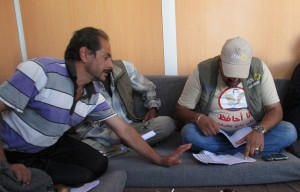 JEN is involving the refugees in the target area into the every steps of distribution. Several meetings with the community groups on each district in the camp are held in order to increase the feeling of ownership of the distribution process and take responsibility in building their community.
JEN's distribution of clothes has started to commence on the last week of October 2013.
Trisa Lusiandari, Programme Officer
【JEN is now accepting donations. Your help would be very much appreciated.
DONATE here】
2013.10.17
On Thursday, the 10th of October, JEN participated with many other NGOs in activities to mark the Global Hand washing Day in Zaatari Camp. Hygiene promoter staff supported and assisted by the community mobilizers of JEN were divided into three teams to cover   and celebrate the event in Districts 3,4 and 5. The activities were organized to focus on the importance of hand washing and how this can prevent the occurrence of some serious diseases if it is done properly and in the right time and way.
【JEN staff is gathering children from the camp and leading them to the area where events and activities are held】

At 9 am, JEN staffs initiated the day with a rally in each district with an aim to gather the children (fig 1), who held banners and posters announcing the starting of the hand washing day program and asking all to join them to the area of the activities. Everyone was singing and shouting, "Come on everybody, let's begin the day!" It began by a short drama stressing the importance of hand washing and how maintaining a good personal hygiene can save lives and keep away germs and diseases. JEN staff selected some Syrian children in Zaatari Camp a day earlier and invited them to take part in this drama performance (Fig 2). They gave each child his/her role. These children acted really well and all were motivated as they learned the necessity of hand washing from this role-playing, which was then followed by doing demonstrations on the appropriate way and steps of washing hands with guidance of JEN staff.
【Part of the drama presented in the program】

 Activities included games, plays, hand washing demonstrations, kite-making, flying balloons and a puppet show followed. Children were divided in groups to assure that each and every one had the chance to participate in each activity taking the age factor into consideration.
【 Hand washing demonstration】

  Children spent a lovely time and showed great interest in drawing posters illustrating positive hygiene behavior.
【 Drawing activity by some children】

 Others played some games in which those following the right hygiene manners were the winners and it was a real fun to all. JEN staff were guiding them and encouraging the children by giving them gifts such as soaps.
【 Snake and Ladder game focusing on positive and negative hygiene behavior】

 When the special day was about to end and the events were nearly finished, participants were still active and energetic. Even JEN staff started to sit in circles showing the children how clean hands mean a body free of germs and all were saying, "The power is in our hands."
【 The power is in our hands】

By the end of the day, children started to leave the event area. All were extremely happy, singing and repeating what was all said and still carrying the posters and banners back with them. With their lovely and smiley faces they waved goodbyes promising to keep on practicing good personal hygiene and to tell others who could not attend the event what they saw and learned. All were excited and the day was so joyful that everybody wished it would never end.
【 Returning back holding posters with GHD messages "Soap is my friend, it keeps germs away from me".】

Dr. Saba Younis Hygiene Promotion(HP) Manager – Zaatari Camp
【JEN is now accepting donations. Your help would be very much appreciated.
DONATE here】
2013.10.03
United under the UN agencies' umbrella and for the second winter season, organizations working in the Zaatari Camp have started to prepare a contingency plan to accomodate 20,000-30,000 new arrivals to the camp. In addition UNHCR has established a Strategy Advisory Working Group to discuss a long term strategy. JEN was chosen as one of the six major INGOs among over 30 humanitarian organizations working inside the camp.
People working inside the camp feel like Zaatari has become urbanized. In addition to the shopping street named "Champs-Elysees", there is now another shopping street called "Fifth Avenue". Various shops are being established inside the camp. There are a few electrical shops selling satellite TV, heaters and air conditioners. Moreover, there is a factory with special equipment to produce drinking water.
[A Supermarket]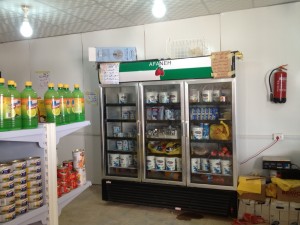 [A Factory to produce drinking water]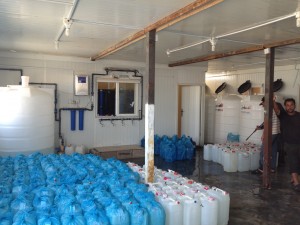 The camp has been developing at a rapid speed. At the same time, economic and social gaps of people inside the camp are growing. Many people are living in pre-fabricated housings with electric equipment, and on the other hand, there are also a huge number of people strongly relying on support from aid agencies. It is important to include those vulnerable people (infants, women household families, elderly and disabled people) in JEN's activities and make sure each and every person receive  support from aid agencies.
【JEN is now accepting donations. Your help would be very much appreciated.
DONATE here】
2013.09.19
The possible military actions of Western countries have been heavily covered in Japanese media. How has the Syrian Crisis which started in 2011 changed the lives of people in Jordan hosting Syrian refugees?   First of all, the price of daily necessities gradually but surely has gone up. Most of them—prepaid cards for cell phone and foods such as vegetables and fruits imported from neighbor countries—are essential for daily life.
Rent fee has also risen nearly 20 percent compared to that 2 years ago. Some of the refugees from Syria have come to Jordan and shared same dwellings with their relatives, but there are also Syrian people who rent houses by themselves. Securing shelter is a priority for human beings to live, so Syrians who have enough money try to rent housings even if the rent fees are higher than the average. As a result, the rent fee has risen up.
In addition, the prices of gas and petrol have also slowly gone up since the beginning of this year. As gas stoves and central heating consuming heavy fuel oil are commonly used in Jordan, the increasing fuel cost is expected to make an impact on the livelihoods of Jordanians.
Now even we, foreigners, fully realize these changes, so it is easy to imagine that Jordanians can be more sensitive to them. JEN has supported not only Syrian refugees but also public schools in the host communities that have been hosting people evacuating from Syria. We do so through rehabilitating school facilities and promoting hygiene education. JEN has continued to work in order to make changes to the actual situations of both Syrians and Jordanians, and to ensure their safety and comfortable lives in Jordan.
[A car from Homs, a city in western Syria. We see many cars with Syrian number plates.]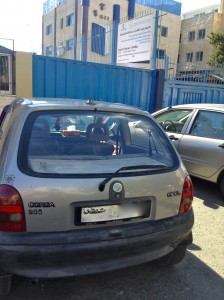 【JEN is now accepting donations. Your help would be very much appreciated.
DONATE here】