2013.06.27
A multi-sector camp-wide campaign supported by UNICEF and UNHCR was conducted in Zaatari last first week of June. The activity aims to increase people's awareness on diarrhea following the increasing number of diarrhea and bloody diarrhea cases in the camp. The situation is aggravated particularly in hot weather conditions in summer.
During the campaign, JEN's WASH committee members worked together with hygiene promotion team from other agencies as well as community nurses selected from the Syrian population, visiting each tent or caravan to prevent, detect and treat diarrhea cases in Zaatari. The diagnosed diarrhea cases were treated with Oral Rehydration Solution (ORS). Some severe cases, including bloody diarrhea, were referred directly to the camp hospitals.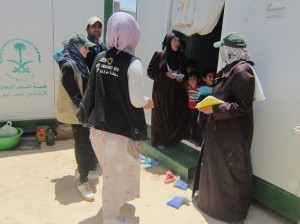 Situated in a desert terrain, Zatari camp becomes so white and dusty during the summer.  Despite the extreme heat, the WASH committees continued visiting each tent and caravan to give hygiene education.
One of the street leaders who also member of JEN WASH committees admitted that his participation in the campaign is because his 5 years old son was suffering from diarrhea. "My son was hospitalized for few days until he is recovered. I just found out the diarrhea can be deadly. So I hope this campaign can make other parents aware about it".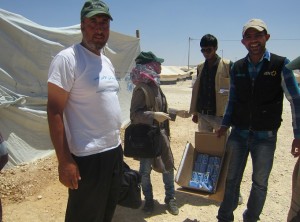 UNHCR mentioned that during one week campaign, more than 4,000 cases of diarrhea were found in children aged 0-5 years old. This multi-sector campaign is expected to be useful in carrying hygiene and health messages to each family across the camp.
【DONATE HERE】
2013.06.13
Zaatari camp was first opened in July 2012 and originally built
to accommodate 60,000 refugees. As thousands of new arrivals coming every day,
the camp population has grown exponentially ever since. The camp is currently
housing more than 100,000 people and becoming Jordan's fifth largest city. As
the populations have swelled, safety and security have degenerated with theft
and fires commonplace.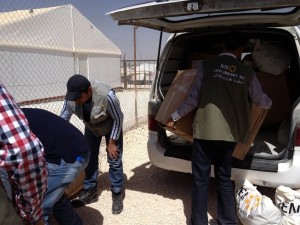 Almost every day, one or two tents catch fire. The incidents were
often caused by cooking gas cylinder explosion, theft or short circuit. Fires
left some refugees with nothing but the clothes they were wearing.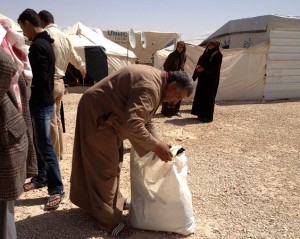 Rana is one of the victims of fire in Zaatari last March which
torched more than 30 tents. She has been living in the refugee camp since January
2013 with her husband and seven children. But the fire that hit Module 1 last
March incinerated her tent and its little belongings inside. "It was happened
around 12 o'clock in the afternoon. The fire spread out very fast until it reached
my tent and burnt down everything. Thank God, no one was hurt because the tents
are so close together".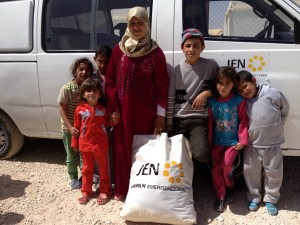 To response to this situation, JEN provided emergency
packages of clothes to 90 families in Module 1 who lost their tents and belongings
due to fire. The distribution was implemented by JEN in collaboration with
street leaders and camp communities.
Trisa Lusiandari (Program Officer)
2013.05.30
Suhiab Alrumy, a primary school for boys located in a rural area in Mafraq province,
has invited us to attend a celebration of our work in the school, expressing their thanks for WASH facilities rehabilitation and hygiene promotion.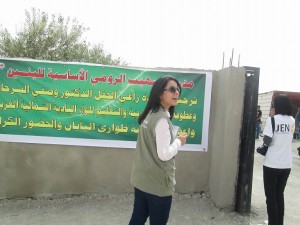 The celebration was under the auspice of the director of the DOE, and a welcoming sign for JEN was hanged at the door of the school, they prepared an interesting
performance which included a speech thanking JEN and songs, also they gifted us with traditional souvenirs to show their appreciation.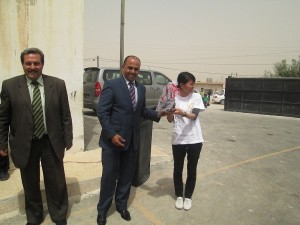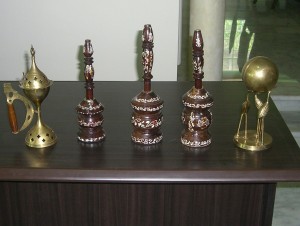 So thanks for Japan Platform and all our members and contributors for supporting our humanitarian mission and spreading the spirit of joy, happiness and cooperation in these schools.
Program Assistant / Salwa Aljama
【DONATE HERE】
2013.05.23
JEN has been working together with UNICEF to establish WASH committee all ten areas of the camp and support their activities.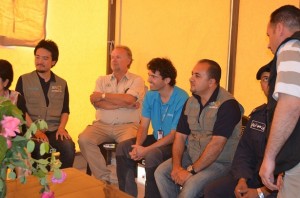 It has been three months since we established first WASH committee in the camp and
discussion among committee members become active these days. One of the hot issues discussed during meetings is how to maintain and clean WASH facilities as vandalism/ looting is still on going. At the same time, we provide several trainings to members in terms of hygiene awareness, organizational and financial in order to increase their capacity.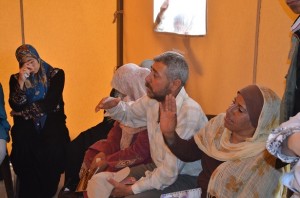 Currently meetings are chaired by JEN field staffs, however soon those meetings will be chaired by committee members.
Sanitary situation of the camp become worse and worse as temperature of the country is increasing. We cooperate with other WASH colleagues and committee members to tackle the issue and spray hygiene message to people in the camp.
2013.05.02
JEN conducted hygiene promotion in 10 schools in Mafraq and Irbid. In this activity, teachers trained by JEN gave lessons to students by using JEN original hygiene materials.
[Hygiene lesson with JEN hygiene materials conducted in Alnahtha primary school]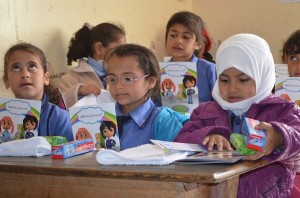 The hygiene booklet for lower grades is based on a story with interesting games that two children, Sarah and Ahmed, learn hygiene issues.  It was created by JEN staffs' hope that this booklet would be not only text book for hygiene lesson but also the tool for children to learn hygiene with fun.
We've got very interesting stories regarding this booklet when we visited schools for monitoring after hygiene promotions. The headmistress of Hay Aldalaa primary school told us that the play imitating Sarah and Ahmed is going around students. One girl student learned all the contents of the booklet by heart and proudly explained it to us.
We also heard that children receiving the booklets read it to their brothers and sisters. In addition, one student said, 'I teach my father and mother to wash their hands'.
[Boy student in Omar bin Khatab primary school who told us that he read the story to his brothers]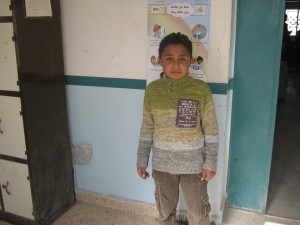 JEN's hygiene promotions were conducted in schools and targeted school children, but at the same time we expect that in this way the effect spills over into families such as parents and siblings and contributes to the improvement of community hygiene environment.
This project is being executed thanks to the support of Japan Platform, all our members and contributors.