2015.03.26
Za'atari Camp has about 83,500 refugees living in it at the moment.  Almost exactly half are women.   In the districts where JEN works there are about 3,600 women between ages 12 and 39 years old. Knowledge about how to handle menstruation and other women's topics is usually shared between mother or aunt and the younger generation.  Many women in the camp did not receive any formal education about health or hygiene so they don't always have accurate information to share.  Also, many families have been split apart so that daughters are here without the women in the family who would normally guide them.  JEN decided to offer menstrual hygiene sessions in the camp to help women and adolescent girls understand how to care for themselves.
In February, six JEN staff began preparing menstrual hygiene messages to share with the women in the camp.   We met four times to discuss what the important things are for women to know. We developed diagrams and simple messages to explain what the menstrual cycle is and how to handle it hygienically and we developed responses to myths we thought that people would ask us about.   One way that JEN spreads hygiene messages in the community is through volunteer Community Hygiene Promoters.  For this topic we trained 13 female Community Hygiene Promoters on the information that we prepared.  Since menstrual hygiene can be a little uncomfortable for people to discuss we had the Community Hygiene Promoters practice delivering the session to each other in small groups before sharing it with women in the community.  We asked each Community Hygiene Promoter to commit to delivering the session 3 times over the next 2 months.
What happens at the CHP Sessions?
(To Be Continued)
【JEN is now accepting donations. Your help would be very much appreciated.
DONATE here】
2015.03.12
Colourful flowers are blooming around Jordan. Spring is just around the corner.
A new semester has started at the second week of February in public schools.
【The new classroom has been used from the new semester (Al-Mattalah Primary Mixed School) 】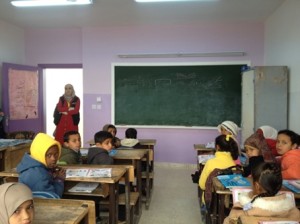 The north 3 governorates, Irbid, Mafraq and Ajloun, have accepted huge numbers of Syrian refugees so far. One of the places, Naimeh, where JEN's target school exists was the most crowded area by Syrian and it is said that its population is more than Jordanian.
There is a primary school for boys located 4 km away from Naimeh, but it is too far to commute on foot. Naimeh Primary Mixed School has absorbed children even though the number has exceeded the limitation because it is the only school that female students can enrol around this area. Thus, the classrooms were overcrowded.
【Female students in crowded classroom (Naimeh Primary Mixed School)】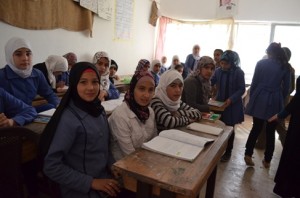 It is found in host communities that there are some parents stop children schooling. This is because learning environment is bad for children due to narrow space, pre-fabricated classroom and/or double-shifting.
JEN's support of classroom expansion is 'killing THREE birds with one stone' because to avoid losing education opportunity, dropping out and to keep education quality through improving learning environment.
In a tough situation for both Syrian refugees and Jordanian host community members, what Syrian and Jordanian children continue to study in suitable learning environment JEN contributes can provide better future for both countries.
The school assessment JEN host community mentioned in previous blog article is in process. Using the result, JEN will contribute to create appropriate learning environment in public schools.
【The classrooms seeing from the back side (Naimeh Primary Mixed School)】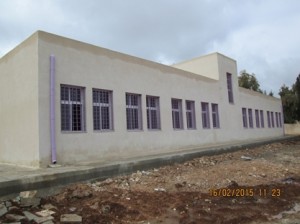 【Inside the newly constructed classroom (Saqir Quraish Primary School for Boys)】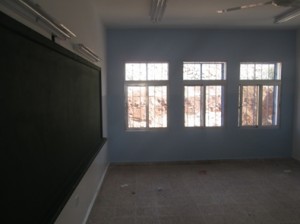 ====For donation…↓↓↓↓↓↓====
○Postal transfer account No: 00170-2-538657
Account holder: JEN
○Credit card: http://bit.ly/c7R8iA
For any inquiries regarding bank transfers, please contact  Asakawa in JEN Tokyo Office at 03-5225-9352
2015.02.26
In normal life, we are having toilets and showers in our homes and we do not recognize their importance in our lives unless we lose them. In fact, we think about that importance only when we have to replace a fitting or properly facing lack of water which might be occurs only a few times per year.
However, in a disaster or emergency situation, refugees resorting in camps are unfortunately forced to share necessities including toilets and showers. Humanitarian organizations such as JEN are responsible for ensuring that refugees have access to these facilities, which can sometimes be difficult to manage when there are over 84,000 refugees in one location, such as the case in Zaa'tari refugee camp. JEN puts its utmost efforts into making sure that all public toilets within its responsible areas in the camp are accessible, clean, and safe to use.
Regrettably, there is a small minority with a narrow perspective who continuously vandalize public toilets on purpose. In these unrespectable cases, refugees who will be most affected are the refugees who are most vulnerable.
[Vandalized WASH facility]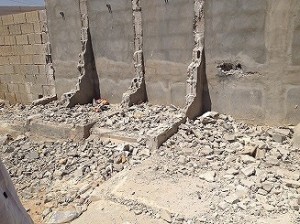 JEN works to repair these public toilets on a continuous basis and in some circumstances completely rebuilds toilets that have had all their parts vandalized. JEN maintains these public toilets because access to safe and clean toilets is essential to protect the health of the refugees and prevent the spread of communicable diseases.
[Rehabilitating WASH facility]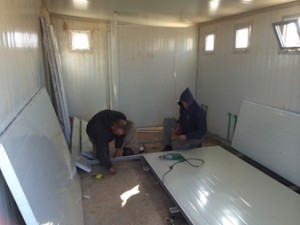 [A completely rehabilitated WASH facility]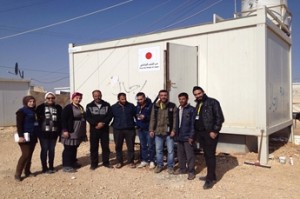 In the other hand of rehabilitation, sometimes there is a need of establishing a new facility to accommodate the continuous influx of refugees into the Zaa'tari camp where they set up homes in a location without operational public facilities. Recently, JEN completed a construction of a new public toilet in one of these newly occupied areas. With this facility, more than 300 refugees will be able to access a WASH facility near their home and make their life easier.
[Installment of new WASH facility]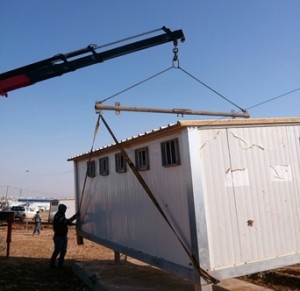 [Fully functional new WASH facility]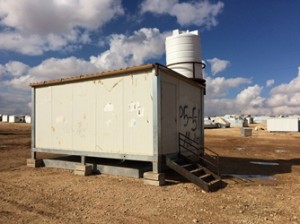 We believe these achievements will ensure a better life for refugees in the camp, and JEN will continue to support them with the best efforts.
====For donation…↓↓↓↓↓↓====
○Postal transfer account No: 00170-2-538657
Account holder: JEN
○Credit card: http://bit.ly/c7R8iA
For any inquiries regarding bank transfers, please contact Tomita or Asakawa in JEN Tokyo Office at 03-5225-9352
2015.02.12
When the sun came up the next day the water and 10-12 cm of heavy snow covered the ground. The trucks removed water as quickly as they could but the snow started melting faster than the trucks could work. More rain and snow fell. Other organizations brought in special trucks to clear out the septic tanks. Again the JEN team worked late into the night to stabilize the water levels.
[Dewatering is a muddy job !]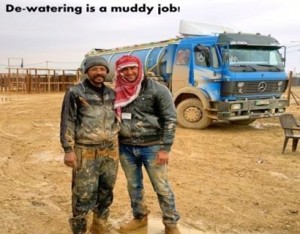 The third day was also exceedingly long and cold. Another organization brought in additional trucks to support with de-watering. The JEN team persevered and by the time the left late at night they felt that they had made significant improvements – about 60% of the water had been removed and pumped outside the camp. That night temperatures dropped well below freezing. All the roads in the country were closed because they were covered in ice.
As the sun rose on the 4th morning the calls started again and our exhausted JEN team bundled up and went back out to keep working. Throughout the day the situation came more and more under control. We were able to reduce the number of trucks working and reduced the response to daylight hours. Nevertheless, it wasn't until almost a week later that all water was removed and the normal routines in the camp could return to normal.
After all was said and done, Huda caused a lot more trouble in the north of Jordan than in Amman. People who had lived in the area their entire life said they had never seen anything like it. JEN's emergency team rose to the challenge; braving extreme cold, and really wet conditions.
====For donation…↓↓↓↓↓↓====
○Postal transfer account No: 00170-2-538657
Account holder: JEN
○Credit card: http://bit.ly/c7R8iA
For any inquiries regarding bank transfers, please contact Tomita or Asakawa in JEN Tokyo Office at 03-5225-9352
2015.01.29
Early in January 2015 forecasters predicted a snow storm. It looked serious enough to name so they called it Huda. Less snow was expected in Amman than in 2013, but the government declared a public holiday the day before anyway.
JEN holds the responsibility for storm-dewatering in the camp. This means that when it rains we call in trucks with large tanks and hoses and vacuum pumps and suck up the water. So while many of the staff delighted at the unexpected holiday those who live closest to camp as well as the JEN maintenance team members gathered to go over the emergency plan for responding to the storm. They divided in to two shifts of 5 people each, so that we could maintain operations over night if needed. We reviewed the maps of where water accumulated last time. We established how we would communicate during the operations.
The morning of the storm brought a lot of strong wind. The emergency team spent most of the day tying down water tanks that we had thought were too heavy to blow away, we had been wrong the wind was strong enough to take them. The protective tarp and part of the roof blew off of one of the caravan that we work from. Around mid-day the rain started. Light initially, but growing increasingly heavy. The emergency team leader, Rami, called in the de-watering trucks. Three at first, then three more, then a few hours later he called four more.
Temperatures fell, the rain turned to snow. The second shift had to join the first because there was too much for them to handle alone. My phone rang and buzzed non-stop with urgent requests for a truck to help. Even some of the caravans were taking on water. Streets were flooded so that emergency vehicles couldn't get through. The storm water flowed into septic tanks causing them to overflow. One of the schools was flooded endangering their supply of text books. Tents were collapsing under the weight of the snow. We arranged to have 12 trucks the next day.
(To be continued)
[Tents collapsed under the snow]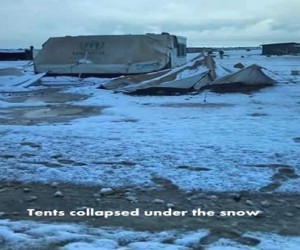 [A break in the storm in Zaatari Camp]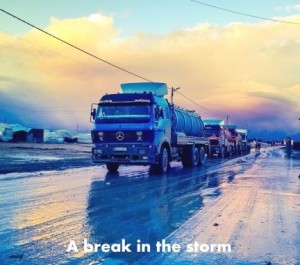 ====For donation…↓↓↓↓↓↓====
○Postal transfer account No: 00170-2-538657
Account holder: JEN
○Credit card: http://bit.ly/c7R8iA
For any inquiries regarding bank transfers, please contact Tomita or Asakawa in JEN Tokyo Office at 03-5225-9352