2017.04.06
Here in the Za'atari refugee camp, we are getting used to seeing the thermometer hit 25 Celsius, cutting the spring short and heading into the early summer. All this warm weather makes people become more active.
Just take a look at this pizza restaurant. Staff are busy making and delivering pizzas ordered by local residents and by people working to provide support in the area.
He is sliding pizzas into the oven. This restaurant's pizzas are great.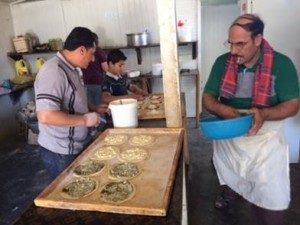 [The pizza shop's kitchen]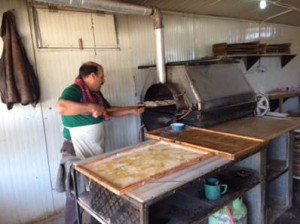 [To cook pizzas, the restaurant uses fire]
Now, let's get back to the topic of the weather. There is also a change in humidity. The air is very dry. What if there is a fire? The fire could engulf the camp quickly.
To prevent such incidents, Jordan's security authorities held a training seminar last month on how to use fire extinguishers. The seminar was for residents working under the "cash for work" programs.
Supported by humanitarian aid organizations, such programs provide temporary employment in public projects, which can be seen everywhere in the camp.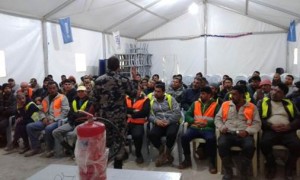 [Residents are listening to explanations by the instructor]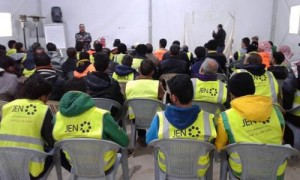 [Workers engaged in JEN's cash-for-work support projects]
Since the Za'atari refugee camp was set up in the summer of 2012, JEN has had in-depth discussions about how we can help refugees develop a self-sustainable community. Five years later, the training seminar showed that the refugees are thinking in the same way.
Their mindset is to protect their community by themselves. This is a small but very important step to become self-sustainable, and we are pleased to have had the chance to see it.
【JEN is now accepting donations. Your help would be very much appreciated. DONATE here】
2017.03.23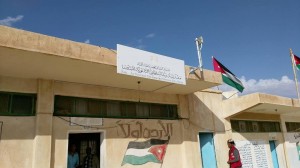 [Sad Al-Sultani Boys' Junior High School]
Sad Al-Sultani Boys' Junior High School is in Karak district 100km south of the capital city Amman. The school was established by the Department of Education in the 1970s. It is located in a desert town so many of the students come from Bedouins and neighboring tribes.
The school facilities, due to poor maintenance were in a terrible condition with broken windows. The restrooms were particularly bad, so bad that teachers had to share the restrooms at their own homes with their students. It was an embarrassment to the school managers. They needed an idea on how to improve the situation.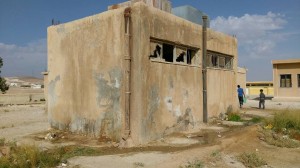 [Abandoned restroom in the school]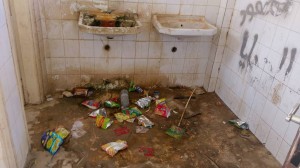 [Inside the school restroom]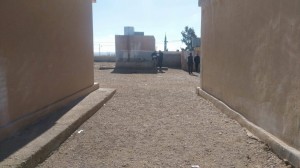 [Walkway before being paved]
The JEN engineer team visited Sad Al-Sultani Boys' Junior High School in order to assess the repair priorities and figured out that it was necessary to renovate the restroom facility.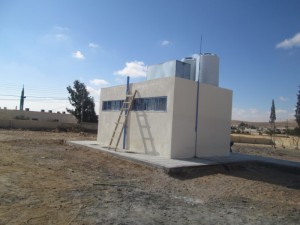 [Restroom being renovated]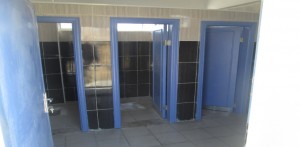 [Inside the renovated restroom]
The whole restroom facility was repaired including windows, doors, seats, floor, tiles on the wall, water tanks, as well as the water supply and sewerage system. Work did not stop there, the walkway to restroom was repaired too.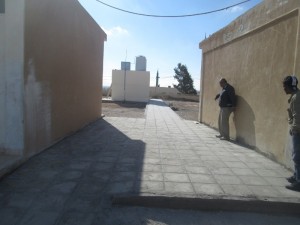 [Walkway after being paved]
【JEN is now accepting donations. Your help would be very much appreciated. DONATE here】
2017.03.09
This time, we'll share with you an interview with 12-year-old Zaina who goes to public girls' school in Irbid province in the north of Jordan. This interview was carried out by a local sanitary promotion coordinator of JEN Jordan office which is supporting the community (host community) readiness of Syrian refugees.
Even now in Jordan, there are not a few girls who get restless at the onset of their first menstruation because they have not been taught about the right knowledge about it in family nor in school. In this interview, Naiza said on the basis of her own experience that it is important for girls in adolescence stage to be open in talking about it and learn the right knowledge about it.
"I am Zaina, 12 years old. I live in Eiutou district, Irbid province in the north of Jordan. This is the first time for me to talk about my experience of menstruation, because I've never heard anyone talk about it and thought it shameful to do so. This time I'd like to tell about my experience for the sake of adolescent girls. I'll be happy if I can give them some advice by telling frankly about menstruation, and I want to say it is not shameful to talk about it. I'd like them to learn something from my experience."
"Even when I was 11 years old, I didn't know anything about menstruation. I only remember that a teacher who taught us about religion said 'If you have menstruation during Ramadan (Islamic fasting month), you don't have to fast for 40 days after delivery'. However, when we asked her about the meaning of menstruation, she didn't explain about it, only telling us we would be able to understand when we grow up."
"At home, my mother and grandmother didn't talk about menstruation when I was with them. When they began to talk about it, they used a special symbol so that I couldn't make sense of it or they talked in a low voice paying no attention to me. I was away from them feeling ashamed".
"One day when I came from school, I experienced my first onset of menstruation without any pain. When I told my mother about it, she was surprised that I had reached the first menstruation too early. This time, she explained to me briefly that every girl reaches their first menstruation at a certain age and how physiological function works at that time. When I asked when will it end, she said it would end in a few days. In fact, it ended in a few days, so I simply thought she had stopped it".
"During menstruation, I heard my mother telling my father about it. He set a room of my own separate from my brothers'. He also drove me to and from school. After 11 months, I experienced the next menstruation. Then I got angry thinking it was my mother's fault".
"At that time, my mother explained to me more about it in detail, telling me that it was not an injury but a physiological phenomenon common to girls. She asked my younger brother for the first time to buy menstrual napkins for me, and when she saw him bringing them home with his bare hands, she got angry. Then she prepared 2 trash boxes, one is for our family and the other is for women in the toilet. There were always menstrual napkins and empty bags and she also showed me how to dispose of a used napkin".
"She put secretly a little bag of napkin and an empty bag into my school bag. She told me not to pray during menstruation, so I thought it is very awful even to mention God's name during a menstrual period".
"My mother is great, but she sometimes seems not to be open-minded when she talks with me about personal matters. As she knows I'm afraid of disease, bleeding or something unusual, she instructs me to go to the toilet every 2 hours to renew a napkin. She also instructs me to clean the toilet seat twice (before and after using it). That is because I should not only be infected but also keep others from infection".
"At school, no classmate talks about menstruation because talking about it is thought to be very shameful though there must be a few who have experienced their first menstruation. Once, a friend of mine had a stomachache during P.E. class and went to the toilet to find out she had her first menstruation. She began to cry. I gave her a menstrual napkin I had in my school bag and shared with her what my mother had taught me to make her at ease".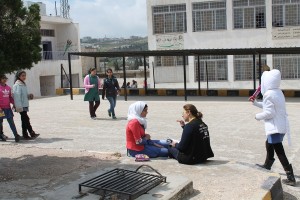 [ Zaina is answering questions in the interview]
Wisam Al-Jumaili
Sanitary promotion coordinator
【JEN is now accepting donations. Your help would be very much appreciated.
DONATE here】
2017.02.16
For Wael abu Lehieh, a young engineer, there seems to be no big difference between what he is now experiencing at Za'atari refugee camp and what he himself was involved in at Gaza refugee camp.
By utilizing his own experiences at Gaza refugee camp, Wael is supervising the construction work at Za'atari refugee camp to connect sewer pipes among facilities, which is the first phase of the sewer network project.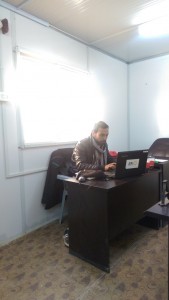 [Wael is writing down daily progress report in JEN caravan of the basecamp]
The sewer network project was launched in December, 2016 by JEN and other groups supporting Syrian refugees in the camp in order to connect sewer networks among schools, hospitals, Mosque and other facilities. Supplying concrete separation tanks, spreading sewer pipes, setting manholes and some other work concerned are included in these sewer network constructions.
The WASH-service offer is under the management of JEN. A total 58 of organizations and facilities in the base camp with almost all NGO offices and in the 3rd, 4th and 5th sections of refugee camp will be working together through the sewer network.
He usually starts his daily work with walking around the 3rd, 4th and 5th sections, looking around the site of the camp and checking activity points of the previous day. Then, he makes a construction plan for digging and spreading of water pipes, and at the same time finishes office-related work without fail.
Today, a concrete tank was set up around the reception area of the camp and was connected to sewer network. A heavy industrial machine is used for construction and it also raises and lowers a huge separation tank. Therefore, safety is the first under construction.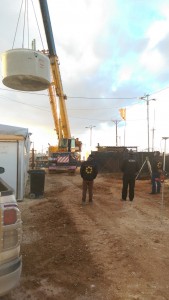 [JEN staff watching a separation tank being raised]
[The construction connecting a separation tank to toilets of school with a pipe]
Wael says:
"Before coming to Za'atari refugee camp, I was involved in sewer network construction as a refugee under a contractor at Gaza refugee camp. I came to have further sense of responsibility to offer the work in the highest quality to residents in the camp and my community, and I accomplished it."
The same approach he utilized in Gaza camp was used in Za'atari camp. This approach aims for Syrian refugees to work in the project through CFW*. This approach can not only support refugees economically but also foster their independence and sense of responsibility regarding infrastructure of the camp.
In the process of construction, some checks concerning the depth of digging holes, degree of leaning of pipe, place of a manhole, making steps, and insulation were carried out as well as water examination. As the construction progresses, every record and result of the examination has to be rechecked and reported every day in order to guarantee its quality and quantity.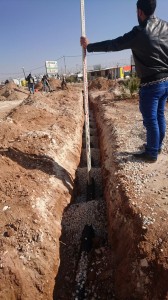 [Height is measured to guarantee adequate leaning of a pipe]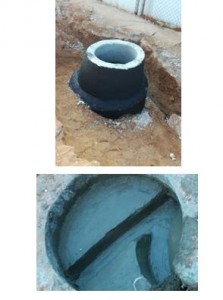 [Photo top: dry the receiver under the manhole/Photo bottom : steps inside the manhole]
Za'atari refugee camp is now changing to a town and Wael is looking for a new, future project as he is getting good results in his work now.
The project at present is expected to complete at the end of February, 2017, when a total 103 tanks are introduced and a total of 2km pipe are spread. The second phase of sewer network construction will start in March, so the construction on the first phase needs to be finished by the end of February. The schedule is quite tight.
On the second phase, all tanks introduced on the first phase will be connected to the sewage plant.
Wael abu Lehieh
JEN Jordanian engineer
*CFW (support by value for labor) is a support program promoting revival of the destroyed area in a way that sufferers themselves work for its restoration / revival while achieving value for their labor.
2017.02.02
Last week, Amman had its first snow of this year.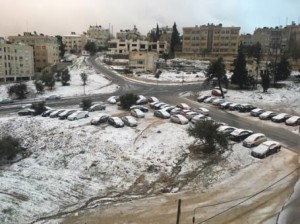 There was no snow in Za'atari Camp, but there was rain during the weekend which flooded the camp with damage. As usual every year, organizations, including JEN who is in charge of providing hygiene aid, are sending trucks to the victims of the flooding to pump out the sewage and are working hard to minimize the damage.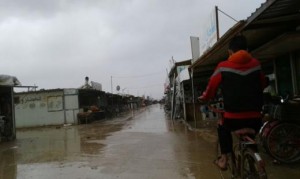 [The flooded shopping area]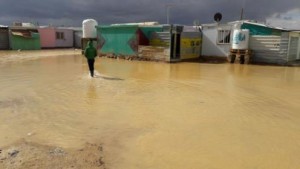 [The flooded street the residence area]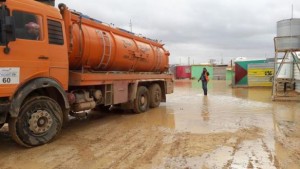 [Pumping out the sewage to the truck]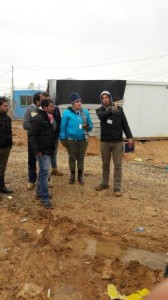 [JEN staff is briefing UNICEF staff on the damage ]
The rainy season is still continuing. JEN is continuing to support efforts to alleviate problems (especially related to raining) faced by the Syrian refugees, to prevent flooding in their residences and streets, and to prevent such damage from disturbing peoples' lives.