2016.02.17
Do you remember that you learned how to wash your hands and clean your room as a child?
Maybe most Japanese people do not realize that those acts protect you from diseases and take root in sanitary life.
In some parts of the world, it is rare to wash your hands after using the toilet and to clean the bathroom like Japanese customs.
In the region where refugees live, diseases are spread by trifle things because of dense population in an unsanitary area.  It is unthinkable in Japan.
To prevent the spread of diseases and lead sanitary life, JEN is focusing on hygiene education program in refugee camps and the elementary schools.
JEN supports pupils gain hygiene habits and mobilise the knowledge to their family in cooperation with the elementary schools.
[Pupils present a play of sanitary life which is a part of the hygiene education program]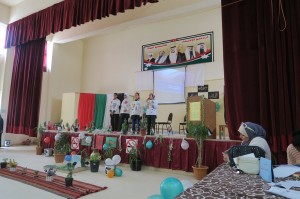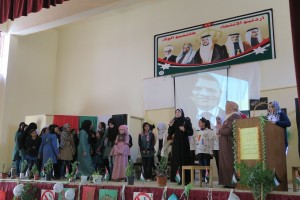 【JEN is now accepting donations. Your help would be very much appreciated.
DONATE here】
2016.02.04
These children are trying to create their own cosy space:  an effort to improve their living environment in the Za'atari Refugee Camp. In the camp, there is no space to play for the children, and they are hanging around a busy road side and a construction space with heavy equipment, where safety cannot be guaranteed.You can see more details of the improvements in JEN's newsletter.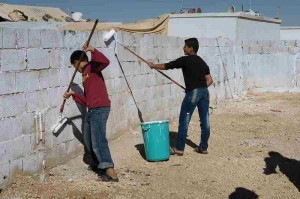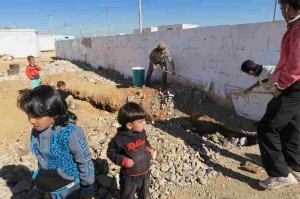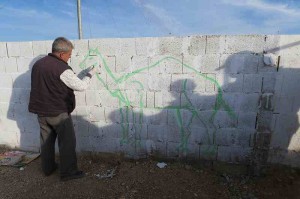 【JEN is now accepting donations. Your help would be very much appreciated.
DONATE here】
2016.01.07
Since the beginning of November, we have become the member of JEN and have been working in Za'atari refugee camp as field assistants. At first, we were shocked by restrictions on water usage and minimal environmental hygiene. Even now, we learn a lot of things every day.
Our main job is to secure appropriate environmental hygiene by improving access to the water sanitary facility. We monitor water distribution situation every day and keep our eyes on to make sure that each person could receive 35 litters of clean water.
Another important work is to monitor and retain the public water sanitary facility. Infrastructure of Za'atari refugee camp is improving gradually. We are retaining this by cooperating with the members of the community. Right now is a transitional period for public water sanitary facility to be set up to each home; however, this is because public facilities are still in use, it is necessary to maintain the good condition.
Furthermore, to prevent the spread of disease in the camp as the environmental hygiene is low compare to its high density of the population, we are delivering hygiene promotion message aiming to strengthen people's knowledge. We make house-to-house visits, do group sessions and do hygiene promotion events in some cases. We do cleaning activities with the members of the community every month. These activities are good opportunities to promote the whole camp community to make an effort to create healthy environment by themselves. Believing that they will gain power to become independent in the future, JEN recommend participation of activities. These activities include those of water and health committee which retain facilities and community hygiene promoter who provide hygiene promotion activities.
<The look of hygiene promotion activity associated with World Toiled Day>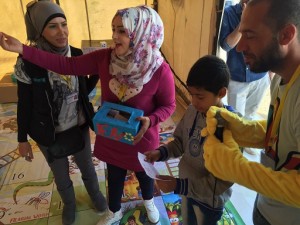 Currently, we are expecting that flood caused by heavy rain and snow in winter will occur again from our past experiences so, we are discussing about the contingency plan. In the meantime, to make people recognize that all the residents in the camp have responsibilities to their own households, we are sending message to call attention to each households.
Recently, we heard difficulty of using freezingly cold water from the people in the area. We want to respond to their needs in the field by setting work priorities and working with related organizations as a team.
Looking back over the past three years, the camp seems to have become more stabilized, but nobody knows how long their life in the camp will be. We want to work hard to create a better environment for them.
We want to implement 'Lessons learnt' from our past experiences to support them efficiently.
Maja & Fares
<Maja and children>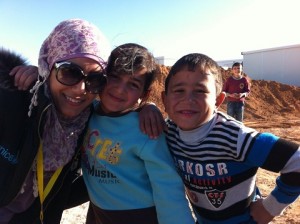 <Fares monitoring water sanitary facility>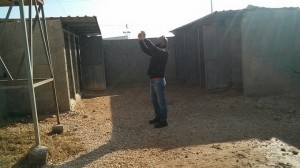 【JEN is now accepting donations. Your help would be very much appreciated.
DONATE here】
2015.12.17
The date visited the Ambassador of the Japanese Embassy in Jordan and his wife, they had been an elementary school, where JEN has conducted supporting activities.
Through donations from supporters, and with the cooperation of the Japanese government and UNICEF; a water hygiene program was carried out by the pupils and the school. Ten percent of the pupils are Syrian refugees. The school has finished repairing their sanitary water facilities this September and has since then applied the hygiene education program.  It is located in Balqa Governorate, which is 30 minutes from Amman by car.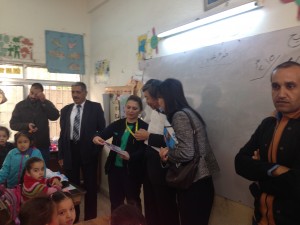 ↑JEN's local staff, the senior hygiene promotor, is briefing the Ambassador and his wife about the hygiene education tools.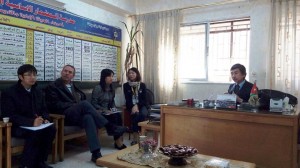 ↑Meeting with the Ambassador and his wife, the Jordan representative of UNICEF and JEN's staff.
【JEN is now accepting donations. Your help would be very much appreciated.
DONATE here】
2015.12.03
Guess what, something has arrived here!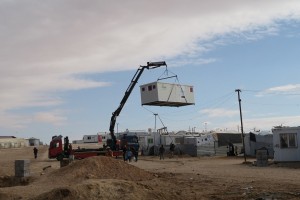 This is a day in the Za'atari Refugee Camp and the picture shows temporary house-moving.
Currently, 80 thousand Syrian refugees live in the Camp in Jordan. The temperature is dropping day by day which mean that the people living in the camp will soon face a freezing cold season.
【JEN is now accepting donations. Your help would be very much appreciated.
DONATE here】