2015.04.23
"Water means life, health and prosperity," said a young participant at a three-day campaign on the occasion of World Water Day, marked on Sunday, March 22nd World.
"I believe this event tackled an important issue to those who live in the camp whether we stay at za'atari camp or went back to Syria," he explained.
The awareness campaign, organized by JEN, was launched at Zaatari camp for Syrian refugees with the theme of water and the need to protect and conserve water.
The campaign included the publication of two main messages: "For better health, we need clean water. Let's keep the water clean", and "Water is for you and others; don't waste it".
The campaign targeted males and females from three age groups: Adults, teenagers and children.  Three different methods were used to deliver the above messages in accordance with each age group.
For Adults: Group sessions were held with refugees from both genders. During those sessions, awareness messages were discussed with the refugees through two key points: Ensuring that water is always clean and the knowledge of the share amount of water is 35 liters per day per person. Also they've been informed about how to save water by re-using the drainage water after cleaning the dishes to clean the floor.
During the sessions, trainers received positive reactions from the attendees regarding the value of saving water, especially when someone referred to the issue of water shortage in Jordan compared with Syria.  They also they realized that water resources in Jordan are not as abundant as they used to be in their own country, which reflected positively on their behavior in daily water use.
In addition, the process of water testing for safety and cleanliness in the camp was discussed.  Attendees indicated that they are confident of the quality of water provided to them.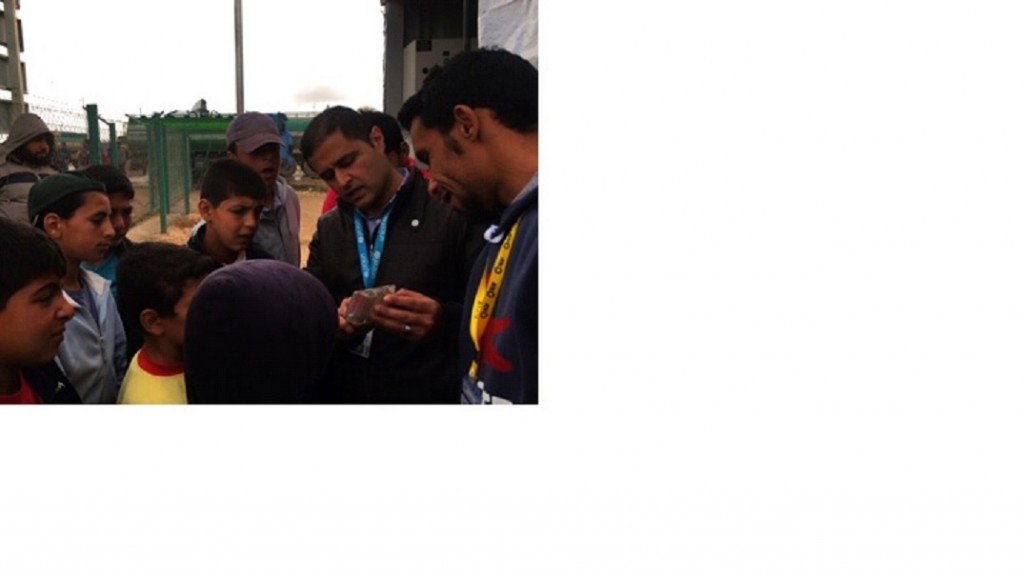 Teenagers
Many group sessions and activities targeted 14 – 18 year-old teens. Activities included a contest that aims to raise awareness of water conservation by letting them pour the water from a big bucket to many cups without spilling any water on the floor. The winner won a site visit to the water borehole inside Zaatari camp to see the borehole operation and filling the water into the trucks.
Children
Many games and activities were playful to deliver messages by the simplest ways to the kids. The games and activities that were held were face painting, performing a play, songs and drawing.
Most of the refugees who attended this event said that such activities have positive influence  on their children and encourage them to adopt  new habits concerning the usage of water.
[Water is limited resource (left)/ Keep the water safe(right)]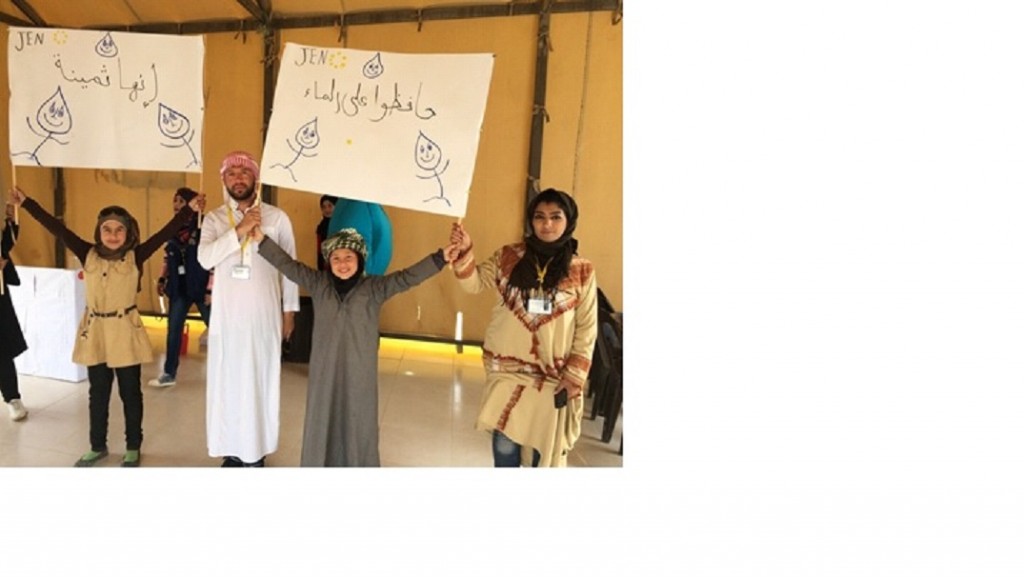 【JEN is now accepting donations. Your help would be very much appreciated.
DONATE here】
2015.04.09
The Community Hygiene Promoters invite 8 -10 women to participate in the session with them.   Sometimes the sessions are held at JEN's community center and sometimes at the hygiene promoter's household. Generally one or two of the JEN staff attend the sessions to support the hygiene promoter.
During the sessions the women learn many new things.    There are a lot of myths and misconceptions about how they can care for themselves in a hygienic way.    Many women begin to understand what is happening in their bodies each month for the first time.  They also ask a lot of questions that go beyond our hygiene sessions so we refer them the doctors in the camp when that happens.  The women are very interested to be learning about this topic.
At the end of the session each woman receives a hygiene kit that was donated to JEN by UN Women.  It contains many supplies that they can use to care for themselves and also items they can use to keep the house clean.
What are the most surprising things we learned through creating these sessions?
Originally we didn't think that women would be interested.  And we thought that they would already know everything we had to say.   But, we quickly found out that some of them have a lot of questions.  One interesting myth that comes up is related to food.  Some women thought that eating certain foods like lemon, onion, or coffee would be harmful for them and that they also tend to stop cooking during menstruation fearing that the food will be spoiled for their families.    The CHPs have become experts at correcting myths and providing true information.
What will we do next?
The menstrual hygiene topic is so popular that many more women have asked to volunteer as Community Hygiene Promoters with JEN.  Two weeks ago, we conducted an orientation session with 16 new volunteers.  Now they know the general topics of how to communicate, how diarrhea spreads, proper hand washing techniques and times.  The women who are already giving menstrual hygiene sessions are also asking for other topics to discuss.  We have already begun developing a training for them about dental hygiene and after that we will decide on the messages about water conservation.
【JEN is now accepting donations. Your help would be very much appreciated.
DONATE here】
2015.03.26
Za'atari Camp has about 83,500 refugees living in it at the moment.  Almost exactly half are women.   In the districts where JEN works there are about 3,600 women between ages 12 and 39 years old. Knowledge about how to handle menstruation and other women's topics is usually shared between mother or aunt and the younger generation.  Many women in the camp did not receive any formal education about health or hygiene so they don't always have accurate information to share.  Also, many families have been split apart so that daughters are here without the women in the family who would normally guide them.  JEN decided to offer menstrual hygiene sessions in the camp to help women and adolescent girls understand how to care for themselves.
In February, six JEN staff began preparing menstrual hygiene messages to share with the women in the camp.   We met four times to discuss what the important things are for women to know. We developed diagrams and simple messages to explain what the menstrual cycle is and how to handle it hygienically and we developed responses to myths we thought that people would ask us about.   One way that JEN spreads hygiene messages in the community is through volunteer Community Hygiene Promoters.  For this topic we trained 13 female Community Hygiene Promoters on the information that we prepared.  Since menstrual hygiene can be a little uncomfortable for people to discuss we had the Community Hygiene Promoters practice delivering the session to each other in small groups before sharing it with women in the community.  We asked each Community Hygiene Promoter to commit to delivering the session 3 times over the next 2 months.
What happens at the CHP Sessions?
(To Be Continued)
【JEN is now accepting donations. Your help would be very much appreciated.
DONATE here】
2015.03.12
Colourful flowers are blooming around Jordan. Spring is just around the corner.
A new semester has started at the second week of February in public schools.
【The new classroom has been used from the new semester (Al-Mattalah Primary Mixed School) 】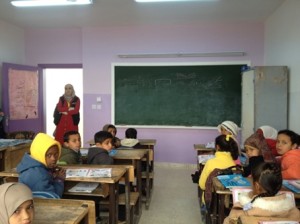 The north 3 governorates, Irbid, Mafraq and Ajloun, have accepted huge numbers of Syrian refugees so far. One of the places, Naimeh, where JEN's target school exists was the most crowded area by Syrian and it is said that its population is more than Jordanian.
There is a primary school for boys located 4 km away from Naimeh, but it is too far to commute on foot. Naimeh Primary Mixed School has absorbed children even though the number has exceeded the limitation because it is the only school that female students can enrol around this area. Thus, the classrooms were overcrowded.
【Female students in crowded classroom (Naimeh Primary Mixed School)】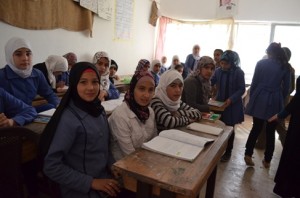 It is found in host communities that there are some parents stop children schooling. This is because learning environment is bad for children due to narrow space, pre-fabricated classroom and/or double-shifting.
JEN's support of classroom expansion is 'killing THREE birds with one stone' because to avoid losing education opportunity, dropping out and to keep education quality through improving learning environment.
In a tough situation for both Syrian refugees and Jordanian host community members, what Syrian and Jordanian children continue to study in suitable learning environment JEN contributes can provide better future for both countries.
The school assessment JEN host community mentioned in previous blog article is in process. Using the result, JEN will contribute to create appropriate learning environment in public schools.
【The classrooms seeing from the back side (Naimeh Primary Mixed School)】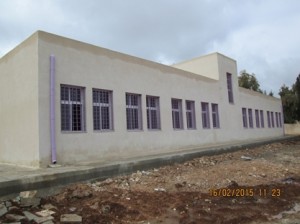 【Inside the newly constructed classroom (Saqir Quraish Primary School for Boys)】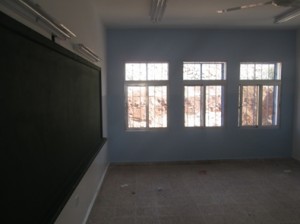 ====For donation…↓↓↓↓↓↓====
○Postal transfer account No: 00170-2-538657
Account holder: JEN
○Credit card: http://bit.ly/c7R8iA
For any inquiries regarding bank transfers, please contact  Asakawa in JEN Tokyo Office at 03-5225-9352
2015.02.26
In normal life, we are having toilets and showers in our homes and we do not recognize their importance in our lives unless we lose them. In fact, we think about that importance only when we have to replace a fitting or properly facing lack of water which might be occurs only a few times per year.
However, in a disaster or emergency situation, refugees resorting in camps are unfortunately forced to share necessities including toilets and showers. Humanitarian organizations such as JEN are responsible for ensuring that refugees have access to these facilities, which can sometimes be difficult to manage when there are over 84,000 refugees in one location, such as the case in Zaa'tari refugee camp. JEN puts its utmost efforts into making sure that all public toilets within its responsible areas in the camp are accessible, clean, and safe to use.
Regrettably, there is a small minority with a narrow perspective who continuously vandalize public toilets on purpose. In these unrespectable cases, refugees who will be most affected are the refugees who are most vulnerable.
[Vandalized WASH facility]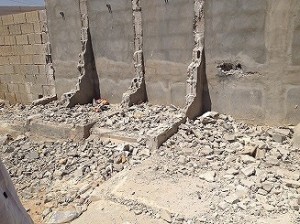 JEN works to repair these public toilets on a continuous basis and in some circumstances completely rebuilds toilets that have had all their parts vandalized. JEN maintains these public toilets because access to safe and clean toilets is essential to protect the health of the refugees and prevent the spread of communicable diseases.
[Rehabilitating WASH facility]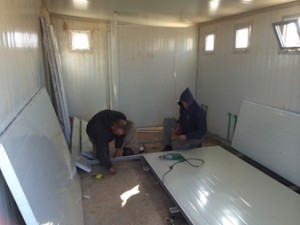 [A completely rehabilitated WASH facility]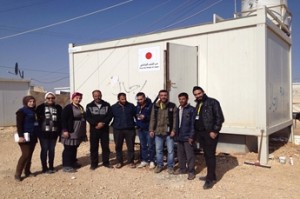 In the other hand of rehabilitation, sometimes there is a need of establishing a new facility to accommodate the continuous influx of refugees into the Zaa'tari camp where they set up homes in a location without operational public facilities. Recently, JEN completed a construction of a new public toilet in one of these newly occupied areas. With this facility, more than 300 refugees will be able to access a WASH facility near their home and make their life easier.
[Installment of new WASH facility]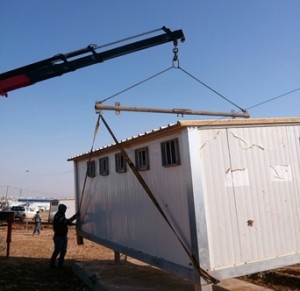 [Fully functional new WASH facility]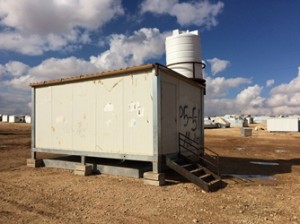 We believe these achievements will ensure a better life for refugees in the camp, and JEN will continue to support them with the best efforts.
====For donation…↓↓↓↓↓↓====
○Postal transfer account No: 00170-2-538657
Account holder: JEN
○Credit card: http://bit.ly/c7R8iA
For any inquiries regarding bank transfers, please contact Tomita or Asakawa in JEN Tokyo Office at 03-5225-9352