2015.07.09
"The strong sun blazes down on the dry ground in Jordan. The dust raised by the wind hurts my eyes.  I sometimes hate the beautiful sky without any clouds."
Today is my sixth day to go to the camp as an intern. The sentences above are what I kept in my diary on my first day in the camp.
In the camp, I was impressed not only by its severe climate but also by its aspect of "organized town". The camp is divided into 12 districts and along the main road called "Champs Elysees", people in the camp are selling some food like vegetables and meats, clothes, perfumes and toys. To my surprise, I heard it also had a game arcade. I felt energy  and power of youth. There is electricity and water flowing through the "town", and the roads are paved with concrete. And the community has emerged among the people who were completely strangers originally. The emergence of economy and society made me feel  as if I saw a history of  growth of  a city in fast forward..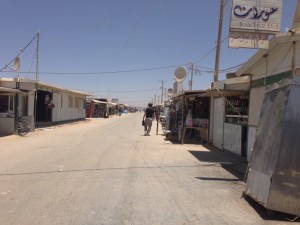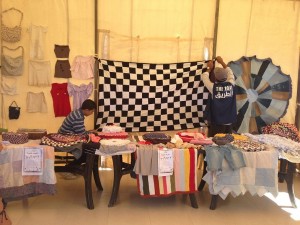 I'm now working in a team that publishes   the JEN magazine every month. The magazine, called "Al-Tariq" (The Road in Arabic) is a magazine of refugees, by the refugees and for the refugees in the camp. The volunteer team is composed of the refugees. Their main task is to collect articles from people in the camp. One of the members of the team told me with great pride that he was a journalist. They all finished journalist trainings organized by JEN.
I thought that the role of the refugee camp is to be a shelter for the people who fled from their home countries because of wars.  However, now I'm sure that this camp has another role, which is the camp for learning and better life.
The other day, I saw a lot of women were attending a lecture about health in the community center and heard that the women in the "up-cycling" project took part in a session for tailoring to make other useful items. I felt that the people in the camp were making efforts to improve their living place by joining various sessions planned by international organizations and working together with them. That is my new perspective of the refugee camp.
Is it overstated if I would say people in the camp can create something from nothing by using their ideas? I found the magazine full of ideas which aim to make their severe life in the camp better and brighter. This process, I think, provides a lot of learning to live for the people in the camp.
In addition to the sunlight which becomes stronger and stronger as time goes by, Ramadan, starting from today, would definitely bring them hunger and thirst. That makes it more difficult for me in the camp as well, but I will keep studying about the camp from JEN staff and the people in the camp.
Hori
【JEN is now accepting donations. Your help would be very much appreciated.
DONATE here】
2015.06.25
As we announced on 25th Dec. 2014 that we have been under the process of assessingall public schools in Jordan since December, we completed this after four months in April.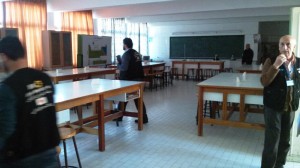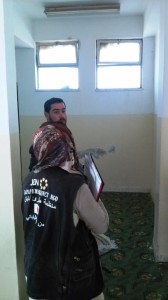 According to the list from the Ministry of Education, the total number of the school was 3,658.However, our assessment found out that 23 schools dropped from the list, resulting in a total of 3,681 schools. To judge our result of the assessment, UNCEF made a surprise inspection, and concluded that 95% of the result was correct.
JEN has ran the project for Syrian refugee camps in Jordan at the same time as the project that accepted both the Syrian children and Jordanian children in the Jordanian host community.
The Ministry of Education in Jordan offers education opportunity for children who evacuated from Syria. They accepted these children in the public schools in Jordan. Because there is no end to the conflict in Syria which began 5 years ago, the number of the Syrian children in Jordanian public schools has been increasing. Therefore, the space of the schools and the capacity of the water & sanitation facilities in schools appear to be insufficient for accepting the increased number of the students. This is especially the case for the border districts with Syria and Amman district where the capital is located, more and more public schools began to have two shift systems of classes in the morning and in the afternoon to cover the increasing amount of students.
Furthermore, since families of Syrian refugees are suffering from the high prices in Jordan, those who move to country side from big cities are increasing. We can say that the burden of the Jordanian government and people who accept Syrian refugees are becoming heavier, but on the other hand, the Ministry of Education cannot catch up to grasp the needs of the public schools in Jordan entirely.
In order to implement assistance promptly, adequately and efficiently based on grasping the needs correctly, it is necessary to cooperate with related agencies such as the Jordanian government, UN and NGOs. We will share the report on the assessment with them, and through these processes, we will bring the assistance for the schools in all of Jordan.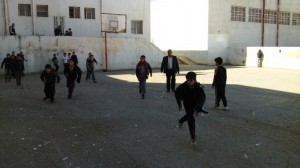 【JEN is now accepting donations. Your help would be very much appreciated.
DONATE here】
2015.06.11
One of the changes in our lives as Syrian refugee women was that it gives us free time that we didn't have when we were living in our beloved homeland Syria. As women, we wanted to use that free time in a way that feels beneficial: We wanted to feel that we are engaged fully in life and that we are very much productive human beings.
One day, we heard of the idea of recycling clothes which was proposed by Japan Emergency NGO to take advantage of old clothes. We liked the idea; therefore, we decided to work together with other women in this regard.
At first, the supervisor showed us movies to demonstrate ideas about how to recycle old clothes and transform them into carpets and bags.  Then each one of us selects pieces of clothes depending on what she has in mind and what she has decided to do. Some of us prefer to take men's shirts, as the texture is the best for bed covers and curtains. Um Mahmoud prefers to have bright colors to make braiding rugs. Almost everyone already knows how to braid and the rest of the process is simple to learn.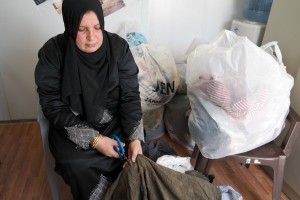 We are 30 women who form the essential core of the "Recycling Cloth" project, but there are more women who attend weekly gathering from different districts of the camp. We want to fill our free time doing useful things for our families in a way that increases our creativity, energy and sense of fulfillment in life.
We can use our products or decorate our caravans instead of buying materials from the market. We all feel proud of what we have produced. In the future, we would like to develop a business so that we can sell our products inside the camp and, if possible, outside in Mafraq and Amman.
Fadia
【JEN is now accepting donations. Your help would be very much appreciated.
DONATE here】
2015.05.28
In late March, I went to Jordan privately. I visited Za'atari refugee camp on the first day and visited the Palestinian refugee camp on the second day.
'Baqa'a camp,' the Palestinian refugee camp we visited was established in 1967 and currently around 500,000 people live there. In the beginning, they lived in tents, but have since transitioned to one-storied houses. Some of those people live in two-storied houses. With more than 40 years since its establishment, the camp looks more like a city than a refugee camp.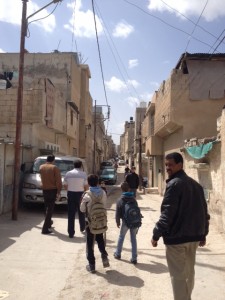 The Palestinian refugees who live in Baqa'a camp have Jordanian residency and most of them have jobs. Some people can afford to purchase land or a house outside of the camp. Children are enrolled in schools and some of them who grew up in Jordan are studying medicine, technology, science and/or engineering at universities.
They are not suffering from insufficient food, clothing and/or shelter and they no longer need to fear bombings and bombardments. From outside, it seems as though they live "peaceful" lives. However, Jordan is not their home. They still long to return to Palestine, where they truly call home.
How long will Za'atari refugee camp last? Will Syrians go back to their home country after 20 years? Or will Za'atari Camp, with its already flourishing markets, also become a 'city'?
These were some thoughts that filled my mind during my short trip to Jordan.
(Yoko Asakawa, JEN HQ Tokyo)
【JEN is now accepting donations. Your help would be very much appreciated.
DONATE here】
2015.05.14
For Mohamad Al Hraki, 19 years old, a workshop in journalism is a dream that comes true.
"I have always liked to be a journalist since I was a child. I carried my dream with me from Syria to Jordan and waited for the opportunity to achieve this goal," said Al Hraki who has been living in Za'atari Refugee Camp since 2012.
I wanted to be close to the event, he added. I wanted to look for the truth and write the story to be published in a magazine or newspaper.
"Whenever I heard about training sessions offered in the camp, I wanted to attend them because, maybe, the sessions were about journalism. After a long wait, I found out about the publication of a communal magazine for Za'atari camp. The magazine opened its pages for those who are interested in journalism to volunteer," said Mohammad.
"I felt even greater joy when the magazine team decided to hold a training course, which specializes in journalism. When I first joined this session, I learned a lot about writing, editing, field work, interviewing tactics and the method of writing investigative pieces.  I also learned about the ethics of the profession, like credibility, balance and objectivity," explained Mohammad
Last October 2014, JEN started a journalism workshop to train interested people in basics of writing. The 4-part workshop covered basic grammar and punctuation, interviewing techniques, reporting techniques, and ethics of journalism. The series workshop also taught professional news- and story-writing and interviewing skills to participants between 15-24 years old, in response to the repeated interest expressed by them.
Once the participants completed the 4-series course, they utilized the skills learned to collect stories for the next issue of the magazine, under the mentorship of JEN's professional editor and journalist. At the same time, the JEN professional editor guided the participants through the editing process of their own articles, and JEN's graphic designer worked together to develop the magazine design. Participants worked under the close mentorship for the following two issues, at which point, they were certified as an independent journalist for JEN's magazine.
Workshop participants received a JEN certificate and were invited to volunteer as journalists to contribute to the magazine going forward to further hone their writing skills. So far JEN has graduated over 20 participants, most of who have been from the youth community.
[Work shop]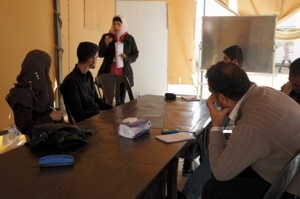 "When I saw one of my friends wearing the journalism badge around his neck and collecting stories from and interviewing the residents of the camp to be published in the camp magazine,' The Road",  I decided I want to be like him," said Malik Alzahra 20 years old.
"I asked him if there will be another workshop in journalism and was happy to know that the magazine team is preparing to conduct a new workshop at JEN tent in district 4, for which I immediately registered my name," explained Malik who holds a Syrian high school certificate.
"I learned that it's important to learn and investigate the subject for which you will be interviewing a person, who should be a specialist in this issue.  If you want to conduct an interview with a famous person, you should gather information about him to look professional. At the end, you should always be ready before you interview anyone'" said Asmaa the first female to attend the workshop.
"The lecturer introduced us to the work of journalism. At the end of the session, we did a short quiz which I passed. And I learned that when we want to do a story on an issue, we should learn and read a lot on this subject before we write about it," she continued.
For each magazine issue, JEN has been engaging 50-60 refugees from all ages and both genders to contribute to the magazine. JEN journalists have reached out to people from various districts to cover diverse voices.
Contents included in the magazine are entirely developed and/or contributed by the Za'atari refugee community and the magazine serves as a forum to highlight and showcase works developed by refugees, interesting services provided in the camp through the participant's perspectives and share information among the community.
"We are fully aware that the press is a social responsibility and a moral message. We are committed to objectivity, accuracy and professionalism and will not exploit the profession for personal benefit,"  concluded Al Hiraki.
[Completed the 1st workshop]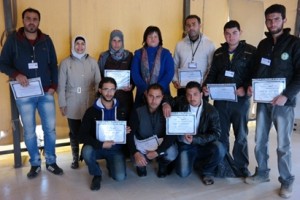 【JEN is now accepting donations. Your help would be very much appreciated.
DONATE here】