2016.04.21
These pictures show the monthly trash collection event held by JEN staff members.
In one particular district, each staff member joins in to help pick up trash.  At each event, local residents join in to create a large group of trash collectors.
The event is a very good activity for JEN staff to meet and interact with the residents of the community, to increase the residents' awareness about trash collection, and for our staff to remain active.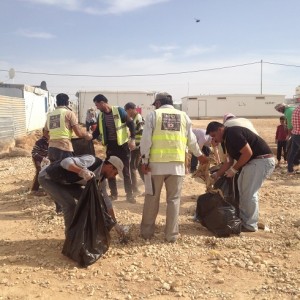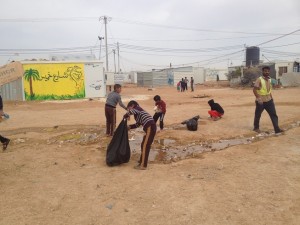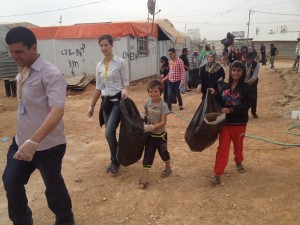 【JEN is now accepting donations. Your help would be very much appreciated.
DONATE here】
2016.04.07
In December 2015, the annual pre and post Knowledge, Attitude and Practices (KAP) survey was conducted for 5 days.
In this survey, which concerns the entire Za'atari Refugee Camp, we asses refugees' knowledge, attitude and practice regarding water and hygienic environment. As a result of the survey, there is a possibility that a new project will be established.
The survey was initiated 4 years ago by JEN in association with other institutions and has been improved every year since then.
The questions of the survey cover a broad range of topics such as drinking water, hygienic environment, food, health, and sewage system which is currently in the middle of preparation for the sewage system.
Upon selecting the survey team, sex, affiliation and work experience are considered trying to be indifferent; however, it made without distinction of any kind. Each team visits randomly selected houses from 9am to 3pm.
Athough the breakdown of call equipment became a serious issue last year, this year, we could finish the survey on time by preparing spare equipment in advance which enabled smooth communication between each team. 
It was a big hurdle whether or not experienced staff could conduct survey together with inexperienced staff, but by solving daily issues one by one, we were able to complete the survey without any trouble.
After collecting all data, a completion ceremony for all participants was held. The participants had lunch together and shared their experiences of working on the survey. At the ceremony, each participant received a certificate on completion, and JEN expressed its gratitude to them. Collected data is to be gathered and a report is to be published shortly.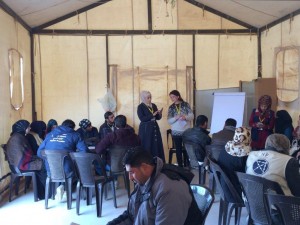 【JEN is now accepting donations. Your help would be very much appreciated.
DONATE here】
2016.03.24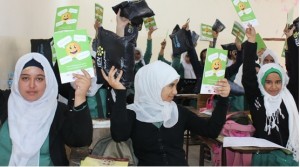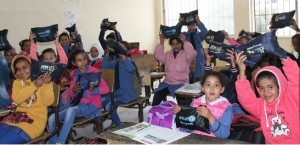 JEN is improving community hygiene through its repair of Water, Sanitation and Hygiene (WASH) facilities and by providing personal hygiene teaching sessions. We distributed information booklets and hygiene kits to pupils to allow them to safely practice hygienic habits.
This picture shows the pupils happily receiving their information booklets and hygiene kits.
【JEN is now accepting donations. Your help would be very much appreciated.
DONATE here】
2016.03.03
Jordan, in the Middle East, is a small country (92,300 km2)) in area, which is almost as large as Hokkaido (83,424km2) in Japan. Jordan is a non-oil-producing country influenced by changing fuel or food prices abroad. Being poor in water resources and having no conspicuous means to acquire foreign money, the structure of the state is fragile both socially and economically.
Surrounded by Israel in the west, Iraq in the East, Saudi Arabia in the south and Syria in the north, the state is apt to be influenced by the security situations in its neighboring countries. Jordan has admitted refugees from Palestina and Iraq. The inflow of Palestinian refugees began after the Six-Day War and now it is said that two thirds of the whole population of about 7.5million are residents of Palestinian descendants.
In addition, the crisis in Syria which occurred in 2011 forced a great number of Syrian refugees to rush into the state. It is said that Jordan has admitted about 1.4 million people out of 4.3 million refugees and 630 thousand people have been registered and acknowledged by the Office of the United Nations High Commissioner for Refugees (UNHCR). These refugees account for about 19% of the whole population in Jordan.
The Jordanian government suffers for the recovery of business and cutbacks of financial deficit, but on the other hand, spends a quarter of its state budget on refugee support. Consequently, the state has been driven into a severe financial condition by admitting the rapidly increasing Syrian refugees.
It is not well known that over 80% of Syrian refugees are living in the general society called 'host community 'which is outside of the refugee camps. Many of them are living in urban areas.
The government of Jordan offers an educational opportunity to the children of those Syrian refugees who are registered and acknowledged as refugees. The number of Syrian refugee pupils who entered public school in Jordan in 2015 is 143,500, which is an increase by 60% from the previous year. The government is planning to admit 50,000 more Syrian refugee pupils in 2016. It is said that half of the 1.4 million Syrian refugees in Jordan are children and it is thought that there will be the extended number of Syrian refugee children in public schools in the country.
The opportunity of education in Jordan is important for the Syrian people to manage the reconstruction of their home country when the crisis in Syria comes to an end and they return home. However, due to the increase of Syrian refugee pupils, public schools in Jordan admitting refugees will suffer from insufficiency of infrastructure and teachers, and the decline in quality of education and/or violence in schools will be a serious problem. In order to admit Syrian refugee pupils, almost 100 public schools (about 3 % of all schools) have introduced two-shift system. It is difficult for the Jordanian government, which is already in a severe financial condition, to invest money to improve the infrastructure of schools or to reduce the burden on teachers, and therefore public schools have no choice but to shoulder a heavy burden. In nearly all schools which introduced the two-shift system, Jordanian pupils are taught in the morning and Syrian pupils in the afternoon.
【In the classroom of first grade of elementary school, 3 or 4 children share a desk for two children】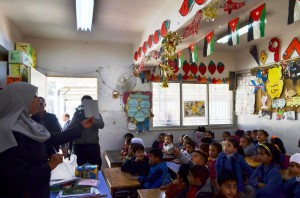 【The pupils of the school take up all the space on the floor】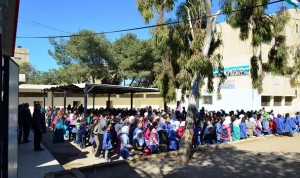 Donating countries, cooperating with the Jordan government, worked out a supporting policy to abolish the two-shift system and enable Syrian pupils to go to morning school by the year of 2019. The aim is to ensure Syrian pupils educational opportunities to prevent a "Lost Generation" caused by the Syrian crisis, while reducing the burden on public schools in Jordan.
In order to avoid the educational crisis of Syrian refugees living in the host community, it is also necessary to support people in the country admitting refugees.
【JEN is now accepting donations. Your help would be very much appreciated.
DONATE here】
2016.02.17
Do you remember that you learned how to wash your hands and clean your room as a child?
Maybe most Japanese people do not realize that those acts protect you from diseases and take root in sanitary life.
In some parts of the world, it is rare to wash your hands after using the toilet and to clean the bathroom like Japanese customs.
In the region where refugees live, diseases are spread by trifle things because of dense population in an unsanitary area.  It is unthinkable in Japan.
To prevent the spread of diseases and lead sanitary life, JEN is focusing on hygiene education program in refugee camps and the elementary schools.
JEN supports pupils gain hygiene habits and mobilise the knowledge to their family in cooperation with the elementary schools.
[Pupils present a play of sanitary life which is a part of the hygiene education program]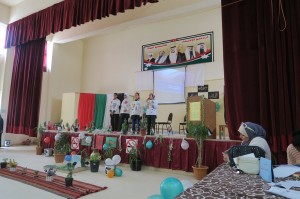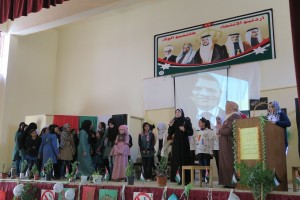 【JEN is now accepting donations. Your help would be very much appreciated.
DONATE here】