2014.10.02
As September comes to an end, weather is cooling down in mornings and evenings and Jordan is starting to see a hint of autumn.  While this is a welcome change for us, the transition to winter is a difficult time for many refugees, especially for those who recently arrived to Jordan without adequate preparation for the cold weather.
In order to assist the refugees in overcoming the winter months, many agencies provide relief items deigned to keep people warm, such as blankets, heaters, and clothes, as part of UNHCR's coordinated winterization program.  As part of this program, JEN has donated winter clothes received from various entities, with main contribution from UNIQLO, a Japanese retailing company, to residents in the Za'atari refugee camp during winter of 2012 and 2013.  In total, JEN has distributed a clothing packet, which includes a jacket, a top and a pair of trousers to over 150,000 individuals.  JEN's clothes distribution program is very well received by the refugees as they provide warmth in their harsh conditions living in tents and caravans.
As JEN considers organizing a clothes distribution project in Azraq Camp, JEN staff members made their first visit to the camp in September 2014.
Here is a look at Azraq Camp:
[Rows of transitional shelters in Azraq Refugee Camp.]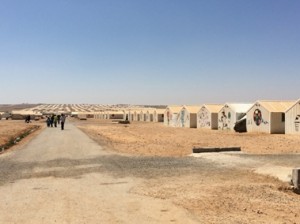 Azraq Camp was opened on 30 April 2014 to accommodate additional Syrian refugees entering Jordan as Za'atari Camp had reached its capacity.  According to UNHCR official data, Azraq camp spans across 15 square kilometers, hosts over 14,400 refugees, and it has the capacity to accommodate up to 130,000 refugees.  Azraq camp is located approximately 90 km from Amman, in the middle of the desert, making the living conditions in the camp difficult during harsh weather conditions.  During the time of JEN's visit, there was strong wind blowing constantly and the sun beating down on an area that has very minimal shading.
Azraq was designed based on the various lessons learned from Za'atari refugee camp.  One of the significant differences between the two camps is that Azraq Camp has ready-made transitional shelters where refugees can settle instead of living initially in UNHCR-provided tents.  The shelters are organized in clusters of several families living in a block, sharing toilets and water points. This design allows the refugees to have a sense of ownership over their facilities and avoid the problem of refugees not taking care of the communal facilities.
[Transitional shelters in Azraq Camp]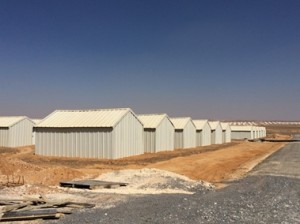 [WASH facilities allocated for families for one block.]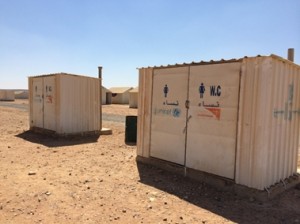 Azraq also utilizes several creative ways to maintain the camp.  Learning from the widespread informal connections refugees make on the electricity line in Za'atari Camp, Azraq Camp does not currently have general electricity service, but uses solar light system for street lighting.
[Solar lamps line the streets for safety and security]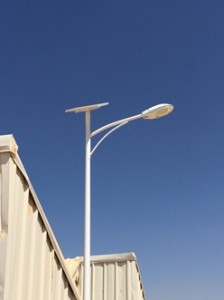 Based on the dire needs of the refugees to prepare for winter, JEN is in the final stages of discussion to begin the clothes distribution targeting the current residents as well as refugees newly arriving to Azraq camp in partnership with UNHCR.  JEN Jordan hopes that the support from the people of Japan will contribute to improving the refugees' lives in Azraq Camp!
【JEN is now accepting donations. Your help would be very much appreciated.
DONATE here】
【Click here to know more about JEN 20th Anniversary innitiative】
2014.09.18
I've only worked with JEN for a few weeks but I've been working in Za'atari camp for the past 10 months.  It's a very interesting time to be here.   There is the sense of a very rapid shift as the camp transitions from an emergency place of shelter to a place where Syrian refugees are restarting their lives.  You can see changes on almost a daily basis as refugees make the shelters more and more substantial and comfortable.  Despite all the progress there are still a lot of challenges and discomforts to overcome here.
I'm enjoying learning the JEN way of working to help address challenges- by building capacity and systems in the camp population so that refugees can identify and resolve their own issues in this shifting environment. There is a lot of collaboration on JEN teams at all levels and I'm really enjoying that too, because it makes us all feel connected to the work we do.
On example of how we build capacity is by engaging community members in the spread of information. We've switched from delivering hygiene promotion sessions ourselves to training hygiene promoters from the community to deliver messages to their neighbors.
Amaal, one of our skilled team leaders in Zaatari Camp, who has an academic background in health, identified 39 Syrian refugees in the community who are willing to deliver hygiene messages to the community on a voluntary basis.   For their first mission, we asked the community hygiene promoters to spread information about food safety in their community.
I got to watch Amaal train a few of the community hygiene promoters on the food safety message. It was a lot of fun!  Amaal is normally quiet and shy but she was quite animated and her eyes were sparkling when she delivered the training session.   Lively discussions started periodically during the training sessions as the Community Hygiene Promoters encountered information they were unfamiliar with or when they had a related story to share.
In closing the sessions I was curious why these women volunteered to help deliver messages in their communities.  So, after I expressed my gratitude for their willingness to work with us, I asked.  One fiery lady said she likes to work with people and help them.  Another who had been a nurse knows the messages can be important for her neighbors and she wants to use her background to help everyone stay healthy.
In the past few weeks I've also gotten to see how JEN is improving infrastructure in the camp.  For example by replacing sewage pipe that were frequently blocked because they weren't at the proper slope from the public toilets to the septic tank.  This was a fairly major undertaking as it involved digging out the pipe and adjusting its placement below ground.   The community members who live nearby were around to watch the work and understand the changes.  All agreed it was a necessary improvement.
[Replacing the sewage pipe between public WASH facilities.]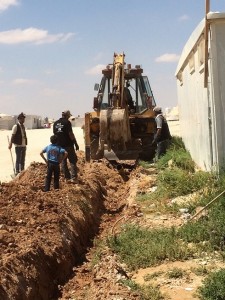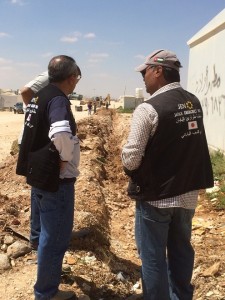 Another exciting thing I've been able to do was conduct a brainstorming session with the JEN staff in the camp.  We want our future programming to focus on the more vulnerable refugees who don't normally get to participate in our activities one reason or another. During the session we talked about reasons people can't always participate in camp programs. Then we started to develop the criteria we would use to identify these people so we can actively try to engage them in the future.  In addition to getting a lot done we all had fun!
[Introduction to brainstorming session on vulnerability in Za'atari Camp.]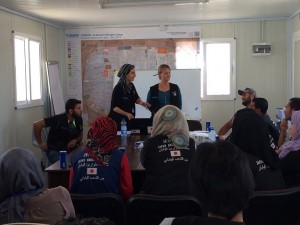 Anne Rapin, Program officer
【JEN is now accepting donations. Your help would be very much appreciated.
DONATE here】
【Click here to know more about JEN 20th Anniversary innitiative】
2014.09.04
On 27th August 2014, JEN had organized a cleaning campaign with the community in Zaatari camp.
[JEN staffs kicked off the campaign]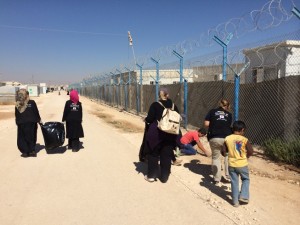 The main objective of the campaign is to let the refugees recognize and be motivated to keep their environment clean by themselves. During the campaign, JEN's staff asked the community to participate in the campaign. Some refugees think that the camp is not their home place to be, and sometimes this thought makes them do not pay attention to  their community environment. However,  this activity would be an awareness to the disadvantages of littering  in the streets and prophylaxis to disease caused by hygiene bad practices.
[Participants from community and wheeler]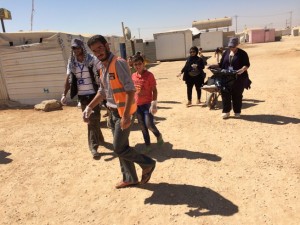 Including children before going to schools and many refugees from community joining the campaign in spare time away from  work, the total participants were around 20 refugees.
One of the participants, Abu Ali said "This campaign is a good opportunity to work with agencies and community together. I hope this activity will keep continuing." Another participant, Tarik, also commented "I like this campaign with JEN because community can work together. It would not only improve the environment but also prevent disease caused by hygiene problem."
[Teaching the importance of using gloves to children]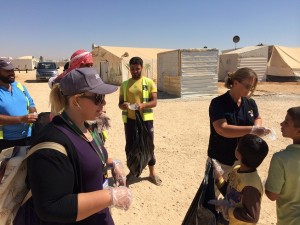 To improve the environment, the awareness and continuous practice are the key. One day campaign might not bring big impact, but JEN will continue to address this issue by taking various kinds of approaches.
【JEN is now accepting donations. Your help would be very much appreciated.
DONATE here】
【Click here to know more about JEN 20th Anniversary innitiative】
2014.08.21
Since the end of June, I have been working as one of team members to make a monthly magazine that JEN initiates in partnership with UNHCR. The concept of this magazine is to have refugee voices' heard by their words. At the moment, both Japanese staff and Jordanian staff are mainly editing, including a picture selection. Although we are editing, all articles in the magazine come from the refugees.
As I walked into the camp, what I felt was the camp is large enough and it was not what I had imagined. Thus, it might be a little difficult for refugees to communicate with each other. This magazine gives them ideas such as what are other people living far away doing? How do they spend their spare time? And what is happening in the camp now? What is new? and so on. In this way, it can be said that the magazine could be a communication tool as well as a source of entertainment.
[Children holding the magazine]


The magazine has created many opportunities for me to meet and talk to refugees. One thing that I have noticed is that their way of life is gradually changing considering that it has been 2 years since Zaatari Camp was opened. Currently, many refugees live in prefabs rather than simple tents that are made of vinyl. You can see many prefab decorated colourfully. Some of them decorate their rooms by using curtains, mat and lace materials. This is just one example that I present. As you can imagine, there are many refugees who are good at playing music, decorating, creating artistic pieces, creating proverb as well as poems and playing sports and much more. many talented individuals indeed.
[colourfully-decorated prefab]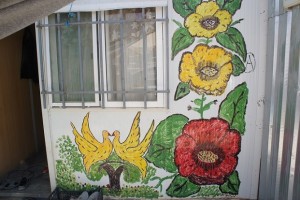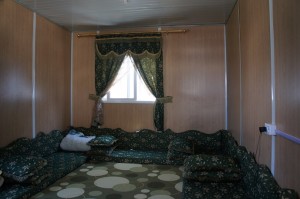 I would especially like to talk about the children and the youth in this camp, more than 50% of total camp population are estimated  under 17 years old. Young people are full of potential. Even though the situation is very dire and it seems that opportunity for them is limited, they have creativity and originality to get through this tough period in their lives and make something new of their own.
By drawing pictures and writing articles/stories, the children and the youth could participate in JEN's monthly magazine. What this magazine could do more is that it gives chance for them to enhance their creativity by offering them opportunities as to how to edit the magazine or how to take pictures and so on. This magazine will surely be a good tool to encourage their potential.
[many children attending events]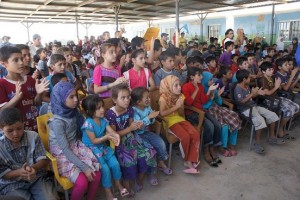 [a boy making a kite by polystyrene]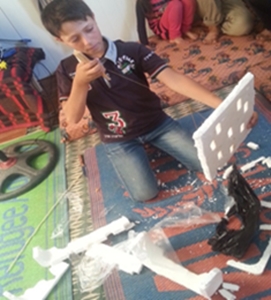 Reported by Okabe
【JEN is now accepting donations. Your help would be very much appreciated.
DONATE here】
【Click here to know more about JEN 20th Anniversary innitiative】
2014.08.07
When JEN staff visited the renovated school the other day, we went to research the situation in host community. There was in Amman.
There was a family where live terrible place. The family is consisted 4 sons, 4 daughters and parents. Due to collapse house by the conflict, they evacuated 3 months ago to Za'atari camp. Then, they moved to Amman according to suggestions their friends and looking for job.
The house they lived was leaked domestic sewage from next to their house. It made a bid pool inside the house and exuded stinky smell.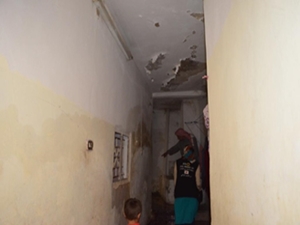 ©JEN: The father was explaining us the leakage domestic sewage from the next house.
In the front of this picture, there was a pool of sewage.
They have not received any help even though they registered UNHCR as refugees. They cannot afford to go to the place where they would register again to receive any support.
Moreover, no one could go to school. This is because their father does not have job and instead of him, two sons, 8 years-old and 10 years-old, is selling something for livelihood. There is no money to go to school not only these sons, but the other children also cannot go to schools.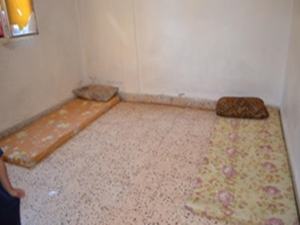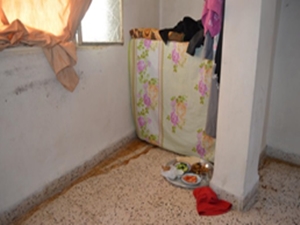 ©JEN: Only mattress and pillow.    No table and not enough dishes.
Children who miss schooling more than 3 years are possible to refuge to enrol in formal education as Jordan government suspects that those who away from schools more than 3 years do not adopt the schools. This is most critical and crucial issue.
JEN continue to construct classrooms in order to all children are not refused to enrol because of insufficient space. In addition, children can protect themselves from water-borne diseases using practical knowledge which children are taught through JEN's hygiene promotion in schools and homes.
【JEN is now accepting donations. Your help would be very much appreciated.
DONATE here】
【Click here to know more about JEN 20th Anniversary innitiative】