2016.10.24
Wednesday, October 19, 4:00 p.m., a charter bus with 16 female students, 11 of them belonging to the football club of a Girls' Public Secondary School from Amman, departed for the Amman International Stadium. That day, from 5:00 p.m., they had the opportunity to participate in a cultural exchange with the U-17 Japan Women's National Team players who participated in the FIFA U-17 Women's World Cup Jordan 2016.
The "Little Nadeshiko" team from Japan had defeated Spain's Women's National Team in the semifinal match two days previously and now they were training for the final. Despite that, they gladly spared their time for this cultural exchange.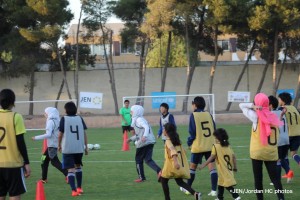 [Mini-game between the mixed teams with local female students]
After training, the cultural exchange with the students started.
Presently, JEN and UNICEF are cooperating to carry out a water and hygiene support program for those public schools throughout Jordan who accepted Syrian refugees.
This Amman girls' public school is one of the schools that supported the program. This school is located in the Amman old city next to the stadium where the U-17 Japan Women's National Team played the semifinal match. Even though it's not common for public schools in Jordan to have a football club, this school has one. The members are 15 to 16 years old girls and include Syrian refugee students who participate as well.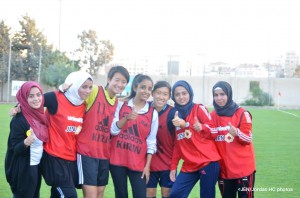 [We are all friends of same age]
Fortunately, the rush-hour traffic was avoided and the students arrived at the stadium early. Therefore, they could watch the Japan Women's National Team's training session. At 5:00 p.m., the Little Nadeshiko team and the students greeted each other and everybody was divided into 4 groups and played mini-games.
They played for about 30 minutes until the end of the first half of the cultural exchange. Getting over the language barrier, the girls became very friendly with each other, they high-fived and laughed together.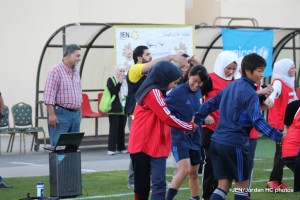 [They practice dancing seriously]
During the few minutes break, music played and the students started to dance. This was a traditional dance that is well known in oriental countries, in particular Syria and Jordan, as "Dabke". "Dabke" means "step", "kick", and "foot tap" and it is a kind of line dance performed by stepping but without much hand or arm movement.
Holding hands with the National Team players, a student at the right-hand side of the line lead the steps. Since the National Team players are good at football, they are also good at step-dancing and easily learnt how to do the dance. Therefore, they enjoyed dancing with the students.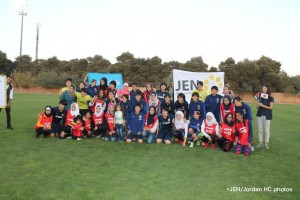 [Memorial photograph]
The approximately 1 hour cultural exchange passed quickly. The players and the students looked like they had a good time. They would like to have had the chance to spend more time together and took pictures until the bus carrying the students departed.
The Japan Football Association's webpage also contained an article regarding this cultural exchange.
【JEN is now accepting donations. Your help would be very much appreciated.
DONATE here】
2016.10.20
On October 5, the Arts and Crafts Center opened in Za'atari Camp. The Center is located at the NGO's International Relief and Development Corner in the 2nd district of the Camp and to mark its opening ceremony JEN exhibited handmade items.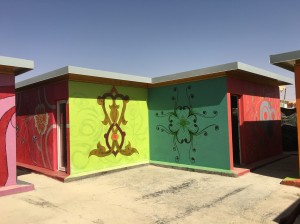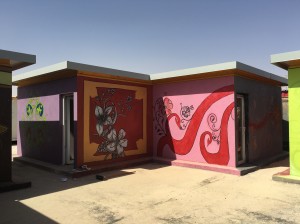 [The Arts and Crafts Center]
We lined up a variety of handmade items, such as bags, carpets, children's clothes recycled from used clothes, porches made from plastic bags, and interior ornament from used papers. These items were handmade by women who joined the Upcycling (Recycling) Project and who are actively trying to create new products out of used materials from Za'atari Camp.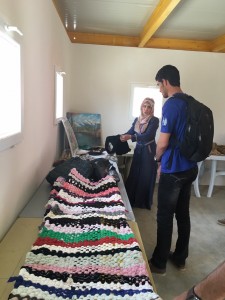 [JEN's Exhibit Area]
Though most of the displayed items were made of recycled products, they were very well made and looked impressive.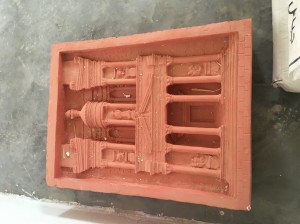 [The Petra]
Many of the paintings displayed show the scenery of Syria and the grief of conflict. The artists were trying to express their strong feelings through art.
Za'atari Camp has become a place of culture and creation.
【JEN is now accepting donations. Your help would be very much appreciated.
DONATE here】
2016.10.19
【JEN is now accepting donations. Your help would be very much appreciated.
DONATE here】
2016.10.06
It has been more than 4 years since the Za'atari Refugee Camp was established in order to accept Syrian refugees. The camp started with 10 to 20 temporary tents for living set up in a vacant lot. Social infrastructures such as school, hospital, police station, supermarket, shopping center, amusement facilities, community center, water and sewage facilities have been constructed since then. The refugee camp has been transformed into a small city where approximately 80 thousand people are living. Given this number of inhabitants, it is easy to imagine each refugee and each family have various life styles.
On the one hand, there are families consisting of 3 to 4 household members that get together to help each other. On the other hand, there are fatherless families with small children who are living quietly in an uncomfortable environment where neighbors are talking about their family situation.
The man in the photo lives with his son's family which consists of 3 household members. Four temporary houses adjoin each other on the premises and there is a large courtyard. In the courtyard, he raises more than one kind of crops and has ducks and chickens.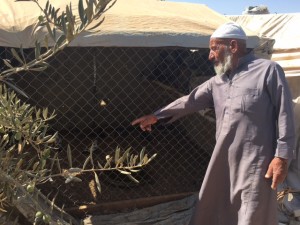 [The man in the garden]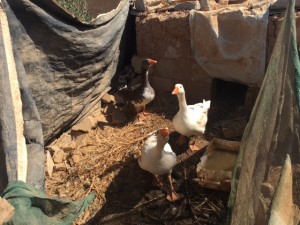 [The birds in the garden]
This lady has a son who is mentally unstable. Since he works at a tomato farm outside of the Camp, she spends almost all of her time alone at home, both in daytime and at night. Also, it is very hard for her to use a toilet because she has difficulty with her legs.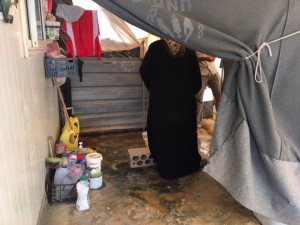 [The lady in the Camp]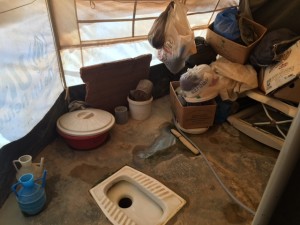 [The house's toilet]
The time to provide minimum necessary emergency support for living to improve the lives of the Syrian refugees has gone. It is now vital to consider further support.
Each person or each family has different situation, e.g. having physical or mental difficulties, young and elderly without kith or kin, single mother as head of the family, and those needing nursing care.
Improvement of the quality of life for those who are in such status needs serious consideration. In addition to tackling these issues, we will cooperate not only with international (humanitarian) organization, but also with the local government and local companies to construct better social infrastructure for better lives and communities. Now is the right time to do this at Za'atari Refugee Camp.
【JEN is now accepting donations. Your help would be very much appreciated.
DONATE here】
2016.09.25