2014.06.26
Public schools in Jordan are originally overcrowded. Since huge number of Syrian refugee students enrolled into public schools, learning environment has become worse and worse. JEN has frequently found that classrooms are very narrow so that students even cannot move flexibly.
In order to solve over crowdedness, the Ministry of Education has operated double-shift schooling system. However, this double-shift system caused other problems. The duration of classes in double-shift schools is shorter than in one-shift schools besides the difficulty for students to accommodate the monthly swapping shifts.
Thus, JEN focused on classroom expansion and renovation water, sanitation and hygiene (WASH) facilities as one of the host community programmes. Especially, the remote area in Irbid, Mafraq and Zarqa, where there is no other option for students commuting to schools mostly on foot. And in this time, we are able to inform that 12 Classrooms constructed in 4 schools in these area.
[An overcrowded classroom]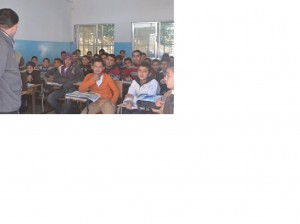 [Broken water fountain and latrine]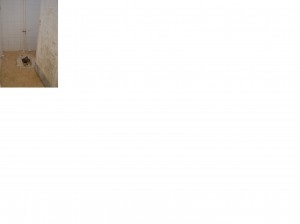 [A classroom designed by JEN engineers]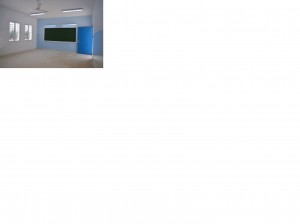 [Renovated water fountain and latrine]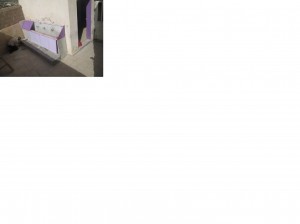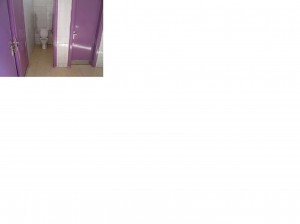 Education for Syrian refugees has been a crucial problem since Syria Crisis past more than 3 years. Thus, and in response to the on-going crisis, JEN continues to implement classroom expansion projects in Jordan and to minimise the possibilities of losing any educational opportunity.
【JEN is now accepting donations. Your help would be very much appreciated.
DONATE here】
2014.06.12
June 5th is World Environment Day. JEN took this opportunity to organize hygiene promoting events in Za'atari camp for three days. On 3rd and 4th June, 2014, JEN's hygiene promoters carried out some activities targeting children in Districts 3, 4 and 5 in order to teach them how to practice good personal hygiene.
[ hygiene promoters wrote message about hygiene on balloons]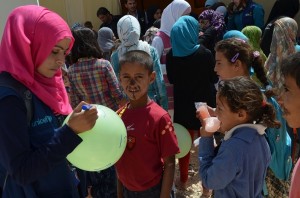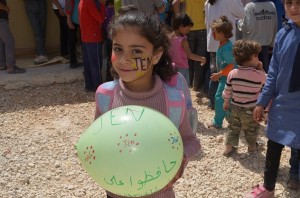 Daily practice of hygienic behavior such as washing hands and face, as well as brushing teeth, does not become a habit in one day. That's why it is important to keep diffusing hygiene messages repeatedly. JEN hygiene promoters have developed many tools to convey hygiene messages to children, for example, games, songs, quiz and dance, so as to get the children interested in the hygiene promoting activities.
[ Demonstrating how to brush teeth]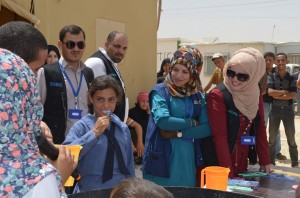 [ Children learning about hygiene ]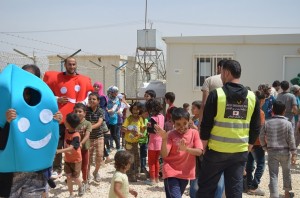 On 5th June, JEN's hygiene promoters organized focus group meetings with adults, where several issues of waterborne diseases such as diarrhea, as well as water conservation were discussed.
[Staffs give messages to refugees]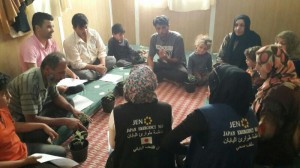 On the same day, for the purpose of raising awareness of environmental protection, refugees planted seeding of Sage. Za'atari camp is located in the middle of desert with almost no trees, and refugees face problems such as bad drainage and unhygienic environment with a lot of flies and mice. In order that people improve the condition of living environment with good hygiene, it is of importance that refugees themselves take action to protect and promote good environment.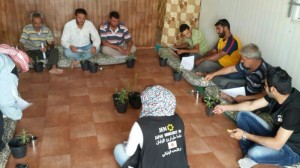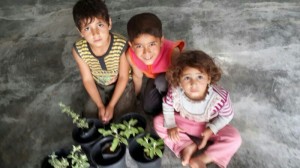 [ hygiene promoters with good team work spirits]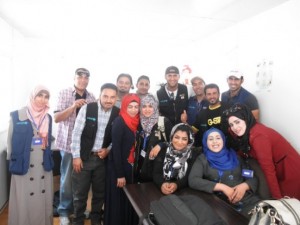 【JEN is now accepting donations. Your help would be very much appreciated.
DONATE here】
2014.05.29
In January 2014, JEN, in partnership with UNHCR, began a new endeavor to create a monthly Arabic magazine to be distributed in Za'atari Refugee Camp.  Living in a camp that spans up to 6 square kilometers, communication between refugees living in different districts can be difficult.  The magazine, written almost entirely by Syrian refugees themselves, aims to provide a new vehicle of communication between refugees living in Za'atari refugee camp.  In addition, the magazine will serve as a tool to spread messages related to better living in the camp by UN agencies and other humanitarian organizations, through the perspective of refugees.  By including positive stories written by refugees, JEN hopes that the magazine can also highlight the creativity if refugees living in the camp and showcase their resilience.
The inaugural issue was published at the end of April 2014 and distributed to all households in the camp – approximately 20,000 – during the first two weeks of May 2014.  The first issue includes stories of refugee hygiene promoters advocating for the importance of maintaining environmental hygiene and keeping solid waste pollution to the minimum in the camp; stories from children who enjoy spending their time in sports clubs that are offered by humanitarian organizations; stories from a refugee whose child's health was recovered through nutrition programs that are offered in the camp; and a poem from a girl who reminisces her life back in Syria and hopes to be reunited with her beloved home.
[An older girl reads one of the articles to younger girls.]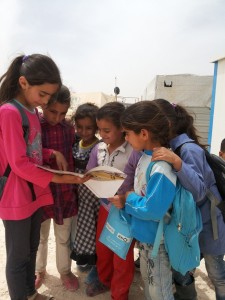 [A father and son reading the first issue of Za'atari Magazine.]


The magazine "Al Tarik (The Road)" was given its name to reflect on the journey refugees have made to come to Za'atari and to signify the hope for the future – that the life in the camp is just a temporary stop and there is a road ahead back to Syria.
[The "Road" in Za'atari]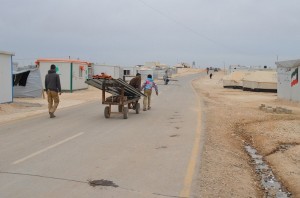 Though the articles are written by refugees, the magazine is currently coordinated and edited by Jordanian staff.  As the magazine gets good traction among refugees in Za'atari Camp, JEN plans to work with other organizations to create training opportunities in skills related to magazine development, such as journalism and graphic designing, so that, over time, the magazine can be entirely written and produced by Syrian refugees.  By doing so, the project can also create opportunities for the refugees, especially youth who makes up a large majority of the camp residents, to be involved in activities that can improve their lives at the camp.
【JEN is now accepting donations. Your help would be very much appreciated.
DONATE here】
2014.05.15
It has been one year and eight months since JEN started operation in Zaatari camp in September 2012. My first visit to Zaatari was in January 2013. At that time, Zaatari was still on the path to expansion. Passing through a densely tent area, there was a stretch of land with empty caravans which are ready for new arrivals. In some areas, facilities had been under construction. Chaos was my impression. Since then, I have seldom been there, so my image of Zaatari hasn't updated.
[Za'atari refugee camp in the beginning of 2013]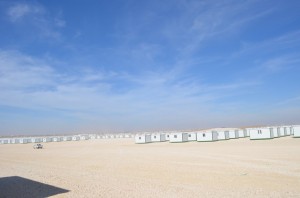 Now, one year and eight months later, Zaatari camp gives different impression.
Staff engaging in host community program and staff in Admin section visited Zaatari camp for the first time in order to understand JEN overall activities. Field staffs go to Zaatari every day. Even though they have heard and spoke about Zaatari almost every day, it is not easy for them to really understand Zaatari.
Zaatari was very different from what they imagined. It is a "town". Not all, but most of goods can be purchased there. There are jewelry stores as well as wedding dress shops. They were impressed by peoples' toughness that have adapted to the situation.
[Current Zaatari camp]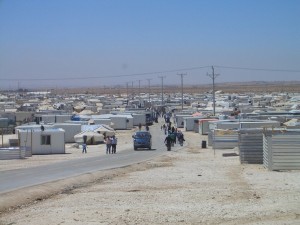 From Emergency settlement to ordinary life, Zaatari is in transition. No one can describe Zaatari in one year time. But to ensure safety and favorable living environment, JEN is working on what we can do and what we should do now.
Miki Hirose (Program Officer)
【JEN is now accepting donations. Your help would be very much appreciated.
DONATE here】
2014.05.01
For more than a year now the preparation of a second large refugee camp in Jordan has been ongoing in Azraq.
Located on a 27km2 area Azraq camp will be much bigger than Za'atari (and its 8km2) allowing more space for each families. While Za'atari looks like a dense town, Azraq will look much more like a collection of several small villages.
[Crowded main street in Zaatari]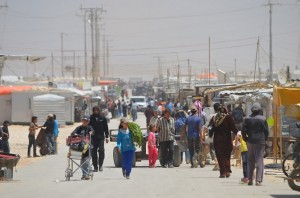 The small town of Azraq already did host a refugee camp for Iraqis in the past and is not located on the border with Syria. Nevertheless Syrian refugees will still be registered in Raba Sahan like now and will be transferred for most to Azraq. Only the new arrivals having close family already in Za'atari or special cases such as severely injured refugees will be sent to Za'atari.
This new camp will so help Za'atari camp to enter in a new phase with a population much more stable, helping UN agencies, INGOs and refugees themselves to leave the constant emergency mode on which the camp lives for 2 years and enter in a mode in which consolidation and improvement of all the programs developed will be the main priority.
A more stable population should especially contribute to stabilize and re-enforce the different committees of refugees in charge of leading the population on the path of self-management and eventually self-reliance.
【JEN is now accepting donations. Your help would be very much appreciated.
DONATE here】