2015.12.17
The date visited the Ambassador of the Japanese Embassy in Jordan and his wife, they had been an elementary school, where JEN has conducted supporting activities.
Through donations from supporters, and with the cooperation of the Japanese government and UNICEF; a water hygiene program was carried out by the pupils and the school. Ten percent of the pupils are Syrian refugees. The school has finished repairing their sanitary water facilities this September and has since then applied the hygiene education program.  It is located in Balqa Governorate, which is 30 minutes from Amman by car.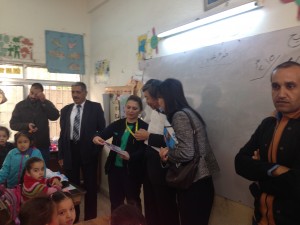 ↑JEN's local staff, the senior hygiene promotor, is briefing the Ambassador and his wife about the hygiene education tools.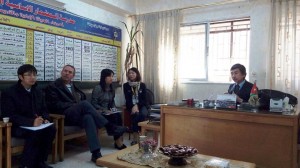 ↑Meeting with the Ambassador and his wife, the Jordan representative of UNICEF and JEN's staff.
【JEN is now accepting donations. Your help would be very much appreciated.
DONATE here】
2015.12.03
Guess what, something has arrived here!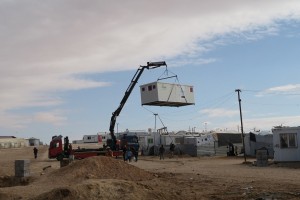 This is a day in the Za'atari Refugee Camp and the picture shows temporary house-moving.
Currently, 80 thousand Syrian refugees live in the Camp in Jordan. The temperature is dropping day by day which mean that the people living in the camp will soon face a freezing cold season.
【JEN is now accepting donations. Your help would be very much appreciated.
DONATE here】
2015.11.19
Today, we introduce JEN's project to promote education of sanitation in public schools in Jordan.
First, we introduce general sanitary facilities of schools in Jordan.
The popular style of toilets in schools is the squat type; toilets which people squat over. In Jordan, they call this type of toilet "Eastern toilet" in contrast to the Western toilets with seats. There is no toilet paper in the toilets. There are faucets on left walls in students' bathrooms and they draw water by ladles. Some toilets for teachers have small showers on the wall. The reason students' toilets do not have shower is the lack of water resources. As Jordan is located in the Middle East, the most shortage of water resources  region in Asia, it needs to save water. In some schools, water is available only once a week.
【Eastern toilet】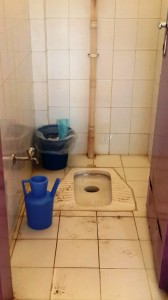 In washing places in schools, there are faucets side by side. It is also popular in Japan, but in public schools in Jordan, each well mouth has a cover with a lock and the school can control the number of faucets students can use. Teachers can lock all the faucets; it is a very unique system, isn't it?
Safety and Sanitation of facilities of sanitation for students depend on self-disciplined activity by schools.
The following are problems about safety and sanitation.
(1) Students in upper grades make mischief against those in lower grades.
(2) Some students do not flush toilets (they do not know how to use toilets) and other students hesitate to use toilets in schools. As they do not flush toilets frequently, teachers and staffs in schools cannot manage to keep the toilets clean and they think it is this country's culture that people cannot keep toilets clean. Toilets which are not flushed look insanitary.
To solve (1), teachers in some schools make lists of students who go to toilets frequently because of their health problems. For other students, upper grade students and lower grade ones are allowed to go to toilets on different time. In some other schools, students get permission from teachers and go to toilets with a name plate of the teacher.
For the problem (2), the 'name plate rule' is effective, but many schools are not carrying out this action and have yet to solve this problem. Moreover, public schools in Jordan have cleaning staff and parents of students strictly prohibit their children from cleaning toilets in their schools. Therefore, JEN's activity to promote sanitation not only teach teachers and children how to wash hands with soap but also shows them how to use facilities of water and sanitation that JEN's engineers have fixed.
【The session of sanitation for girls in junior high school】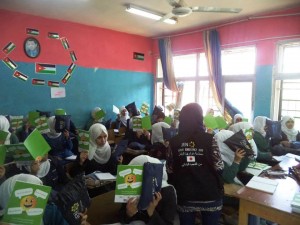 【photo: Monitoring of washroom JEN fixed in school】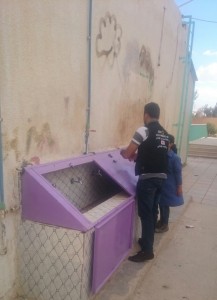 Through the sanitation promotion in schools, we do not only teach daily sanitation rules but also plan fun events based on the World Washing Hands Day, the World Toilets Day and so on.
What is more, there are a lot of mosques for worship in Jordan and a big part of the people regard religion as a part of their lives. The staff of JEN often visit mosques near schools and share the importance of education about sanitation with priests to promote the wide scale of the activity, also with schools.
【Explaining about the education of sanitation to the priests in mosques near schools】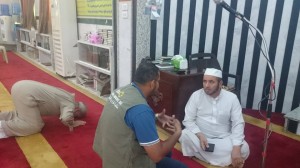 【JEN is now accepting donations. Your help would be very much appreciated.
DONATE here】
2015.11.05
Around 10:30am; 50 kids from the age of 4-5 years old came with their teachers from Za'atari Charitable Association to join the event who already been invited by JEN hygiene promotion specialists to attend sessions, role plays and activities that's targeting getting them familiar with the daily hygiene practices they should follow on daily basis while they are in school or at home like hand washing, teeth cleaning. The event concluded by distributing personal hygiene kits to kids.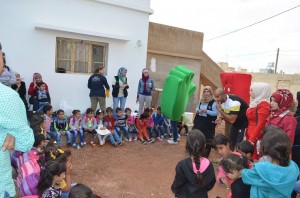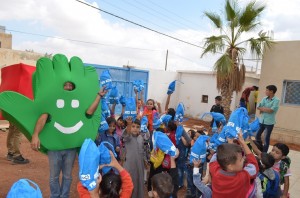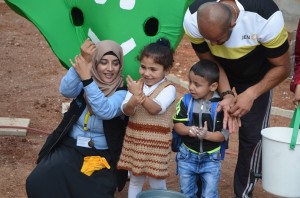 During the different events; the level of enthusiasm and joy been increasing rapidly and everybody was showing appreciation towards the great event they are having. People were supporting all teams exactly as they are joining an official football match in an international stadium and were supporting with traditional songs, clapping or dancing over and over.
By the end of the event and after the final match, JEN honored the winner of the tournament, the 2nd place and the tournament best scorer. I will never forget that smile of the best scorer "Yazan" after announcing his name with the total of 8 goals he scored during the 3 matches he had of the event, he was proud of achieving a personal goal in addition to the fact that he was one of the main elements for his team to won the tournament 1st place cup.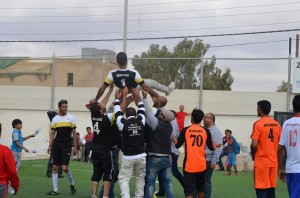 After finalizing the closing ceremony everybody agreed that we should organize such tournaments again in different villages surrounding Za'atari Syrian Refugee Camp as it's truly affecting positively on all humanitarian operations NGOs are organizing and host communities will feel better when they are well supported by INGOs even by simple activities like this tournament.
<Every team had his own tactic to won the game, but the different tactics had an ultimate goal of being all together as one team>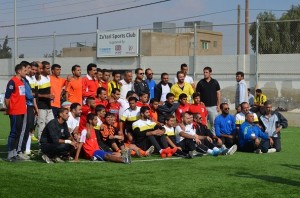 【JEN is now accepting donations. Your help would be very much appreciated.
DONATE here】
2015.10.15
Its September 2015, an informal meeting is taking place at a small meeting room between JEN senior staff and suddenly an idea was proposed; "lets organize a football tournament, where sport and hygiene promotion activity could be organized, with passing invitations to both local community and NGOs operating at Za'atari Syrian Refugee camp footballers".
Coordination meetings been conducted with Za'atari Sports Club located at Za'atari village and with NGOs operating at Za'atari Syrian Refugee Camp, everybody heard the idea felt extremely interested in being part of JEN initiative. "The gap between local community and NGOs community at Mafraq governorate is present, so sport could be one of the methods we can use to facilitate a joint understanding towards both communities"; with this sentence we opened our planning stage towards organizing this event.  JEN was the sponsor for all event needed equipments, in a way that shows our commitment towards local community and organizing such events for further integration process between different targeting communities.
At 09:00am on Thursday October 8, 2015; 8 teams attended the draw for the tournament (JEN, International Relief and Development (IRD) and UNHCR teams , 4 teams from local community and one team from Za'atari Syrian Refugee Camp), they all had one goal to enjoy the day with colleagues who they didn't had the chance to meet before.  First match started at 09:30am with full energy supported by approximately 200 spectators.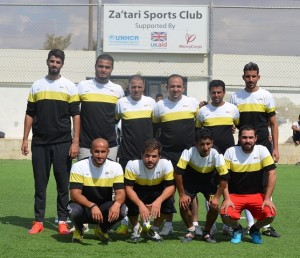 (To be continued)
【JEN is now accepting donations. Your help would be very much appreciated.
DONATE here】