2016.06.23
Ramadan, the ninth month in the Islamic calendar, started on June 6 this year.
To enhance their sense of faith, Muslims fast from dawn to sunset, refraining from taking any water or food. This practice also has the purpose of experiencing what it is like to be hungry or poor and strengthening compassion towards people in poverty.
In Jordan, the daytime temperature has recently been rising above 35 degrees Celsius. Residents of the camp stay in caravans during the day to avoid thirst, leaving the streets mostly empty.
【Empty streets in the daytime】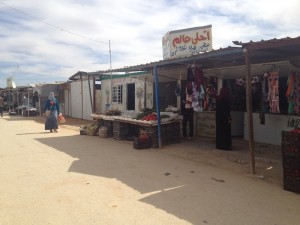 But after sunset, the Champs-Elysees becomes full of people. During Ramadan we see a lot of women, who usually do not walk around at night.
【Crowded Champs-Elysees during Ramadan at night (photo by Husam Al-Yousif)】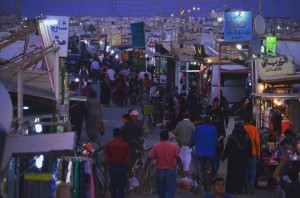 The meal after sunset is called iftar, and the meal before dawn is called suhoor. People celebrate Ramadan through the night praying or joining parties held with relatives and neighbors.
【Suhoor, the meal at 3 o'clock in the morning (photo by Ehkalas Sakar)】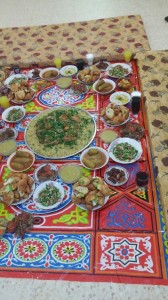 【JEN is now accepting donations. Your help would be very much appreciated.
DONATE here】
2016.06.22

During Ramadan, muslims refrain from eating, drinking, and smoking from sunrise to sunset. After break fasting, people are looking forward to eat some sweets. This is the story about the owner of the sweet factory in Za'atari.
2016.06.18
Syrian bodybuilder Ali Nasir Hussein was majoring civil engineering in Damascus university when the conflict broke out.
2016.06.09
I am responsible for coordinating activities that refugees take part in to reduce conflict in JEN's assistance. In this article, I would like to introduce our current work and challenges in which I am involved in.
In Za'atari camp, refugees are actively working for humanitarian agencies. JEN, in charge of WASH cluster, recruited refugees for cleaning public spaces, distributing water, and constructing sewer pipes as a part of maintaining a hygienic environment in local communities.
JEN opened doors to refugees for joining cleaning public space in one of three districts where JEN has been responsible for WASH since 1 November 2013. By 1 January 2014, JEN had expanded this opportunity to the remaining two districts and launched new one in schools.
However, as JEN withdrew from school cleaning in mid-September, 2015, as a result depriving female refugees of working opportunity. To deal with this issue, JEN proposed that female refugees clean spaces between houses that had not been focused in former projects. Women who were divorced or widowed were eligible for this project.
While there were only five female participants in pilot case, five months later, there were 20 people including three leaders are in this project, and the project expanded into the other two districts.
Considering female are not welcomed to work in public places due to religious reasons and most work within the camps such as in security and construction are for male workers, we limited the number of male participants in this particular project. Female participants told us that they were glad to have this opportunity and that the hygiene of that community had improved as a result.
In Za'atari camp, main focus of assistance has been moving from emergency to development. It is not clear when refugees can go back to Syria. I personally would like to develop this project especially for vulnerable women in order to help the Syrians stand on their own feet. I hope the crisis in Syria will end soon and people can return to their homeland.
【Before and after cleaning between houses】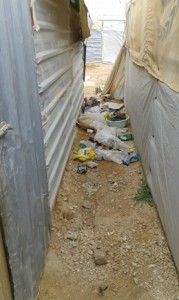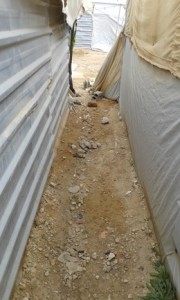 【Female refugees are cleaning spaces between houses】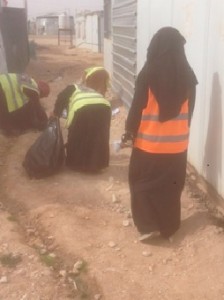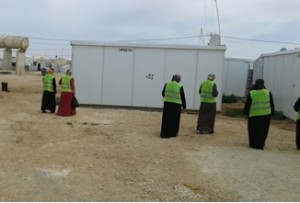 【JEN is now accepting donations. Your help would be very much appreciated.
DONATE here】
2016.06.01
Without question, the most popular sports among Syrian refugee boys is football. Ahmed Majeerish has come to the Za'atari camp with his football and keeps chasing his dream to be in Real Madrid!