2017.10.19
My name is Ali Al-Jadooa; currently I am the Admin/Support Manager in JEN(Japan Emergency NGO), and I joined JEN in February 2013 as a community mobilization manager; at that time JEN was involved in hygiene promotion and clothes distribution to the refugees in Za'atari camp.
 (Hygiene session with the community)                          

(Cloth distribution to the refugees in 2013)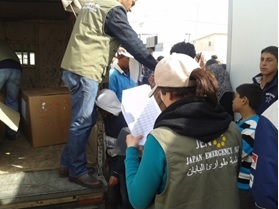 Za'atari camp opened in July 2012 after the crises started in Syria and it's located in Jordan, 13 km from Syrian border; the camp was named Za'atari camp as the location of that land was in Za'atari village. The size of the camp is 6 km2. During that time, Syrian people had to leave their houses forcedly without any luggage while they sought for any safe zone. By the end, they reached to the Jordan border and arrived to Zaatari camp with the help of the Jordanian army.
 (Zaatari Camp in 2013)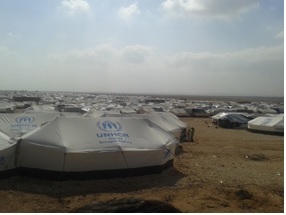 (Public water tank installation in Zaatari camp)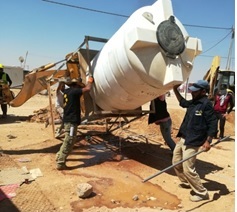 Due to unexpected continuous entering of large numbers of refugees on a daily basis, the logistics services of NGOs easily went over the capacity, and as a result, the refugees were frustrated and angry.   On the other side, the NGO staff also faced many challenges starting from welcoming the refugees from their arrival till they settled in the place that they can live with dignity.
The settlement process included having each family (5 members +/-) get registered after arrival in UNHCR registration area that was located at the entrance of the camp, then receiving such as tent plus mattresses, and finally being escorted by the community mobilizers to the places that were arranged for each family. Water plus food must be delivered in a daily basis plus other important relief items such nonfood items to keep those refugees surviving and other cares like medical attention, looking after elderlies, disabled and babies were vital as well.
On average, 100 – 200 refugees entered the camp per day, but in some days the number reached 3,000 per day. It can be imaginable the big challenging of NGOs to do their job in best image.
I'd like to bring to light the challenges of humanitarian actors like JEN and the difficulties they faced when the Syrian refugees started to enter Za'atari camp and their settlement plus many improvements happened to the camp during the last 5 years to convert this empty land to almost a town up to standard.
I'd like to appreciate and thank all humanitarian staff that they were involved and faced all challenges to keep the refugees living with dignity.
 (Water and Waste Water Network constructions)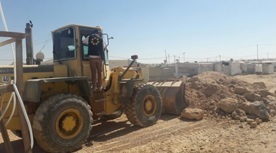 △▼△▼△▼△▼△▼△▼△▼△▼△▼△▼△▼△▼△
JEN will be there for the most vulnerable households to keep providing the support they need.
【JEN is now accepting donations. Your help would be very much appreciated. DONATE here】
2017.08.24
It's only mid-August but already it's 40 degrees celsius at Za'atari refugee camp.
This year, JEN started providing support to improve the well-being of the most vulnerable families at Za'atari camp.
A 3 meter x 5 meter container, "caravan" is provided to a family of 6.
The caravan is not large enough to live in, so many families add extra rooms onto the caravan, to create a kitchen and bathroom.
To use the space next to the caravan they lay cement as the ground is rocky and uneven.
However, it is difficult for many families especially those in need of nursing care, single parent families, families with many children and wheelchair users to earn the money needed to improve their living conditions. So some families live on an uneven dirt floor.
So, JEN helped 8 families improve their living conditions, if only by a little, by making cement floors for them.
Please have a look at photos of the work.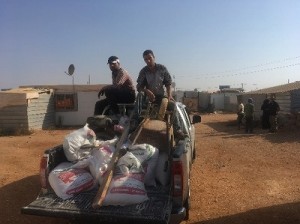 [JEN's team happily carrying the building materials]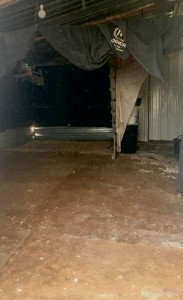 [Inside a house with corrugated iron walls. Blanket is mat directly over dirt floor as you can see in this photo]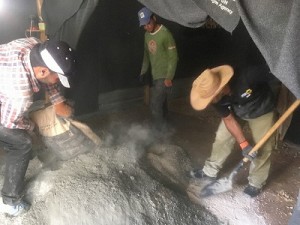 [Mixing the cement]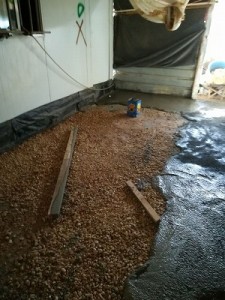 [Quickly spreading the cement evenly over the dirt floor]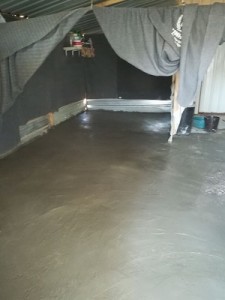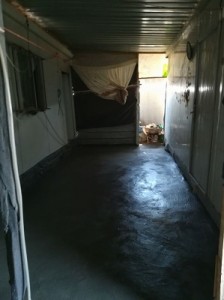 [The work is completed in one day!]
JEN will be there for the most vulnerable households to keep providing the support they need.
【JEN is now accepting donations. Your help would be very much appreciated. DONATE here】
2017.05.25
My name is Hamad Abu Siam. I am in charge of the assessment to install and repair toilets in Za'atari refugee camp. I would like to share about the project today.
Za'atari camp was established in 2012. People who evacuated here have lived in tents that were provided by UNHCR (United Nations High Commissioner for Refugees). Public sanitary facilities including toilets, showers and kitchens were also set up by UNHCR and shared within the area of the camp. However, residents in the camp have started to install their private toilets in their houses due to inconvenience of the shared ones and security issues at night.
Some of them made their own by themselves. Others asked people to make theirs. As a result, the number of people who use the shared toilets started to decrease, and the shared toilets became obsolete and were finally dismantled.
On the other hand, some families could not install their own toilets because they did not know the method or did not have money for them. Even if they could have installed the toilets, most of them did not meet the minimum hygiene requirements that are set by professionals in the camp. Toilets that are just holes in the floor, toilets without walls, or toilets without ventilation are examples of toilets that do not meet the requirements.
To solve these problems, JEN initiated a project to install and repair private toilets in April 2016. In the first stage, we installed toilets for families that do not already own them. In the second stage, we repaired existing toilets that do not meet the minimum requirements in the camp.
<At a house where we visited for the preliminary survey, the toilet has neither walls nor roof>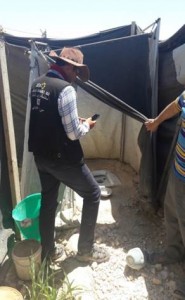 Three staff from the maintenance team and three staff from the mobilization team formed the assessment team and they took training courses before the assessment. The assessment was done in groups of two and was carried out based on the defined standard. First, the mobilization team evaluated whether the toilets needed repair. Then, they did a technical assessment and checked if the toilets were necessary for the residents.
We faced many challenges in this project. The biggest challenge was whether or not people accepted our preliminary assessment. Refugees who live in the camp wanted to use the building materials that were difficult to get to improve their living environment, instead of using the materials for toilets.
Among 1,850 households that we planned to assess, 50 households rejected JEN's assessment and even partial repair.  As a manager, I visited those families and explained JEN's standard and the conditions of their toilets.
One family has changed their mind and accepted our proposal, however, another family intentionally broke their roof and doors that they wanted to be repaired. They tried to get new building materials by persuading JEN's staff.
The following are some challenging cases.
Based on our assessment, one family needed a door and a wall to install a toilet. The family once accepted our proposal, however, changed their mind on the day of the construction, and requested to install the toilet outside of their house and not in the current place. I revisited the family and explained JEN's standard and their toilet's situation. However, they did not accept JEN's proposal and refused to repair their toilet. In the end, persuasion by my supervisor and also by the maintenance team did not work.
Another challenge was limited time. In this project, we needed to cover all three areas in this Za'atari camp within 13 months. The maintenance team needed to work in different ways for each house because the situation was different for each of them. To adhere to our timeline as well as to ensure the quality of our work, we increased the number of maintenance staff and also carried out post-assessment after we installed the toilets.
Through this project, we did prior assessment for 2,300 households and also technical prior assessment for more than 1,850 households. In total, we set up 168 new toilets and repaired 1,783 toilets. This is a great achievement through our teamwork.
It has been two years since I have worked for JEN. I am proud that I can support Syrian refugees as a JEN staff member. After this toilet project, I am now supporting a project that builds water and sewerage networks. I would like to continue working at JEN and develop myself further in this humanitarian field.
【JEN is now accepting donations. Your help would be very much appreciated. DONATE here】
2017.05.11
In the Zaatari Refugee camp, there has been an unparalleled construction project going on, which is to develop a large-scale water supply and sewerage system in the refugee camp.
Once the construction is over in 2018, drinking water will be distributed from the wells to each house directly. Also, dirty water will be recovered from each house to the sewerage treatment plant located at the southern part of the camp.
At the moment, water supply trucks put water into the water tanks in the camp almost everyday. Also, pump-up trucks draw dirty water from water-purification plants underground.
These tasks will no longer be necessary after the completion of the project. Operating costs, in addition to traffic accidents, are expected to be hugely reduced.
JEN's main missions are to support the construction through involving the community, and to monitor the contractors.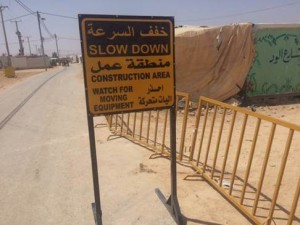 [For one thing, to make sure safety is strictly secured]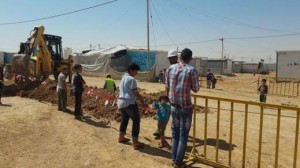 [For one thing, to inform the residents of the construction schedule and precautions beforehand]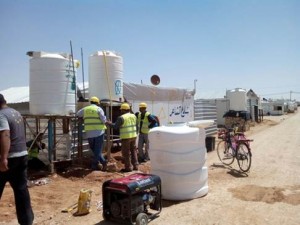 [For one thing, to make sure the employment conditions are firmly applied to the camp residents who are hired by the Jordanian contractors]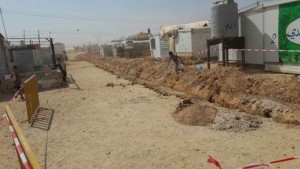 [Even in the weekends, JEN's staff come to work for the monitoring activities]
The residents of the camp, support groups, the Jordanian constructors and the police office in the camp work together to develop this big project.
We examines how to involve the residents and how to create a scheme to let them positively participate in the activities so as to improve their own community.
JEN, together with other stakeholders, contributes to the accomplishment of this project.
【JEN is now accepting donations. Your help would be very much appreciated. DONATE here】
2017.04.20
139, 120, 157 and 132 people who…
These numbers showed up in UNHCR's biweekly report on the Za'atari refugee camp, respectively, in sequence, in the past two months.
Well then, who were behind the numbers?
The answer is newborn babies. Each number represents the number of babies born in 2 weeks , so about babies a day.
In the Za'atari refugee camp, children aged four and under account for about 20% of roughly 80,000 residents. Every day, babies are born in this camp, and they grow up here.
We recently talked to two families about raising their children in a refugee camp.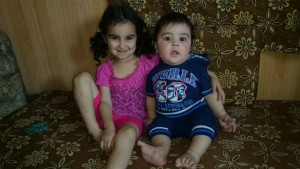 Mother of Taim, aged six months, said:
"I came to the camp when my eldest child Dana was two months old. I gave birth to Taim at a maternity clinic in the camp.
I felt relieved at that time, because I had given birth to Dana in the basement of a hospital which was under attack in the middle of a war. We are safe here.
There are schools and medical services. I have no particular concern about my children growing up in the camp. In the future, when peace comes, I want to show my children my hometown, a suburb of Damascus in Syria which neither of them have seen.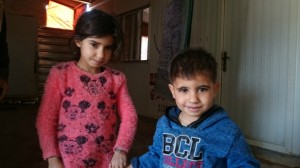 Father of Ala'a, aged 3, said:
"I have 10 children aged three to 20. My youngest, Ala'a, was born in the camp. He's stepped out of the camp three times or so.
I took him to my relative's farm in the neighborhood. Ala'a loves animals. In the farm, he looked at the cattle and sheep until it got dark. To go outside the camp, we need permission.
We also need to pay for our travel so I can't afford to take my children out of the camp very often. Life here is like a life of captivity, and raising children is difficult.
My three eldest sons quit school. Because I am worried about their future, I want to give them opportunities to take part in vocational training programs."
Children who are born and grow up in refugee camps will each have a different life experience but hopefully one where they each have the chance to reach their full potential and visit their family's home country to learn about its culture and history.
【JEN is now accepting donations. Your help would be very much appreciated. DONATE here】