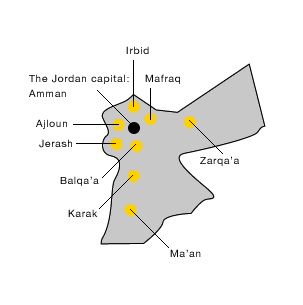 Jordan, one of the neighboring countries of Syria, has been sheltering many refugees. As JEN has set up a branch in Amman (the capital city of Jordan), for operation in Iraq, we have been kept informed about the Syrian crisis since 2011 – when the refugee influx from Syria started to be observed. As a result of the situation, JEN begun to provide assistance to displaced Syrian refugees and Jordanian host communities from September 2012.
In 2015, along with emergency water, sanitation and hygiene (WASH) assistance which mainly improve infrastructure in Za'atari camp located at the border between Syria and Jordan, community empowerment project as well as the issuance of magazine called "Al Tarik (The Road)" was implemented.
In addition to these improvements, school buildings were repaired and hygiene education projects was carried out at public schools in urgent need, as the number of pupils increased with the growing number of refugees flowing into Jordan. The schools were selected based on the result of a nation-wide assessment for the public schools which was implemented to specifically grasp the needs of beneficiary in order to deal with the mass refugee influx.
In 2016, JEN is to be continuously in charge of construction development, while the major infrastructural project in the refugee camp (started in 2013) is entering its final phase. JEN will also continue hygiene promoting activities, maintenance of WASH related facilities in the refugee camp, and repairs of school buildings in the host community.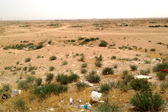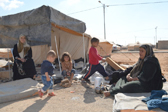 Outflow of Refugees to Neighboring Nations Due to the Deterioration of the Syrian Crisis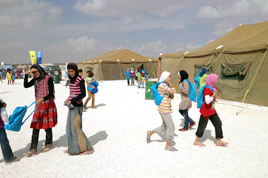 Following the uprising that began in Tunisia on December 18, 2010, a civil protest broke out in southern Daraa in Syria in March 2011 and escalated into armed fights. Surging violence threatened the lives of citizens and kept leading the huge numbers of internally displaced persons and refugees for several months. As of January 2016, about 4.8 million Syrian have fled their country and about 6.5 million people are internally displaced. The number of people in need of help has reached roughly 12 million. Jordan, one of the major recipient countries, shelters about 620,000 Syrian refugees.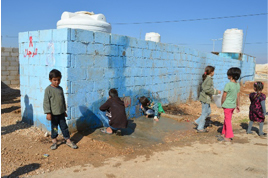 The refugees, who escaped from war and reached the refugee camp in Jordan, have to live under severe conditions. In Za'atari camp, located in a desert terrain, the temperature varies significantly between day and night. During the summer, there is no protection from the scorching sun, and during the winter, there are many days of rainfall with temperatures dipping below freezing. In addition, dust whipped by strong winds blowing across the vast desert affects the lives and health of the refugees. Being the third driest region in the world, Jordan suffers from a chronic shortage of water. Ensuring a long-term water supply is a key priority in the present situation.
Hygiene Education Promotion (Za'atari Camp)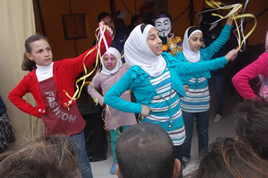 Out of the approximately 80,000 refugees in Za'atari camp, more than half of themare under 17 years old. It is becoming increasingly important to provide psychological care services geared towards young people. As a way of reaching young refugees, JEN began conducting fun, educational events where children can enjoy learning about hygiene. Its aim is to teach them about diseases caused by unsanitary water, such as diarrhea, and the importance of hand washing.
Water Environment Improvement and Community Empowerment (Za'atari Camp)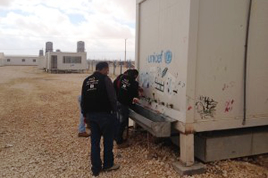 The difference in culture between people from Jordan and people from Syria is evident in the drastically different way they use water. Moreover, due to the increase in the number of refugees, it is getting difficult to provide water equally to all the residents in the camp. In order not to cause feelings of unfairness and discontent amongst refugees, improvement of the water situation is a pressing issue. As the length of stay for many of those living in the refugee camps is getting prolonged, JEN has (since October 2013) started a massive infrastructural construction project to build water supply networks and drainages located in the 3rd, 4th and 5th district in the camp area.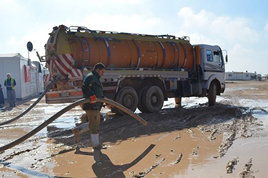 We, as an organizing body of water and hygiene related activities, are working alongside other NGOs and international organizations with the goal of providing a safe and stable water supply for the refugees. Since camp opening in 2012, we have been repairing worn out and malfunctioning water tanks and latrines together with the resident operated Sanitation Committee. Hygiene promotion through home visits, and draining operations to deal with flooding caused by heavy rain and snow, are also conducted.
Media projects to connect people in Za'atari refugee camp
It is no exaggeration to call Za'atari camp a city. The area of the camp is estimated to be 6 km2, consisting of as many as 12 districts with about 80,000 residents (as of Sep. 2016)
JEN's media projects in Za'atari camp aim to provide residents, especially the younger generation, with hope even though their return to their homeland still seems so far away even after 5 years since the camp opened. One day when the residents return to their homeland of Syria, we hope that their experience in these projects will be of use for them in recreating their country.(A website designated to the media projects opened in May, 2016. *Click here)
"The Road" magazine project (since Oct.2014-)
Since there is no public transportation in the camp, it is difficult for the residents to communicate with other people in different districts and to gather information about events and services provided by aid agencies. People need to be better informed to receive services and also to be able to voice their opinion. To deal with this issue, JEN has launched a project to publish monthly magazines edited by residents themselves, whose aim is to improve information sharing skills. This is the Arabic monthly magazine, "Al Tarik (The Road)".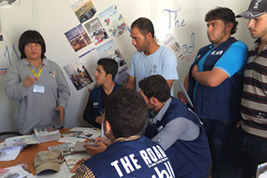 The Road magazine project not only builds a strong network among the beneficiaries, but also encourages youths to build a bright future for themselves. More than half of the residents of the camp are youth (under 17 years old), but not all of them have enough access to formal education. Shortage of schools, long distances to travel to schools, and family situations (for example, taking care of sick parents) are just a few reasons that prevent youth from attending school. To make matters worse, there are no senior schools in the camp to allow students' advancement to higher education. Working opportunities are scarce and options are limited. This situation causes feelings of helplessness, fatigue and anxiety about the future to prevail.
As a part of the magazine project, JEN has provided vocational trainings for the youths by allowing them to publish a magazine. Over 300 youths have participated in this training for planning, interviewing, filming, writing and designing. Professionals are invited to share their knowledge with the participants. It is expected that the youths will develop creativity and coherence as well as cultivate their leadership through this training.
"IN TRANSIT" short film project (since May. 2016-)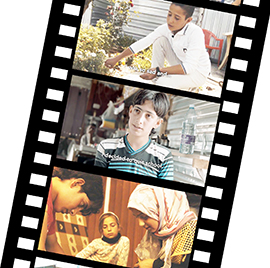 A year and seven months after "The Road" project started, JEN launched another media project named "IN TRANSIT". This time, the focus is more on short film making rather than magazine publication. Each film puts a spotlight on stories of individual refugees and, just like the magazine project, the films are created by refugees in the camp and shared to the world via the internet. Again, JEN aims to provide young people with hope and skills for their future.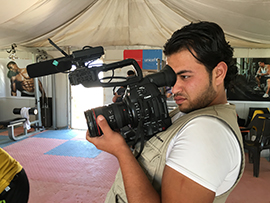 The film team consists of 7 young people (male & female) aged from 15 - 25, who are interested in becoming journalists or a camera crew member (as of Sep. 2016).
They hope to capture and deliver the real daily lives of people in the camp. Most of the team initially knew nothing about film making, but they are now creating films by choosing themes, finding casts, interviewing, planning, filming, and editing while learning from a JEN staff member who is a professional film maker.
Host Community Project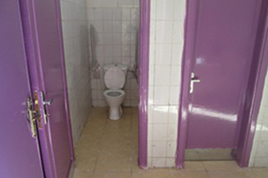 Many refugees affected by the crisis in Syria have flooded into areas in Jordan outside the Za'atari camp. As many as 80% of the refugees have relied on their acquaintances and relatives for shelter. The Syrian children started attending public schools in Jordan communities, which caused a sudden surge of pupils in the local schools. The situation resulted in classroom and latrine shortage.
From the commencement of our assistance to the Syrian refugees in October 2012, JEN have been repairing water, sanitation and hygiene (WASH) facilities in public schools located in Irbid, Ajloun, Jerash, Mafraq, Balqa'a, Zarqa'a, Amman, Karak and Ma'an governorates, where a huge number of the Syrian refugees have flown. Some children refuse to use unhygienic latrines in the schools and ends up not attending or leaving school early. To enable children to attend school without such concern, we have been delivering the said WASH assistance to the schools. In order to further disseminate hygiene knowledge to entire schools and communities, we conduct hygiene education for teachers who are then supposed to transfer what they have learned to their pupils.