Experience
We are seeking volunteers to participate in the recovery effort in the affected areas of the 2011 great East Japan Earthquake. Your support is greatly appreciated.
Great East Japan Earthquake Assistance
Volunteers' Help with Disaster Relief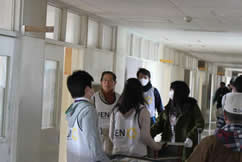 Around 13,000 volunteers have taken part in disaster relief activities for communities affected by the Great Tohoku Earthquake (as of May 2014).
After January 2014, JEN reviewed its activities according to the progress of the reconstruction. We decided to end regular recruitment of volunteers for more effective assistance for self-reliance. Moving forward, we will notify through our website when call for volunteers is needed. Your participation is much appreciated.
We have handed over the "Let's go to the sea!" project to local residents. In this project, we have encouraged people from outside the region to visit the Oshika Peninsula to interact with the locals. The project area is blessed with rich nature and delicious seafood. The project is held regularly in order to help local people to regain normal lives and the region to further develop through interaction with visitors from other parts of the country. We will appreciate your continued participation in order to support their positive efforts towards reconstruction.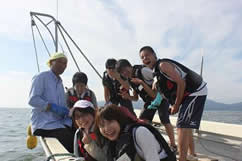 For more on the Tohoku assistance, click here. >>
Niigata
Let's Go To Tambo!!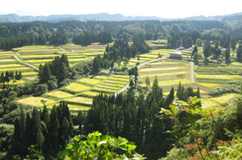 The Chuetsu Earthquake of 2004 brought tremendous damage to Iketani and Iriyama villages of Tokamachi City.
People lost their inherited rice fields, and the earthquake chased people out of the villages where depopulation was already a major issue from before.
The remaining 13 people of the six households said they even thought of leaving the villages behind.
JEN continued to send volunteers to these villages after 2005 when it started providing emergency assistance in the wake of the earthquake. A total of about 1,000 volunteers have worked in the villages during the six years. The volunteers experienced agricultural work and rural living. This interaction between the volunteers and villagers has revitalized the community, which even welcomed five new residents from urban areas. They together tackled emerging challenges towards village revitalization.
In 2010, JEN completed the six-year assistance activities to help local people enhance their power to challenge and solidify the miraculous recovery they have achieved, and to encourage everyone involved to stand on their own.
"assistance completion ceremony" was held in November 2010.