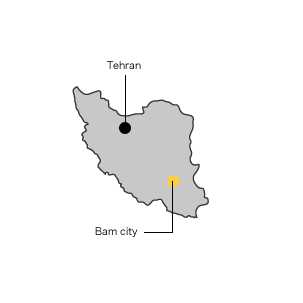 The massive earthquake which struck on December 16, 2003 caused enormous damage. The city of Bam, which is in Kerman province in southeast Iran, was left in a devastating state—out of a population of 120,000, 43,200 were killed, 30,000 were injured, and those who were fortunate enough to survive all fled and became refugees. JEN carried out assistance to improve sanitary conditions of victims living in tents in Barabat, a remote area which is not easily accessible.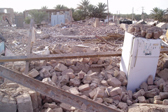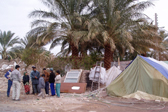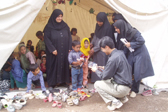 Installation of showers and toilets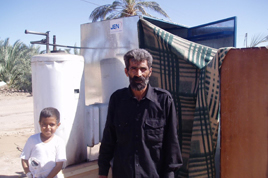 After the earthquake, JEN sent staff to the disaster-stricken area to investigate the situation. In Barabat area, which had not received any support despite severe damage, we found that there were few toilets or showers, and many people had not showered even once since the earthquake occurred. Sanitary conditions were worsening, and the situation was causing heavy stress as they had been leading relatively comfortable lives until the earthquake hit. Some started developing mental and physical health problems. To make matters worse, some people were forced to use toilets and showers that were falling apart and had the potential to lead to serious accidents. In response to this situation, JEN installed a total of 55 simple toilets and 190 simple showers in the area.
Damage to schools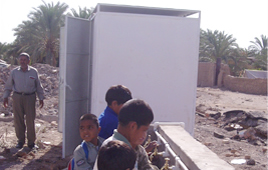 The earthquake caused immense damage not only to homes but also to schools, and no schools were left in a functional state in Barabat area. School toilets were not an exception, most of them being severely broken and impossible to use, even if the buildings were still standing. In response, JEN installed 50 toilets in nine schools, and repaired water supply and sewerage systems in two other schools.
Towards improvement of sanitary conditions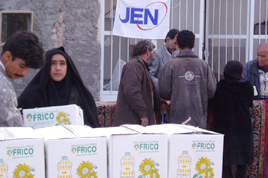 Interviews with the victims in Barabat area revealed that there was a very high demand for hygiene products such as soap, detergent and sanitary items, as well as underwear. JEN distributed sanitary kits for immediate needs, including soap, shampoo and underwear, to 2,000 households.
Mental care for children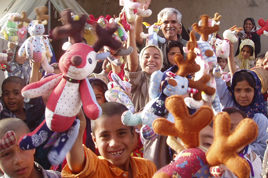 With cooperation from Japanese companies, JEN distributed stuffed toys and stationaries to the children in kindergartens, orphanages and shelters.
Towards reconstruction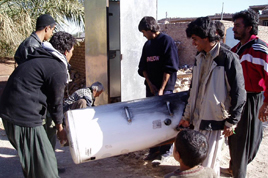 JEN's assistance program was carried out in close conjunction with the local communities. For example, when installing toilets and showers, local residents provided the materials and labor as much as possible, and locations of facilities were decided through discussion among the people. In addition, we paid particular attention to places not covered by ordinary assistance and ensured the equal distribution of goods by going through every section of the city. We received positive comments, such as, "We are very thankful for the things we received, but even more important is the fact that you helped us." "Your support has had a good reputation among us for being fair, which was different from other organizations." In Barabat, located far from the city center, our activities seem to have provided psychological support as well.
Conducting Emergency Relief in Remote Areas, Utilizing
Due to the massive earthquake that struck on 16 th December, 2003, the city of Bam, in Kerman province of southeast Iran, was left in a devastating state—43,200 dead, 30,000 injured, and those who were lucky to survive had all fled and become refugees. We began support in the Barabat area, a place far from other cities and towns, and that had not received any support. This program was aimed to improve sanitary conditions of the people who were being forced to live in tents. By May 2004, we had installed 55 portable toilets, 50 toilets at schools, and 190 portable showers, and distributed underwear and sanitary materials including soaps and shampoo. We also distributed stationery and stuffed toys to children in orphanages.
Upon installing the toilets and showers, we aimed for a community-based approach for support; we talked over where they should be installed with the locals, and tried to utilize local labor and materials as much as possible. In order for the distribution of materials to be conducted in a fair manner, we were especially careful to identify all victims and to make sure that support reached those who were in less accessible places. Residents of the remote areas told us; "Nothing had been brought in up until now. We are happy about the fact that you have made your way here." and appeared encouraged by the support.
Basic Information
| | |
| --- | --- |
| Country Name | Islamic Republic of Iran |
| Capital | Tehran |
| Population | 68,000,000 |
| Area | 1,648,195 km2( 4.4 times larger than Japan ) |
| Ethnic Groups | Persian, Azeri, Kurd, Arab etc. |
| Languages | Persian, Persian dialects, Turkish, Kurd, Other |
| Religions | Shi'a and Sunni Islam, Christianity, Judaism, Zoroastrianism, Other |