Afghanistan
Period: December 2001-
Area: Kabul, Parwan, Nangarhar
Support for improving water and sanitation environment (Nangarhar province)
We are implementing a project to improve the water and sanitation environment in Chaparhar, Nangarhar province.
The area, where the Afghan government regained control since 2019, has the highest needs for returnee support and reconstruction. In particular, improvement of the water and sanitation environment is an urgent issue, and it is said that 45% of the residents cannot secure sufficient safe water. Interviews with residents revealed that they are drinking water, which could be unsafe, from nearby streams and shallow wells, and that some children go to wells at a mosque more than 3 km away, seven times a day to fetch the water.
Therefore, JEN started support for improving water and sanitation environment in Gulshan Abad village, Chaparhar district in September.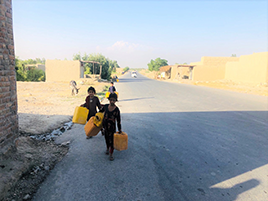 Children crossing the roadway to fetch water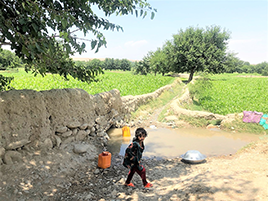 A child drawing muddy water from a stream
(1)Well construction, piping, and establishing a maintenance and management system
A solar-powered deep well with a depth of 110m will be constructed, and from there it will be connected to 20 water supply stations using the height difference. Each water station is planned to be used by 15 to 20 households and can be accessed within 500m from any household. The construction of the deep well will enable 360 households (approximately 2500 people) to access safe drinking water.
Additionally, a well management committee will be organized by 20 local residents to maintain water supply facilities, and a system will be built to maintain and manage water supply facilities by the community even after the completion of the project.
(2)Implementation of hygiene education
The people have little knowledge of water and sanitation, and some data show that 72% of the people do not have soap for hand washing. At present, with the spread of the new coronavirus infection, correct hygiene knowledge is becoming more and more important. We will recruit staff who have experience in water and sanitation projects from the local community as hygiene promoters, conduct hygiene education to the community and distribute sanitation kits.
To create a sustainable environment
We are planning to support the community to have continuous access to safe drinking water through well construction, building a sustainable management system and hygiene education, while creating employment locally.
Torrential rain and flash flood disaster support in eastern Afghanistan
The rainfall at midnight on August 26, 2020 turned into flash floods before dawn and caused debris flow damage in 11 provinces in Afghanistan. There have been devastating damages (157 fatality as of September 4) in Parwan province, where JEN has been supporting the resettlement of returning refugees since 2002.
In response to this situation, JEN started an on-site needs assessment. People are busy with removing the stones, mud, and trees that crashed the area.
We would ask for your understanding and cooperation in supporting those who were affected by the torrential rain and flash flood disasters in eastern Afghanistan so that we can support as many people as possible.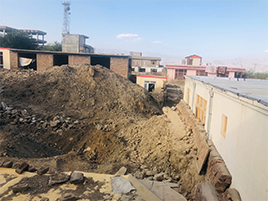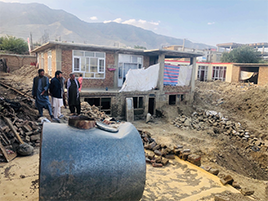 Bringing Smiles to Children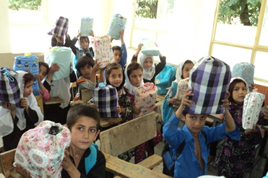 Every year since 2005 we have been distributing Dream Bags, containing toys and stationary to children throughout Parwan Prefecture in Afghanistan.
In a country that has endured over 30 years of conflict, many families cannot afford such goods for their children due to unemployment and lack of income. We hope that our "Dream Bags" bring smiles to the children who have suffered through conflict and hostility.