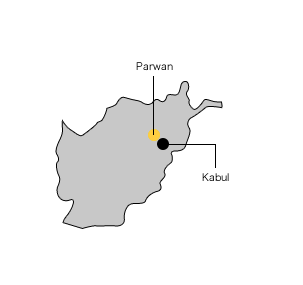 JEN staff flew to Afghanistan to implement 'Emergency Assistance for Drought Victims' in August 2001. However, due to the 9/11 terrorist attacks and the subsequent retaliation by the US Army, JEN redirected its assistance program to the emergency assistance of people who became refugees and IDPs due to the conflict and drought. When the provisional government was established at the end of 2001, numerous refugees returned home. In response to this, JEN has been implementing the 'Repatriation and Resettlement Assistance Program' in Parwan Province since 2002 to bolster the self-reliance of returnees.

We teamed up with local people and communities, with the aim to enhance their self-reliance through our projects. In the reconstruction of homes and bridges/roads, Afghan returnees cooperated with one another to undertake the reconstruction labor. In the School Reconstruction Project, JEN encouraged returnees to organize School Management Committees so that local people themselves make the decisions regarding reconstruction as well as the maintenance and supervision of the school. JEN continues to assist the socially vulnerable groups such as children, women, seniors, and people with disabilities.
The number of Afghan refugees returning from Pakistan has been increasing rapidly since 2016. To cope with this situation, JEN has also been providing assistance to the returnees since March 2017.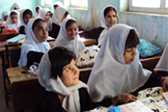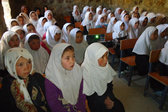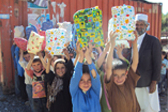 Unstable security situation and slow recovery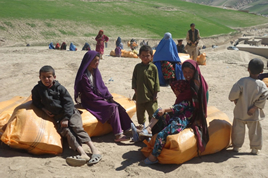 Following the Soviet invasion of Afghanistan in 1979, the country suffered three decades of conflict in which most of its basic infrastructure were destroyed. Infrastructure and services that support public health have not been fully established, and citizens continue to face difficulty in gaining access to basic utilities such as clean drinking water and sanitation facilities. The Afghan government has established a long-term policy to halve the number of people who currently do not have access to safe drinking water and sanitation facilities.
Emergency assistance for returnees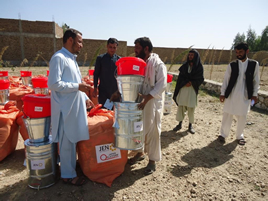 JEN has been distributing daily commodities to the rapidly increasing returnees from Pakistan in the Nangarhar Province in Afghanistan. The number of Afghan refugees living in the neighboring Pakistan has been reported to be about two million.*1 During 2016, some 600,000 of them have returned to Afghanistan.*2 Since March 2017, JEN has been distributing goods necessary for restarting daily life. These include blankets, water storage tanks and kitchen utensils in addition to personal sanitary items such as soaps and towels to particularly vulnerable 1,000 undocumented households who do not possess refugee status cards issued by the United Nations. The Nangarhar Province has long been, and still is, politically unstable. There is a growing concern that the inflow of more returnees from Pakistan means that the provision of social services, such as education and public health that have never been satisfactory, will become even more difficult to obtain.
Some residents who have originally been living in the province are moving out due to security concerns caused by the movement of returnees and the future inflow of returnees. The condition of the province is chaotic. However, JEN will continue providing assistance as far as our capabilities allow.
Improvement of School Facilities and Hygiene Education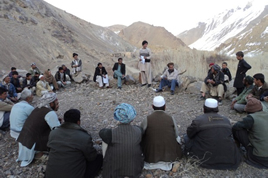 JEN is helping schools upgrade sanitary facilities (such as toilets and hand-washing stations) and provide hygiene education in Parawan district, where humanitarian aid has been lacking (details are here). The local community needs to take the initiative to improve the educational environment, as well as to maintain the newly built education system and revamped school facilities.
JEN does not repair or construct school facilities or simply teach people about health. Instead, we encourage local residents and related people to create a School Management Committee for each target school, and train the members of the committee. In the training sessions, participants discuss ways to manage school facilities, how to collect money to enable the activities, and the importance of continuing health education. Then the participants create their own action plans. We are keen to get the members involved in the problem-solving and decision-making process from the planning stage of assistance, so they can feel that these activities are not something someone decides for them, but rather something to be created by themselves.
Bringing Smiles to Children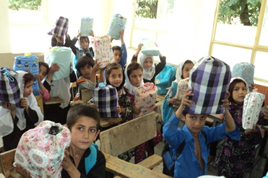 Every year since 2005 we have been distributing Dream Bags, containing toys and stationary to children throughout Parwan Prefecture in Afghanistan.
In a country that has endured over 30 years of conflict, many families cannot afford such goods for their children due to unemployment and lack of income. We hope that our "Dream Bags" bring smiles to the children who have suffered through conflict and hostility.