Basic Information
| | |
| --- | --- |
| Country Name | Islamic Republic of Pakistan |
| Capital | Islamabad |
| Population | 195.4 million people (Pakistan Economic Survey 2015-16) |
| Area | 796,000km2 |
| Demographics | Punjabis, Sindhi, Pashtuns, Baloch |
| Languages | Urdu (National Language), English (Official Language) |
| Religions | Islam |
Raising livestock to regain livelihood (From January 2015 to Febrary 2016)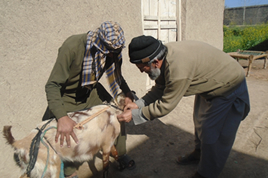 JEN provided food and anthelmintics for livestock and vaccination services to 500 households with internally displaced persons who had escaped from North Waziristan to the Bannu District. JEN also provided assistance to keep livestock healthy and to prevent livestock diseases. JEN distributed materials to 155 households (out of the 500 households) so that they could build livestock stalls for protection—to raise and take good care of their livestock. In addition, JEN recruited and trained livestock instructors. The instructors were selected from people who participated in assistance activities to improve awareness, such as how to prepare oneself in managing livestock. Furthermore, JEN established a Livestock Management Committee composed of senior members, livestock instructors, staff members of the Livestock Industry Bureau, and veterinarians in private practice. By the end of this assistance project, households—that JEN provided assistance—raised and took good care of their livestock. This contributed to securing food supplies and to regaining livelihood.
Emergency Assistance for the October 2015 Hindu Kush Earthquake (From November 2015 to January 2016)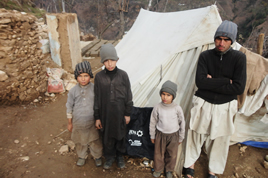 A huge earthquake—a magnitude 7.5 earthquake with the epicenter located in Afghanistan—occurred in October 26, 2015. This earthquake also caused damages in Pakistan, a neighboring country. The earthquake caused severe damage in the Khyber Pakhtunkhwa Province, especially in the Shangla District. In addition to the deaths and injuries, 12,755 houses partially or totally collapsed. JEN conducted an emergency survey and then provided emergency assistance to 770 households in four districts. During winter in the Shangla District, a disaster-stricken region, the nighttime temperature can fall below 7 oC. Therefore, providing assistance to the residents who were facing a severe winter weather was urgent. Accordingly, JEN distributed kitchen appliances—such as cooking pots, kettles, frying pans, spoons, and plates; as well as items necessary to survive through winter—such as quilted fabrics, cotton mattresses, pillows, children's clothes, and women's shawls.
Distribution of goats to regain livelihood (From February 2013 to February 2014)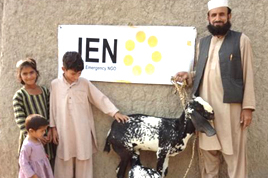 From the second half of 2011, JEN started distributing goats to the internally displaced persons living in the Dera Ismail Khan District of Khyber Pakhtunkhwa Province as part of JEN's assistance so that the internally displaced persons could regain livelihood. In order to conduct the assistance activities, JEN selected livestock instructors from the internally displaced persons. JEN also collaborated with the Prefectural Livestock Bureau to conduct training for the instructors. JEN asked these instructors to play a role in disseminating knowledge to the other households with displaced persons about how to breed goats and about goat management.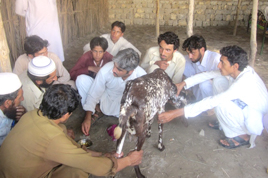 JEN conducted a survey to examine the development after the goat distribution. The survey showed that people used the goat milk to help improve their living conditions—they consumed the goat milk at home, sold goat milk at the market, and the like. The survey also showed that in approximately 25% of the 500 households—in which the goats were first distributed—the does had given birth for the second time. Some of the internally displaced persons sold the young goats immediately as they had urgent expenditures such as medical expenses for family members who were ill. However, most of the internally displaced persons have not sold the young goats yet and are still raising them. They are hoping that the value of the goats will increase when the does grow up.
Water and Sanitation Project (From April 2013 to the end of January 2014)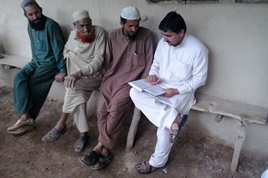 An environment where people can live a healthy life is necessary in order for the internally displaced persons to return home. JEN distributed roof-repair kits (bricks, doors, windows, and the like) to 145 households with returning displaced persons in the Kurram Tribal Agency, which is located in the Federally Administrated Tribal Areas (FATA). The returning displaced persons quickly took the distributed items home and began repairing their homes before the winter season started. In addition, JEN installed tanks and repaired pipelines in order to improve the water sanitation environment. Furthermore, JEN conducted workshops about sanitation to teach the importance of making handwashing a habit and to prevent diarrhea. As a result, personal hygiene habits primarily among women and children improved. A Water Management Committee has been established to maintain a mechanism so that the returning refugees have sustainable access to clean water.
Distribution of emergency relief supplies (From June 2009 to September 2009)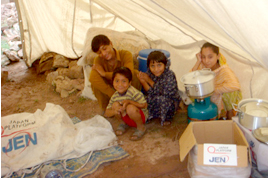 The internally displaced persons who had escaped from the battle between the government and the Islamic armed groups evacuated to Pakistan's North-West Frontier Province. Approximately 700 and 500 households evacuated to Narai Area in Mardan District and to the Panjpir Area in the Swabi District, respectively. JEN provided assistance to these regions by giving out tents for shelter, kitchen appliances, and the like to 1,200 households (approximately 9,000 people) with displaced persons who had escaped from the battles without anything but the clothes they were wearing. JEN provided these items so that the displaced persons could live in the evacuation centers. JEN provided instructions on how to assemble the tents and how to maintain the tents during tent distribution in order to promote the victims' sense of ownership. JEN also distributed the tents to the community so that the tents could be used continuously and for a long time as warehouses.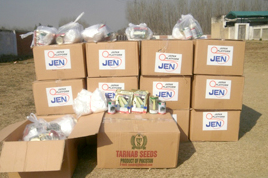 Furthermore, the survey that collected the information about the local needs showed that this area required measures against summer heat. There were many mosquitoes in the evacuation areas. JEN distributed mosquito nets and foldable beds so that the displaced persons could sleep safely. At the same time, deteriorating sanitary condition was a serious problem among displaced persons who lived in small and heavily populated areas. JEN also distributed hygiene kits in these areas.
Providing emergency assistance for the "2008 Ziarat earthquake"—Earthquake in Southwestern Pakistan (From October 2008 to April 2009)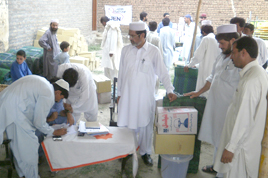 A magnitude of 6.4 earthquake occurred in the Balochistan Province—located in the western region of Pakistan—on October 29, 2008. More than 160 people were killed, more than 370 people were injured, and more than 7,000 people were displaced. The disaster-stricken area is a mountainous area with an elevation of approximately 2,400 meters. The nighttime temperatures fall below zero degrees Celsius. Many residents were forced to live outdoors even under such harsh natural environment. These residents lived in harsh conditions as their everyday goods, such as cooking appliances, were buried in the debris; they had to rely on meals distributed by the local NGOs for daily meals.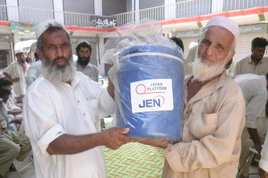 JEN provided supplies that were necessary and urgently needed to the victims of the earthquake and supported the victims' daily life for the time being. At the same time, JEN helped in preventing secondary damages, which include damage to victims' health (from the severe cold temperatures and the deterioration of sanitary conditions), psychological damage (from uncertainty about their life), and the delay of reconstruction (due to the delay in debris removal). JEN distributed emergency supplies—such as tents for surviving through the winter, daily necessities and daily tools, and tools for removing debris and for rebuilding houses—to the Ziarat District and the Pishin District, the districts worst affected by the earthquake.
Emergency and reconstruction assistance for the 2005 Kashmir Earthquake (from October 2005 to October 2008)
"Especially in education—to people living in hard-to-reach areas"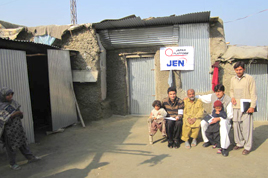 Immediately after the earthquake, JEN provided assistance to the victims living in the mountainous areas—where there was little support—in the Bagh District where assistance tend to be left behind. In particular, JEN provided assistance when media coverage and support for the 2005 Kashmir earthquake had decreased. JEN provided continuous assistance—from emergency assistance to reconstruction assistance—that were long-term and tailored to meet specific local needs in cooperation with the local people.
School reconstruction project (From June 2008)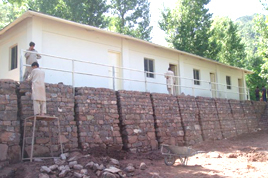 In UC (Union Council) Kalamura, the temperature drops below zero degrees Celsius during the winter. JEN built six schools in UC Kalamura of Haveli, Bagh District, so that the children who were studying outdoors could study in a safe and a comfortable environment. These schools are earthquake resistant and made of lightweight reinforcing steel.
This district is located halfway up the mountainside and away from the major roads. Therefore, JEN had to make a slow and steady effort. This process included disassembling the materials to small pieces, gradually carrying these materials to the construction sites, and assembling these materials. The School Management Committee—composed of schoolteachers, parents or guardians, and local residents—and JEN worked together for the school construction; they decided that the committee would manage and operate the school buildings.
Hygiene education project (From June 2008)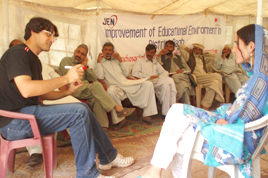 JEN conducted workshops about hygiene education to teachers and members of the School Management Committee in 20 public schools located in UC Bhedi of Bagh District. The purpose of the workshops was for the teachers to continue hygiene education by themselves. The teachers considered using teaching methods so that the children could acquire correct hygiene knowledge. The teachers conducted workshops about hygiene education—while receiving advice and support from JEN's staff members—through group discussions and skits to children in each school.
Education support project (From July 2007 to July 2008)
In Haveli of Bagh District—where JEN provided assistance—216 school buildings (90% of all schools) had collapsed and 151 school buildings needed to be rebuilt due to the earthquake. Rebuilding of schools was significantly delayed since rebuilding of residents' home was the priority in Haveli. Only nine schools (out of all schools)—including two schools built by JEN—were rebuilt in Haveli. As a result, children were forced to take classes in tents, temporary classrooms, or outdoors. JEN constructed one school in Basti Chanjar.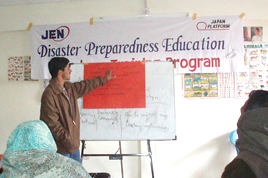 In addition, education on disaster prevention had not been disseminated in the local area. Therefore, JEN conducted an education program about disaster prevention to teachers in six schools, including five schools around this area. Through this education program, the residents were able to acquire basic knowledge about disaster prevention; JEN aimed to reduce the fear of and the anxiety about the earthquake.
Water and sanitary conditions improvement project (From September 2006 to December 2007)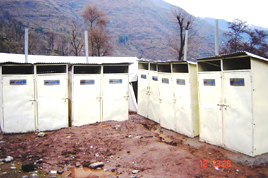 Many local school buildings did not have bathrooms or places to wash hands. Therefore, JEN provided assistance by creating places to wash hands in schools located in disaster-stricken areas so that the children could drink safe water at their schools. In addition, by installing toilets at school buildings, female students could take classes without worrying about lack of toilets. Furthermore, JEN not only installed toilets and created places to wash hands, but also conducted hygiene education to students so that they could acquire correct knowledge about hygiene practices and could prevent illnesses by using toilets and places to wash their hands correctly.
Assistance project on improvement of educational environment—Phase 2
(From December 2006 to May 2007)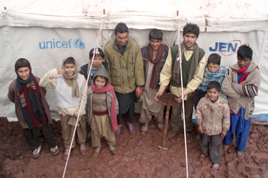 Earthquake survivors had to face a second winter season since the earthquake. Nevertheless, the students were still learning in school tents since the rebuilding of school buildings was significantly delayed in the local areas. However, since the tents were originally made to last for a year, they had deteriorated. Therefore, JEN repaired school tents and distributed desks and chairs so that the children could continue learning even during the second winter season. JEN provided assistance so that the children could continue learning indoors and in a safe environment. Furthermore, JEN conducted training on disaster prevention education for the teachers and assisted children and teachers to acquire correct knowledge about disaster prevention. Through disaster prevention education, the children were able to acquire correct knowledge about earthquakes, thereby reducing their fear of earthquakes.
Assistance project on improvement of educational environment—Phase 1
(From May 2006 to December 2006)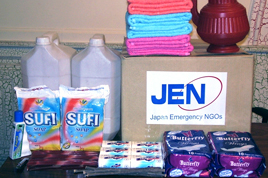 In the steep and mountainous areas that were especially severely schools (one of which was a girls' school) so that the buildings could become earthquake resistant. These two schools were the first ones to be rebuilt in the Bagh District, where reconstruction was significantly delayed. In addition, JEN conducted education about earthquakes to residents who did not have a basic knowledge about earthquakes and this helped improve awareness about disaster prevention. Furthermore, JEN distributed hygiene kits; and along with this distribution, JEN conducted workshops for hygiene education to provide assistance to improve the living conditions of children and residents who were living as evacuees. (Contents of hygiene kits) Towels, soap, shampoo, sanitary items.
Emergency educational assistance project (From January 2006 to May 2006)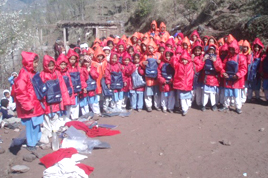 With the support of Japan Platform, UNICEF, and the donors, JEN was able to set up 250 classroom tents and install 39 temporary toilets for school buildings that collapsed in Haveli, Bagh District. Furthermore, JEN distributed stationery necessary for teaching (blackboards, chairs, stationery sets) and warm winter clothes necessary to survive the winter. JEN also provided assistance so that the children who were studying outdoors in the cold could take classes in the tents. As a result, 21,221 children—who were affected by the earthquake—could continue learning in the indoor environment during the severe winter season.
Distribution of emergency assistance supplies (From October 2005 to February 2006)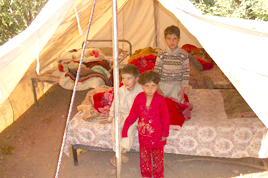 In the Bagh District, 90% of the buildings were seriously damaged or had partially collapsed; and people remained outdoors due to fear of aftershocks. JEN conducted interviews and surveys from October to the end of December to ask about what the people urgently needed while living in the disaster-stricken areas during the winter. Thereafter, JEN distributed daily necessities and warm winter clothes. Daily necessities included residential tents—which most people wanted to have—blankets, kitchen appliances, hygiene products, and the like. JEN also distributed 2,000 residential tents. JEN did not distribute the same set of daily necessities items to everyone, but adjusted the items so that only the necessary items were distributed to the people who needed them. In total, JEN was able to provide assistance to 5,716 households—approximately three times higher than estimated.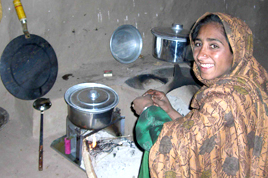 JEN decided on the details of assistance by listening to the victims' voices; therefore, the distributed goods were put to good use. For example, JEN chose a small water bucket—that is utilized for toilets—and a set of kitchen appliances made for six to eight people for large families. Family members, especially women, were very pleased with these distributed goods and are active at home every day.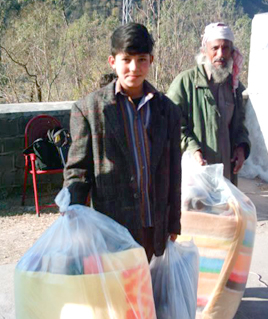 The 12,518 warm winter clothes and the like distributed by JEN were donated by Fast Retailing Co., Ltd. (UNIQLO, a primary subsidiary of Fast Retailing Co., Ltd.). The 5,000 blankets distributed by JEN were provided by the Movement Promotion Committee of Japan Blankets For Africa Campaign. In addition, Pakistan International Airlines, MOL Logistics (Japan) Co., Ltd., and Nippon Yusen Kabushiki Kaisha (NYK Line) supported us in transporting the goods.