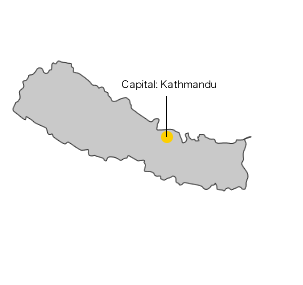 The magnitude 7.8 earthquake in Nepal on April 25 affected eight million people*1 and took more than 8,700 lives*2. Nepal, surrounded by high mountains, never had adequate infrastructure even before the earthquake. It is an areas where it is not rare for people to spend one or two days to deliver relief supplies on foot. In the areas that are still lacking assistance, residents need support to restore their everyday lives. After carrying out a survey in five severely affected districts (Dhading District, Dolakha District, Nuwakot District, Rasuwa District and Sindhupalchok District), JEN will conduct projects to provide relief supplies for living and to help affected people restore their everyday lives in the areas most in need of assistance.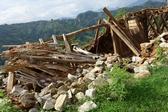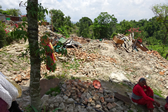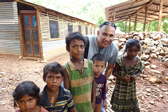 Emergency assistance for affected people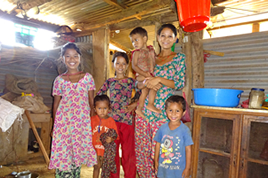 Nepal was a country with high poverty rate since before the earthquake. It is said that about 25% of the national population live on no more than 1.25 dollars a day, and this number almost doubles to 45% of those living in areas affected by the earthquake*. Although most of them used to make a living by farming, the earthquake wrecked buildings, causing fields to be buried in the debris. Despite having been one of the few means for a large number of people to earn an income, there seems to be no prospect for a resumption of farming. JEN is going to provide assistance to about 2,800 people in a vulnerable position in the areas not receiving adequate aid. First, we are going to distribute daily essentials such as cookware, mattresses, blankets, soaps, and toothbrushes, as well as necessities for the rainy season or the upcoming winter, such as corrugated sheets and blankets. We are also considering distributing farming equipment including spades, harrows, and shovels in order to help farmers restore their livelihood.
Support for Affected Children Returning to School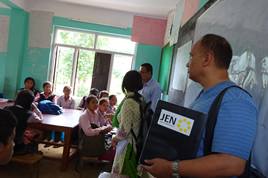 In an emergency, restoration of education of children tends to receive a low priority, but this is a time when "a resumption of school" should go to the top of the list. Going to school that provides a social and interpersonal environment does volumes for the mental wellbeing of these children. Moreover, staying in school secures their safety.
To support affected children returning to school, JEN is going to offer stationery (notebook, pencils, colored pencils, erasers, etc.) to 1,000 children and sport gear (soccer balls, volleyballs, jump ropes, etc.) to 10 schools. By providing them with opportunities to receive education, spend time with friends, and enjoy sports, our hope is to give children a reason to smile again.
Basic Information
| | |
| --- | --- |
| Country Name | Federal Democratic Republic of Nepal |
| Capital | Kathmandu |
| Population | 26.49 million (Census data in 2011) |
| Area | 147,000km2 |
| Ethnic Groups | Parbate Hindu, Magar, Tharu, Tamang, Newar, etc. |
| Languages | Nepalese |
| Religions | Hindu (81.3%), Buddhist (9.0%), Muslim (4.4%), etc |