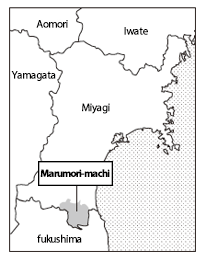 Tohoku
Period:October 2019~
area:Marumori-machi, Miyagi prefecture
Support activities in Marumori-machi, Miyagi Prefecture
In order to increase resilience against disasters in Marumori-machi, Jen will engage in disaster prevention/reduction and environmental protection training for residents of Marumori-machi, and support activities to improve the project implementation capacity of residents' organizations.
JEN started activities in October last year, and contributed to the improvement of the living environment of about 900 requests by the end of April this year.
JEN also conveyed knowledge of disaster reduction and environmental protection to 198 (125 men, 73 women) residents. From May onwards, JEN will continue to support Marumori-machi and the voluntary reconstruction process of residents.
Typhoon Hagibis Emergency Support: Initial Response Period: Marumori-machi Disaster Recovery Support Project: October 2019-April 2020
Typhoon Hagibis caused tremendous damage to Marumori-machi, Miyagi Prefecture, and more than 1,000 households suffered flood damage above and below the floor. Under such circumstances, in order for the residents to return to their daily lives, they needed volunteers to help remove mud out of houses and clean the houses. Therefore, Jen supported the establishment and operation of Marumori-machi Disaster Volunteer Center (Disaster VC) with Marumori-machi Council of Social Welfare and other support organizations.
JEN assigned a staff member to the center, and was in charge of coordinating and conducting field surveys to dispatch volunteers to households in response to requests from the affected people for mud removal and cleaning.
The center closed on April 30, 2020. JEN staff contributed to improving the living environment of about 900 requests. In consideration of the effects of global warming, it is important to prepare for future sediment and water damage. Therefore training on disaster prevention and reduction and environmental protection was conducted in cooperation with local residents, Marumori Town Hall and self-government organizations.
198 people (123 men, 73 women) participated in the training by April 30.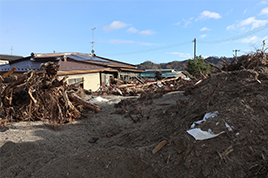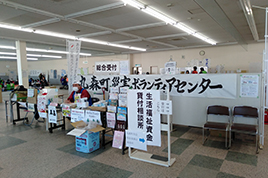 Typhoon Hagibis Emergency Support:Reconstruction period:Marumori-machi Disaster Recovery Support Project:May 2020 to present
Marumori-machi still has more than 900 household evacuees at home and more than 270 household evacuees in temporary housing, but many of the residents are worried about reconstructing houses and stressed due to refraining from going out in COVID-19.
They are also anxious about complex disaster of coronavirus and typhoon, since flood season is coming soon.
In order to eliminate such anxiety of the residents, it is important to support them so that they can work together and solve life problems. Therefore, JEN carries out training on complex disaster countermeasures to gain knowledge about coronavirus and disaster prevention. In addition, JEN also supports the capacity building of community groups for activities to help each other among residents, such as food delivery to evacuees at home and forest protection activities for disaster reduction.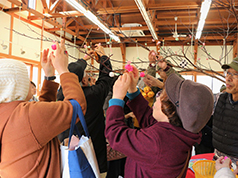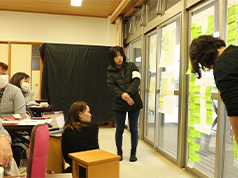 Activity record
October 16 to October 31
2019
● Two initial survey members dispatched to Marumori-machi
● Marumori-machi Disaster Volunteer Center (Disaster VC) setup and management support
November 2019
● "Livelihood Reconstruction Support Project for the affected people in Marumori-machi" centered on disaster VC management and disaster prevention and reduction/environmental protection training with the aim of improving resilience to disasters in Marumori-machi.
December 2019
● Continuing disaster VC operation support
● Conducting hearings for disaster prevention and reduction/environmental protection training planning
● Cooperating with Yomoyama Company to provide counseling support on the lives of the affected people
January 2020
● Support for "Fukumaneki Tour" to contribute to the local economy of Marumori-machi
● Implementation of "Koya district disaster prevention review meeting" aiming at improvement of disaster prevention system in Koya district, Marumori-machi
February 2020
● Implementation of a "Genki seed sowing study group" that contributes to the reconstruction of the Ouchi district, Marumori-machi
● Implementation of "Typhoon Hagidis disaster review meeting" in Tateyama and other areas, Marumori-machi
● Implementation of a "Review meeting on disaster prevention and reconstruction process" by women in Marumori-machi
March 2020
● Operation support of disaster VC and coordination support of cleaning activities by residents
● Consultation support of project operation management and survey methodologies for residents' organization
April 2020
● Three online learning sessions for residents in the entire Marumori-machi


1. Learning session by a social worker related to care of the affected people (listening and case management)




2. Learning session by a doctor on coronavirus infection and mental and physical care




3. Disaster prevention learning session about evacuation behavior under coronavirus infectious disease epidemic

May 2020
● Online learning session on complex disasters and disaster prevention
June 2020
● Workshop on evacuation under Covid-19 pandemic :4 times (For residents, staff of government offices and self-governing bodies)
July 2020
● Workshop on evacuation under Covid-19 pandemic :5 times (For residents, staff of government offices and self-governing bodies)
● Donation of sanitary supplies (non-contact thermometer, etc.) to prepare for complex disasters
August 2020
● Workshop on evacuation under Covid-19 pandemic :2 times (For residents, staff of government offices and self-governing bodies)
September 2020
● Workshop on evacuation under Covid-19 pandemic :2 times (For residents, staff of government offices and self-governing bodies, and nursery schools)
● Donation of sanitary equipment (Cardboard bed etc.) to prepare for complex disasters
● Creation and distribution of disaster prevention pamphlets in foreign languages (English, Vietnamese, Indonesian) and Japanese
October 2020
● Workshop on evacuation under Covid-19 pandemic :3 times (For residents, staff of government offices and self-governing bodies, and nursery schools)
● Conducting a questionnaire survey of evaluation of beneficiaries in Marumori town for life reconstruction support project