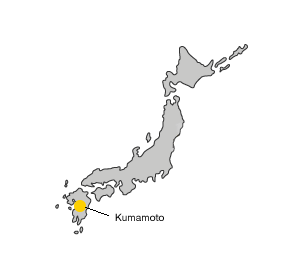 At 9:26 p.m. on April 14, 2016, a foreshock with a maximum seismic intensity of 7 occurred in Mashiki-machi in the northern region of Kumamoto prefecture. Two days later, this was followed by the main earthquake with the same seismic intensity in Mashiki-machi and Nishihara- mura, a neighbouring town to the east of Mashiki-machi. Due to the series of earthquakes, 161 people were killed, over 146,000 houses were damaged, and the initial (voluntary) evacuation orders were issued to over 270,000 residents.*
Three years have passed, and Kumamoto has recovered from the impacts the earthquake left in the area. Thanks to the efforts of those enthusiastic about creating a new future for their hometown, the next stages of development are about to start.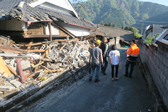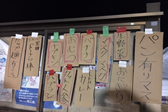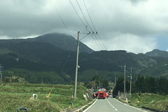 "ASUKUMA" to encourage people to carry the future of Kumamoto (October 2016-February 2019)
From October to December 2016, we held the first phase of "ASUKUMA- Looking For a Brighter Tomorrow", ASU meaning tomorrow in Japanese and KUMA being a nickname for Kumamoto. This project, which produces projects that aim to revitalize Kumamoto, is a two-month workshop-type program inspired by the rich culture, products, and community of the prefecture. A total of 20 participants from different areas, eager to create a better future for Kumamoto, worked together to refine their problem-solving ideas and held discussions on issues such as "what kind of society do we want to establish?" and "what is needed in order to put our ideas into action?" After the participants completed the first phase of this project from October 3rd through December 11th, eleven new projects have been launched and continue to thrive. To nurture these projects, the second phase of 'ASUKUMA' was held as a follow-up from January to March 2017.
That led to the start of "My Farm Management", a training session for young farmers who plan to inherit their family farms, created by other fellow young farmers. Much of it was ran by members of the 4H Club (Kumamoto Youth Agriculturalist`s Club), where the board members acted as facilitators of discussion, asking questions such as "What kind of relationship do you want to have with your family 10 years from now?", "What are some tactics you can use to convince your parents?" and "What kind of management plan do you need to make?", in order to aid young farmers in the planning process of inheriting their family farms. Kumamoto`s first agricultural inheritance support system—this was a crucial step for the agriculture sector, where the aging population and discontinuation of farms have both been growing issues in Kumamoto.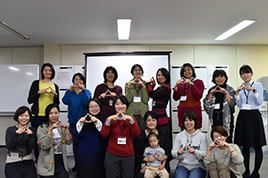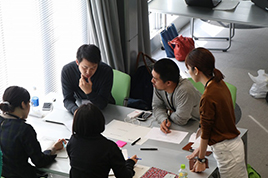 Rental of debris removal vehicles (June 2016-July 2017)
Demolition work was significantly delayed due to the lack of heavy machinery and trucks to demolish collapsed houses and transport debris. Collapsed houses to this day, remain untouched in some areas. To accelerate the clean-up process, we provided a rental service, where we lent dumps and trucks required for the transportation of rubble.
Activities during the emergency phase (April-June 2016)
On April 16, 2016, immediately after the catastrophic magnitude 7 earthquake hit Kumamoto, the initial emergency response team headed to the affected area where basic amenities such as electricity, water, and gas had been cut off due to repeated aftershocks. JEN distributed relief supplies including lunch boxes and clothing to evacuees following what we experienced from previous natural disaster relief efforts in Japan, specifically in regards to post-disaster needs (Chuetsu/Chuetsu-oki Earthquakes, Great East Japan Earthquake).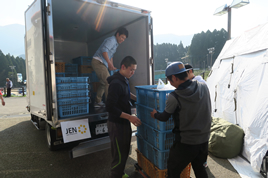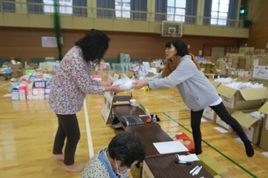 Rental of vehicles/heavy machinery/materials (April-July 2016)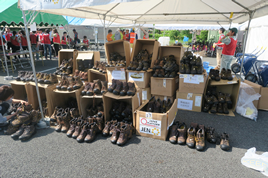 After the earthquake in April 2016, household goods and farm equipment were taken out from collapsed houses by the local people and volunteers. JEN provided safety shoes in order to protect the people working on debris as well as jacks to lift roofing material and beams to access household articles. We also rented dumps needed for the transportation of rubble, as a lack of heavy machinery had caused a delay in demolition work in some areas.
Traveling bath service (May-June 2016)
As we were conducting analysis in Higashi-ku, Kumamoto-shi, we discovered that some evacuees staying in the evacuation centres had not been able to bathe since the earthquake due to the lack of access to any type of bathing facility. In April, when the earthquake occurred, temperatures reached 35°C on sunny days, regardless of the fact that it was spring season. Additionally, infectious diseases had become prevalent in the evacuation centres. Therefore, the establishment of a good hygienic environment was urgent, so JEN offered a visiting bath service that toured evacuation centres in the area.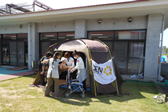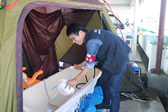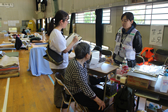 General Information on Kumamoto Prefecture
| | |
| --- | --- |
| Prefectural capital | Kumamoto |
| Population | 1,773,613 (Estimate as of the 1st January 2017) |
| Area | 7,409.32km2 |