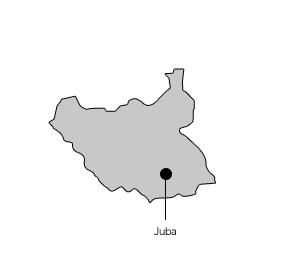 Spreading Knowledge About Hygiene in the Newest Country, "South Sudan"
JEN started a project to support refugees' resettlement in the southern regions of Sudan. In July, 2011, South Sudan gained its independence, but there were many issues that faced the country such as sanitation problems. To solve these problems, JEN built wells and toilet facilities and held workshops for the residents to acquire knowledge and skills necessary for administration and management. We also provided education to spread accurate information about hygiene amongst the children. We believe that the effect of the support lasts longer by building a strong community through these activities.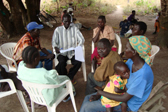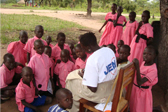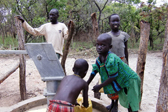 Severe Sanitation Environment Surrounding Returnees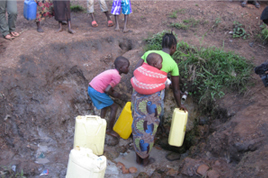 In January, 2005, the civil war between the northern and southern regions of Sudan, which had lasted for 20 years, came to an end following the peace agreement. In the southern regions, the aid for their revival took off full steam and the 3.7 million domestic and 3.5 million overseas evacuees were encouraged to return home. 90% of evacuees to Uganda and 40% to Congo returned to the state of Central Equatria. The needs survey revealed that the shortage of water sanitation facilities was a serious problem. There were only a few wells that were used by animals, raising concern about contamination. Also, there were often fights amongst people waiting to draw water from the well.
Some schools do not have toilets and this unhygienic environment frequently caused children's diarrhea. The state of Central Equatria was not only a home for many of the returnees but also a transportation crossroads for those going to other states. Therefore, there was an urgent need for the improvement of water sanitation environment and hygiene education.
Improvement of Water Sanitation Facilities of Schools and Communities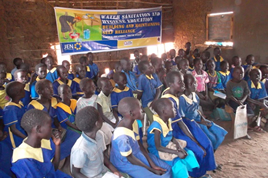 JEN started projects in Yei River County in the state of Central Equatoria. To prevent diseases, not only sanitation facilities but also people's knowledge about hygiene is necessary.
JEN first built toilets in 12 public elementary schools and three churches in Otogo District. Then, in order to spread correct knowledge and solidify hygiene habits of the residents, JEN provided sanitation and hygiene education to the teachers, who then passed on the knowledge to their pupils. The students then practiced at home what they had learned at school, which resulted in the spread of accurate knowledge to their families and the communities around them.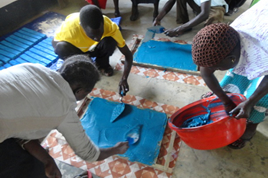 As for the wells, serving as indispensable access to safe water, are often left broken because there is no one who can fix them after they are built. In order for the local people to maintain the wells, JEN helped organize the Wells Management Committee. JEN also held workshops for repairmen of wells and also for local administrations to strengthen the local networks.
JEN also organized women's group named "Tinate" (meaning "thank you" in the local dialect) to spread hand washing using soap at home and produced soap made from ingredients available in the district. JEN experimentally appointed volunteers to be hygiene instructors or hygiene promoters to help the village people understand about hygiene, organizing a hygiene club as a system for improving the community's sanitation.
Emergency Aid for Internally Displaced People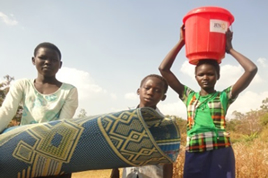 An armed conflict of December 2013 produced refugees who had fled from violence. For those people, a refugee camp was set up in the site of UNMISS (United Nations Mission in the Republic of South Sudan) in the city of Yei in Yei River county for a limited period of one month. As it was feared that the constant heat waves and the shortage of common toilets would deteriorate the sanitation environment, tools to make simple toilets such as plastic containers, buckets with a lid, hoes, shovels and unicycles as well as soap for hand washing after using the toilet were distributed to 467 people in 97 families (640 people during peak times) for a month.
Hygienic Education Project
JEN aims to ensure that there is a basic knowledge of sanitation in the local community. To do this, first of all, our team will visit each school to estimate their current understanding of and practices for hygienic conditions. Next, the staff will prepare original teaching materials for hygienic education appropriate for local needs. Then, JEN will use the materials for lessons for children and for training teachers respectively. We are also planning to organize theater workshops for both teachers and students that would involve them in learning through active interaction.
School Sanitation Projects
JEN also aims to set up basic sanitary systems in those schools that are inadequately prepared for the coming dry season. The system will include drinking wells, water pumps, and drainage gutters. To do this, our team will choose target schools in close collaboration with the Sudanese Ministry of Education and after correct investigation of school conditions. Influential factors, for example, include the distance from the nearest source of water, the number of children and the number of cases among them of epidemic diseases. In addition, follow-up trainings and preventive measures are essential for our principles of community-wide development; such as, building animal-guard fences around new wells, and ensuring sustainable maintenance mechanisms by teachers.
School Hygienic Infrastructure Project
The State of Central Equatrea has some 560 thousands habitants and 404 schools. Some schools do not have proper school buildings; only 31% have toilets; barely 40% have a water source within 500m. The National Educational Budget, gives priority to the salary of teachers and the costs of school construction, and therefore is not able to finance sanitary infrastructure at the same time. The government therefore welcomes international assistance in rural areas that municipal grants are still unable to cover. JEN will construct the toilet equipment for boys, girls and teachers respectively in those schools in primary need.
Teachers Training College Project
A large number of refugees have returned to South Sudan after reaching the Comprehensive Peace Agreement (CPA) to end the civil war. Some refugees voiced the concern that perhaps they can no longer receive free education that they received in refugee camps if they returned to South Sudan. JEN, as a partner of UNHCR, is now engaged in Community Based Reintegration of Sudanese Refugees Through Construction of Primary School in Juba County. This initiative plans to build 2 Teachers Training Institute and 5 satellite elementary schools, to develop teacher school to teach the repatriated refugee children. JEN is building 3 out of these 5 satellite elementary schools.
Basic Information
| | |
| --- | --- |
| Country Name | The Republic of the Sudan |
| Capital | Khartoum |
| Population | 355.2 million (2004) |
| Area | 2.5 million km2( the largest in Africa ) |
| Ethnic Groups | Arab 40%, African 31%, others (ナイロン・ハム等) |
| Languages | Arabic (official), English |
| Religions | Muslim (North), Christian (South), indigenous |
Background/Needs
The Sudanese government and the Sudan People's Liberation Movement (SPLM) finally reached a peace agreement in January 2005 after twenty years of civil war. This agreement granted the autonomy of the South Sudan. Consequently, 3.7 million of internally displaced persons (IDP) and 350 thousand refugees started to return to their place of origin. 96,508 refugees repatriated in 2006, and another 102,000 are estimated to return in 2007.
90% of refugees from Uganda and 40% from Congo return to the State of Central Equatoria in Sudan. However, many individuals have already perished from cholera in the State; 539 died among the 18,021 cases in 2006. While the cholera epidemic worsens constantly, the repatriation from Uganda is expected to accelerate even more rapidly during the coming dry season of 2007.
It is above all vital for the local community to ameliorate a basic water sanitary environment in the province. Many children are infected with diarrhea due to unclean water, having no toilets in their school. There are often disputes among people while they are waiting to draw water from the well. Worse, animals have contaminated drinking wells.
The State of Central Equatoria is strategically important for the sustainable development of the South Sudan. The State, receiving a large number of returnees, situates also as a pivotal transit area for refugees on their way to other States in the South Sudan. Our primary concerns are in marginalized villages in which no governmental and international relief agencies have arrived. JEN decided to intervene in Terekeka and Lainya, two counties especially in need.