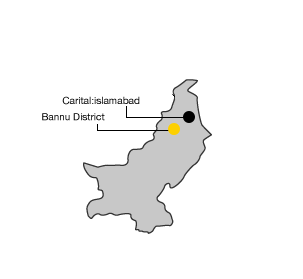 JEN started its emergency assistance for earthquake victims in Pakistan after the Kashmir earthquake that occurred in October 2005. Since then JEN has provided further assistance after the many earthquakes and floods in the country.
Currently, there are many internally displaced persons in Pakistan due to the clean-up operations. Local government agencies and international communities are providing humanitarian assistance to this humanitarian crisis. However many refugees and returning refugees cannot support themselves; they lack food, a water supply, sanitary facilities and education. JEN started providing emergency assistance to internally displaced persons in 2009, and to returning refugees within Federally Administrated Tribal Areas (FATA) in 2012. JEN aims to help these people become self-supporting by rebuilding their livestock industry which has been devastated by many years of combat.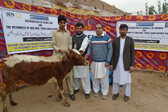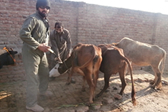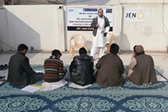 Regaining a "normal life"'–A peaceful life in one's hometown once again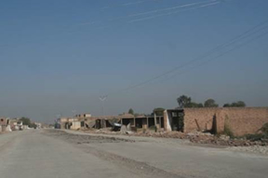 Government forces are still carrying out clean-up in the Federally Administrated Tribal Areas (FATA), which are located along the border between Afghanistan and Pakistan. In December 2014 the government announced that refugees could return to the regions where the clean-up operations had ended. As of December 27, 2016, 89% of the refugees have returned to their hometowns in Khyber Pakhtunkhwa District—where JEN is conducting assistance activities. Female-headed households constitute 23% of those who have returned and this percentage is the highest compared to other districts. In FATA, people traditionally use livestock for their livelihoods and it is the women that take care of the animals. Many people lost all their livestock while living as evacuees.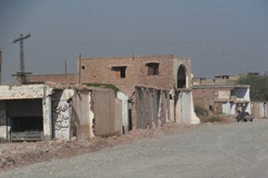 Like the other regions in the area the infrastructure——such as schools, hospitals, towns, residences, roads—in Khyber Pakhtunkhwa District have been devastated. Reconstruction and development is not happening and there are few opportunities to make a living.
So JEN is working to provide opportunities for people to return to their original occupation as livestock farmers.
Provision of WASH facilities to returnees in Parra Chamkani area, Kurram Agency, Ex-FATA (August 2018~)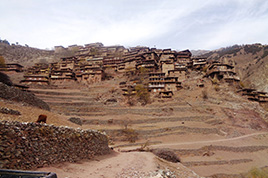 JEN has been implementing the project named "Provision of WASH facilities to returnees in Parra Chamkani area, Kurram Agency, Ex-FATA".
As part of the water supply support program, JEN has been constructing drinking water supply schemes (supply lines, water collection tanks, surface water collection tanks, etc.) and conducting water quality tests at 38 villages, targeting at approximately 2,500 households, in order to secure a safe water source. Additionally, to ensure that the water schemes will be used to their full extent, a management committee was created and were trained to be able to conduct maintenance and management of the water schemes on their own. JEN also distributed toolkits to facilitate the process.
Furthermore, as a part of the health and sanitation support program, JEN worked to maintain public health in 22 regions and elementary schools out of the 38 villages in the area. This was carried out in 5 different ways:
1.Constructing sewage systems in 22 regions
2.Constructing sewage systems at 6 elementary schools
3.Preserving and improving of sanitation habits at the individual and household level via distribution of basic sanitation kits for 2,500 households
4.Constructing health and sanitation facilities (bathrooms including a sink area) at the 6 schools mentioned above
5.Educating students at the 6 elementary schools on healthy water and sanitation habits (1,469 students)
Creating opportunities and providing assistance for people to become self-supporting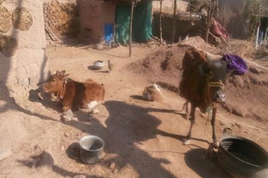 (Pictured above) The cows are skinny because of malnutrition (photograph taken on January 2017)
Households with returnees are engaged in farming and in raising livestock simultaneously. Meanwhile, their lives are also in a chaotic situation because of the long-term terrorism and clean-up operations. Many of the returnees cannot fully repair their houses destroyed during the conflict. They work as day laborers and are in debt. They sell their possessions, such as livestock and jewelry, and have to get yogurt and milk from their neighbors. They live an economically unstable and painful life. Furthermore, various types of infectious diseases are found in Pakistan; diseases that affect humans and livestock and diseases that affect only livestock are found. These diseases are impeding the recovery of the returnees' livelihood and the rebuilding of their means of livelihood so that they can live a normal life.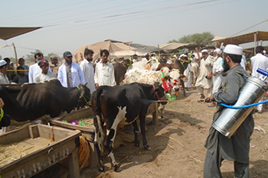 (Pictured above) Insecticides are sprayed to livestock in 37,500 households before Eid al-Adha ("Feast of the Sacrifice") to prevent the Crimean-Congo hemorrhagic fever (photograph taken on September 2016)
The Government is not able to provide enough support to the local farmers to help them develop their livestock management skills. As a result the livestock is in poor health.
JEN is helping returning refugees who are especially in need by providing cattle, essential vaccination services, anti-parasitic drugs and nutritional supplements. JEN is also training people on how to manage their livestock and has set up a "committee for livelihood recovery". The committee share their ideas on how they can raise healthier cattle and increase their incomes.
Through its many activities JEN is supporting people in creating new lives for themselves.